"Two Disappointing Peruvians" for very different reasons.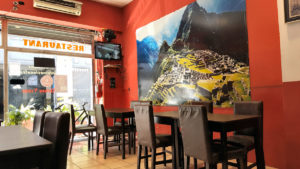 El Cholo de San Telmo, México 718, San Telmo – A little hole in the wall spot that has been on my list of Peruvian spots to check out for awhile. Not because of any recommendations, but just as part of trying to be comprehensive in checking out Peruvian restaurants in town. We were over in San Telmo showing my aunt around the city when she visited for a few days and thought we'd give it a shot. Don't know what I was thinking, one should always take visitors to places you know are good, unless they're foodie adventurers themselves who want to wing it.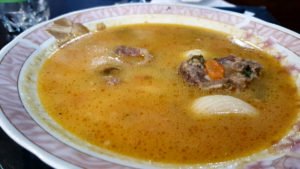 Henry went with the menú ejecutivo, starting with a sort of watery, salty beef and noodle soup with something like four noodles in it.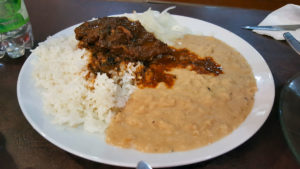 And a truly mediocre seco de carne with, really, nothing worthwhile to say about it. It says something when he doesn't finish the rice and beans portion of a plate. (90 pesos)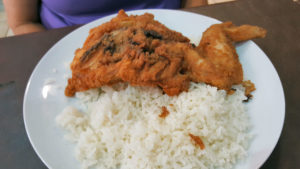 Mistakenly Ordered a portion of pollo broaster for my aunt, when we meant to order pollo a la brasa. Oops. So she got a fried chicken breast and some rice. At least they nicely brought her a side salad on request. (150 pesos)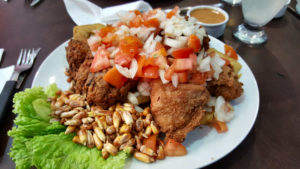 And I got the fancier version of the same, the chicharrón de pollo, chopped up, oily, slightly undercooked chicken on a bed of oil and burnt bits soaked potatoes and mounded with chopped tomatoes and onions. (150 pesos)
Service was perfunctory at best, mostly it was a couple of 20-somethings hanging out at the bar busily engaged with apps on their phones, deigning now and again to pay attention to the room. And while the menu items came out quickly, almost immediately, the two dishes a la carte took well over half an hour to arrive – we could actually hear them chopping up the chicken in the kitchen, which is partially open to the dining room, and looking in, saw them making the batter for frying them, a good 20 minutes after we ordered. Mediocre would be an improvement for this place.
---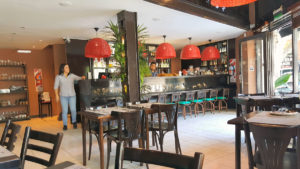 La Canoa, Lavalle 3502, Once – Taking over the space that was first vacated by El Principe and then Petro Chifa & Chiken, both Peruvian spots that we liked, but both short-lived, I have to wonder if this space is somehow cursed. Because much as there are things we really liked about this place, there was a lot wrong with it too.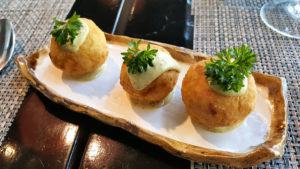 We ordered an appetizer to split, and two main courses, a couple of bottles of water, and Henry wanted to try their pisco sour. Twenty minutes after we ordered, the bottled water finally made it to the table. Warm. Both the still and sparkling. A ten minute wait for ice. At about the 35 minute mark, this "gift of the house", some tasty little yuca fritters with an ocopa sauce. I asked about the food we'd ordered, and Henry's pisco sour. The young man who delivered the food (not our waitress) said, "oh, didn't anyone tell you, there's a problem with the kitchen, they're not cooking anything yet, really." "Really, how come the other two tables seated near us have already eaten both their appetizers and main courses?" "Their food got cooked before the problem started. Someone should have told you." Ummm… I actually watched the guy at the counter make the ceviches for one of the tables after we ordered, and we'd ordered a leche de tigre, something that he'd presumably make too. And their main courses came out after the ceviches, about ten minutes before this point in time. Our waitress hurried over to assure us that our appetizer was "on the way".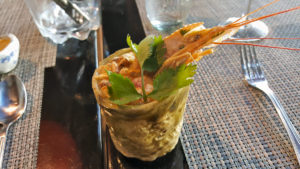 And, it hit the 50 minute mark before the leche de tigre con rocoto came out – a little coffee cup sized portion for a whopping 200 pesos. Fresh fish, a single fresh prawn, lemon and salt, no spice at all, despite the advertised rocoto chili. We had to ask for hot sauce, an unusual necessity in a Peruvian restaurant. It was excellent, and made to order, the bar guy actually pureed rocotos in the blender while we watched.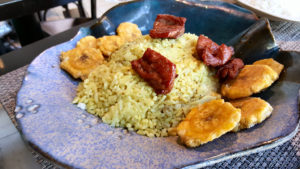 We finished off the miniscule leche in mere moments, and waited another 20 for our main courses. We've now been at the restaurant for 70 minutes since we ordered, and probably 10 before that while deciding. Henry's pisco sour arrived a few minutes before the main courses – a watered down, nearly tasteless drink. He sent it back and they brought another one properly made, with the mains. La Canoa offers up some plates typical of the Amazon region of Peru, so he ordered a juane, a classic chicken, rice, and cecina (cured, dried pork) dish. It was actually rather good, certainly the best thing we had. 280 pesos.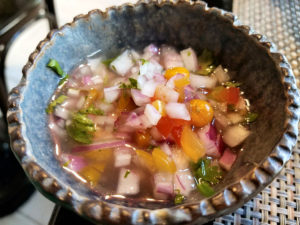 And, even better, came with a classic hot "sauce" of the region, complete with charapita chilies in it!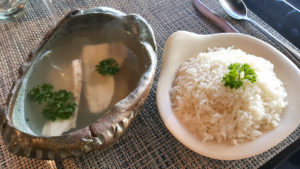 Unfortunately, my dish, listed as a patarashka, was far less successful. Now, patarashka is a dish of a whole fish, or a fillet, wrapped in an aromatic bijao leaf, with vegetables, herbs, ginger, and spices, and then the whole thing generally grilled in the leaf to give it a smoky flavor. Sometimes steamed. Instead, what I got were two little fillets of lenguado, sole, two small pieces of yuca, in what was little more than hot water with a faint hint of ginger and some curly leaf parsley floating about. And plain rice. It was bland, the fish was way overcooked, even the rice was dried out. 230 pesos.
I asked the young man running food if he was sure this was the patarashka, and his response was, "Well, it's not the traditional grilled in the leaf kind of patarashka, but it's an interpretation, more like a chilcano. But no one here really knows what those dishes are." First, that's not true, there are a zillion Peruvians here, many of whom probably do know, and many people who've spent time eating in Peru, like me, who do as well. And second, while more or less true in that chilcano is a fish soup, it more typically looks like this from our last trip to Trujillo: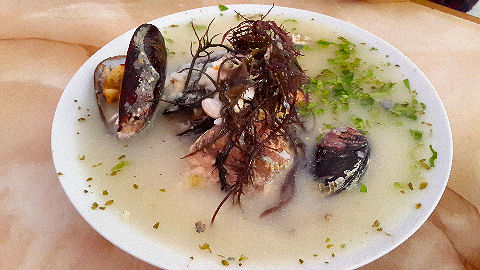 A patarashka should look more like this, and it's what I was looking forward to: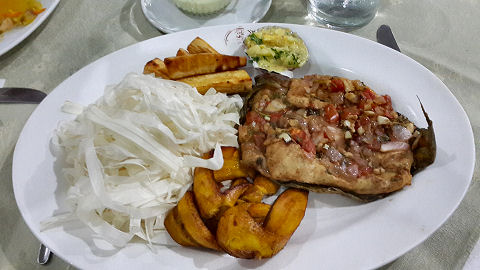 So, I ate a little bit of it, but it was too dry and bland, pushed it away, had a couple of bites of Henry's dish. Waitress came by, looked at mine, cleared it without asking. Not once did anyone apologize for the delay, nor inquire as to why I didn't eat my dish. The service was basically inattentive and disinterested, with a lot of fussing about going on behind the bar – I mean, I could have walked to a fish market, bought the fish, gone to the vegetable market, bought the ingredients needed, and still come back and made a leche de tigre in less time than the guy at the counter spent "working on it". They didn't charge us for Henry's pisco sour, though I'd have rathered they didn't charge us for my main course. I grabbed something else to eat on the way home.
An expensive 790 peso tab for a really disappointing experience. I don't know whether to consider this a one-off bad day (though that doesn't excuse the "not-patarashka"), as the place has been getting decent write-ups since its opening two months ago. It's a bit pricey to just go back and give them another shot to see.
---
Copyright © 2017
SaltShaker
. This feed contains copyrighted photos and text from SaltShaker. If you are not reading this material in a feed aggregator or by e-mail subscription, the site you are viewing may be guilty of copyright infringement. Please contact
[email protected]
so that I can take appropriate action.
Plugin by Taragana






This post first appeared on SaltShaker, please read the originial post: here