March 22-24 2017 22-24 de Marzo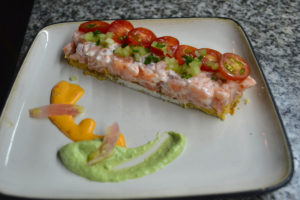 Salmon Tartare – diced salmon and red onion in our house "Szechuan" mayo (yolk, lime juice, sesame and Szechuan peppercorn and corn oils, salt); crushed potato chip and parmesan shortbread crust; cherry tomatoes, diced cucumber, chives; pickled shallot petals, guacamole and sauce vierge purees.
Tartare de Salmón Rosado – daditos de salmón rosado y cebolla morada en nuestra mayonesa "sichuan" casera (yema, jugo de lima, aceites de sésamo, pimienta sichuan, y maíz, sal); masa crocante de papas chips y parmesan; cherrys, daditos de pepino, ciboulette; petales de echalotes encurtidos; purés de guacamole y salsa vierge.
Bodegal del Fin del Mundo Extra Brut, Neuquén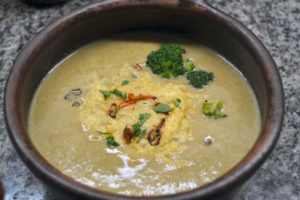 Roasted Broccoli Soup – roasted broccoli and leeks simmered with garlic, ginger, miso, and thyme in chicken stock, then pureed; Romano cheese tuiles with limo chilies; steamed broccoli florets, pomegranate seeds.
Sopa de Brócoli Asado – brócoli y puerros asados, y hervidos lentamente con ajo, jengibre, miso, y tomillo en caldo de pollo, luego puré; tuiles de queso Romano con ají limos; florecitos de brócoli al vapór, semillas de granada.
Amalaya Blanco de Corte Torrontés-Riesling 2016, Valle Calchaquí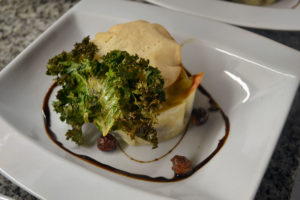 Radicchio, Hazelnut, & Pear Fagottin – a reinterpretation of a fagottin, which would typically be blanched radicchio leaves wrapped around the other ingredients, in this case, a puff pastry crust filled with crushed hazelnuts, diced pear, sauteed radicchio and shallots, and cuartirolo cheese; balsamic glaze; candied togaroshi spiced hazelnuts; crispy roasted kale.
Fagottín de Radicchio, Avellanas, y Peras – una reinterpretación del fagottín (tipicamente hojas de radicchio blandadas y envuelto alrededor otros ingredientes, en este caso, una masa de hojaldre relleno con avellanas aplastadas, daditos de pera, saltado de radicchio y echalotes, y queso cuartirolo; glace de balsámico; avellanas especiadas con togaroshi y acaramelizadas; hojas de kale asado y crocante.
Uxmal Sauvignon Blanc "Tilia Vineyards" 2014, Mendoza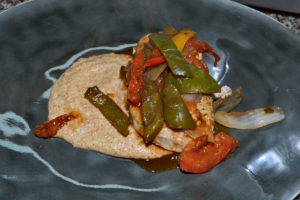 Pork Loin, Toasted Quinua Cream, Peppers – Pork loin rubbed with a blend of spices (salt, black pepper, cumin, coriander, yellow chili, rocoto) seared and finished in the oven; saute of mixed peppers (green, red, yellow) and onions then cooked in a reduction of soy sauce and bacon stock; toasted quinua, cooked in bacon stock and then pureed with cream.
Carré de Cerdo, Crema de Quinua Tostada, Pimentones – Carré de cerdo rociado con especias (sal, pimienta negra, cómino, coriandro, ají amarillo, rocoto) dorado y terminado en el horno; saltado de pimentones (verde, rojo, amarillo) y cebollas luego cocido en un reducción de salsa de soja y caldo de panceta; quinua tostada, hervido en caldo de panceta y luego puré con crema de leche.
Gouguenheim Merlot 2015, Valle Escondido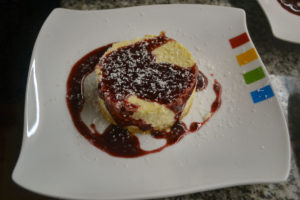 White Chocolate and Pear Cheesecake – Vanilla cookie crust; white Chocolate, pear, and housemade cream cheese cheesecake; cooked puree of strawberries, blueberries, and black berries, Chinese five-spice, and sweet wine; grated white chocolate.
Cheesecake de Chocolate Blanco y Pera – Masa de galletitas de vainilla; cheesecake de chocolate blanco, pera, y queso crema casero; puré cocido de frutillas, arándanos, y moras, cinco especias chinas, y vino dulce; chocolate blanco rallado.
Latitud 33 Tardío 2015, Mendoza
---
Copyright © 2017
SaltShaker
. This feed contains copyrighted photos and text from SaltShaker. If you are not reading this material in a feed aggregator or by e-mail subscription, the site you are viewing may be guilty of copyright infringement. Please contact
[email protected]
so that I can take appropriate action.
Plugin by Taragana






This post first appeared on SaltShaker, please read the originial post: here