"The Chinese food arrives. Delicious saliva fills his mouth. He really hasn't had any since Texas. He loves this food that contains no disgusting proofs of slain animals, a bloody slab of cow haunch, a hen's sinewy skeleton; these ghosts have been minced and destroyed and painlessly merged with the shapes of insensate vegetables, plump green bodies that invite his appetite's innocent gusto. Candy." – John Updike, Rabbit, Run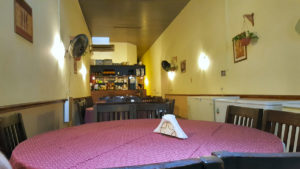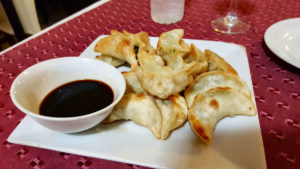 Bai Fu – Av. Scalabrini Ortiz 152, Villa Crespo – This place gets high praise for its duck, in particular. As of this moment, I haven't tried it, because at least the two duck dishes I saw on the menu ran 680 Pesos apiece – I'm assuming they're whole duck dishes to share for the table, so I was thinking, maybe one of these days (and I see from some online posts that some folk have ordered half ducks, but that must be something you have to ask for, I didn't see it on the menu – even so, too much to eat while solo). Back to the place, a little dingy, a little dreary, a little dirty, and steamy hot in midsummer, with no A/C, just a few wall mounted fans, none of which were turned on. I asked if the one over my table on the first visit could be turned on, and the woman who'd grudgingly attended me, as the only customer in the place at lunch, glared at me, walked over and turned it on, and then actually moved its angle to face away from my table and then walked away – seriously? I got up, and moved it to face the table again – at least she didn't change it back, I'd have walked out, food enroute or no.
Potstickers were the only dumplings on offer, and a batch of 15 of them for 120 pesos, another place that doesn't offer a solo person's portion if they plan to eat another dish. They're wok fried, and while ostensibly then somewhat crispy on all surfaces, most of them are broken open at the seams and they're oily as can be, which is a shame, because the filling is pretty good – packed with pork and garlic chives. Decent hot Sauce on the side when asked, but the same waitress made a big deal out of my asking for chopsticks, as if it were an unheard of and ridiculous request. So, maybe not a return for that duck… service matters.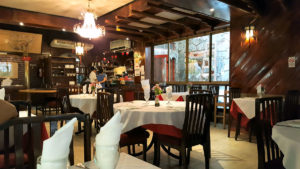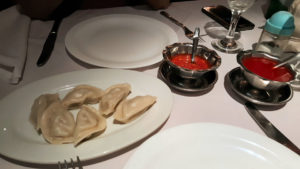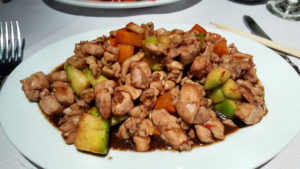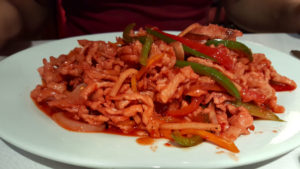 Lindo Jardín, Cabello 3419, Palermo – As far as I know, this is the only Chinese food spot in the small zone of Palermo Chico, the area to the north of Av. Las Heras. I could be wrong, and I hope I am, because if not, I'm so sorry for those of you who live there. It's a pretty enough place, a cut above many spots. Service is reasonably attentive and friendly. It's a bit over-priced – glancing through the menu we see dishes we regularly order at other spots, coming in prices running anywhere from 10-20% higher than we pay around neighboring Recoleta, except at Garden, so maybe it's just the "fancied up" nature of the place. Stickers plaster the window offering that they accept credit cards, but the long weathered signs that say "credit cards suspended and we don't take dollars" (in Spanish) have clearly been there for years.
Boiled dumplings are the only choice, either plain or with curry sauce. They're fine. They're perfectly edible. They're nothing special, and they're 80 pesos for a measly six of them. The main course portions are big, which offsets the high pricing, I suppose making them more shareable. The kung pao chicken has no spice to it, in fact little if any seasoning, it seems more just a pile of chopped up dark meat chicken (complete with cartilage and bits of bone) with a few pieces of zucchini and carrots tossed in some sort of wan soy based sauce. The spicy pork saute arrives glowing in neon red-orange, clearly some sort of sweet and sour sauce – we assume there's been a mistake in the order, but the waiter insists that the spicy pork always comes that way and that it specifies "agripicante", or sour-spicy, on the menu (it doesn't). It's inedibly sweet – there's no sour and no picante whatsoever, it's just doused in duck sauce. After a couple of bites we push it to the side, the waiter (I suppose rightly, at least in his view, though it's not particularly hospitable), declines to replace it with a different dish. We split the kung pao and a bowl of rice. These three dishes, two waters, and a 20 peso/person cubierto bring the total to 560 pesos before tip. Yawn.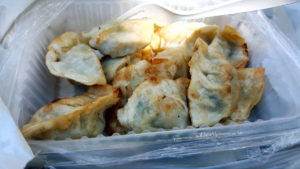 Zhu Ji, Barzana 2177, Villa Urquiza – This was just a tiny little takeout/delivery only spot that I happened to walk past one day while feeling mildly peckish. The name translates to something like "Red Mind" and there are a couple of apparently well known spots with the same name in both Taipei and Nangang, Taiwan. I decided to just order a portion of potstickers (also available steamed) and go sit in the park and nibble on them. First surprise, when brought out, no soy sauce, no hot sauce, no chopsticks. Asked if I could have any of those, while the answer was yes, it was also, "there's a charge for all those" – soy sauce, 15 pesos; hot sauce, 30 pesos; chopsticks (disposable), 5 pesos. They did have cheap little plastic forks for free. No napkins. Really? These are wok fried. They're packed with pork and leeks, interestingly – I don't think I've encountered leeks rather than some form of chive or green onion. Filling's not bad, but the dumplings themselves are pretty greasy, and a bit chewy, I don't know if they just weren't quite fried all the way, or a bit stale, but I ate two of them and tossed the rest. Even at the reasonable price of 10 dumplings for 60 pesos, not worth it.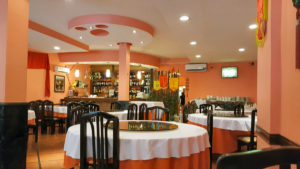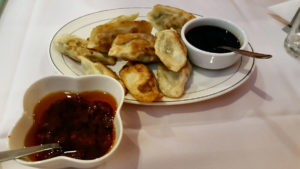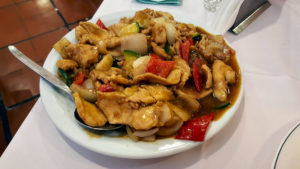 Palillos de Oro, Gallo 1532, Recoleta – The last, as far as I know, spot in Recoleta to check out, though who knows, I may wander across one along some side street (I'm not counting a trio of spots that offer food "by weight" to go from steam-tables, I'm making an assumption that none of them is making their own dumplings or has ones of any particularly high quality – I could be wrong, but so be it). This place has been a bit hard to check out. I've tried stopping in several times during their open hours only to find it either closed, being renovated, or despite having the doors open, being told, "no, we're not open, we decided to close early" (as much as an hour earlier than posted closing time). Calls for delivery have resulted in the response, "we only have a girl to do that, so it has to be no more than three blocks from us." I'm not sure why girls can't deliver further than that, but so be it.
Finally passed by and found them, while empty, to be willing to seat me. Two twenty-something girls in ripped t-shirts and short shorts handling things, and they seemed shocked that I wanted to eat there rather than take it to go, asking me more than once if I was sure. I was beginning not to be. In fact, when I ordered, the cook put things up in to-go containers, and one of them shouted back that it was for someone eating in the dining room, and his response was, "why are you letting someone eat in the dining room?" Bizarre. Especially as the place has been just renovated (as noted) and clearly intended for people eating there. One note, with the exception of a single table for two, all of the other tables in the place are big round tables for eight.
On to the food – really good potstickers, packed with garlic chives and cabbage and just a small hint of ground pork, fried perfectly (80 pesos). Great chili oil. On the other hand, a mediocre version of kung pao chicken (145 pesos). Not that it wasn't a reasonably tasty dish, but it was basically just sauteed slices of chicken breast with bell pepper, onion, and zapallitos redondos (globe zucchini) in a sort of thickened brown sauce. No spice, no peanuts, nothing that would suggest kung pao. Adding a bunch of the chili oil handled the spice, but of course made it oily. I'd order the dumplings again, but not the chicken.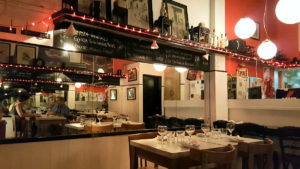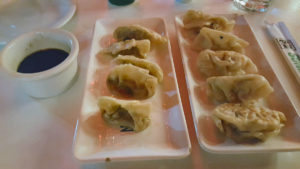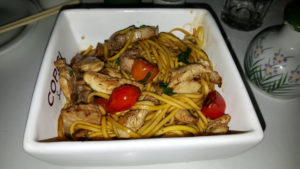 Obi Bar, Av. Santa Fé 5259, Palermo – Okay, stepping outside of the Chinese box for the moment, but remember, this "quest" is all about dumplilngs! This Japanese spot has been on my list for awhile. It originally got there for the RamenQuest, but the menu changes, apparently a fair amount, and they don't always, or often, have ramen, or maybe they never did, just soba and udon. It's a cute little place seating maybe 15 people, including two tables outside on the sidewalk. Friendly service. Short menu. Ordered up a portion each of the vegetable gyoza and the chicken & shrimp gyoza. Both delicate and delicious, the fillings fresh and tasty. The ponzu sauce has a really nice smokiness to it. I'd have actually been happy just stopping there.
Decided to order a bowl of udon. Disappointing – first off, those aren't udon noodles (oh hey, there's a topic for my next Ingredients 101), they're ordinary spaghetti, and they're doused in soy sauce and tossed with some cherry tomatoes, barely warm slices of bacon, and bits of chicken and beef. Little to no flavor. Was also a bit disappointed in the sake offering – which on the menu is touted as "imported from Japan". It was an okay but rather heavy sake, and when I asked to see the bottle, it turned out to be Sake Yaegaki, which is made in Vernon, California. I don't know if they just saw some Japanese characters on the label and thought it was Japanese, or if they know and just hope no one will notice or ask to see the bottle. Overall, I'd go back for the dumplings, and someone at the next table had ordered up a rather good looking okonomiyaki, the traditional Japanese pancake/pizza topped with all sorts of stuff – I'd try that. A little pricey – two plates of 5 gyoza each, a bowl of noodles, and a sake came in at over 400 pesos.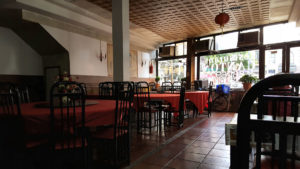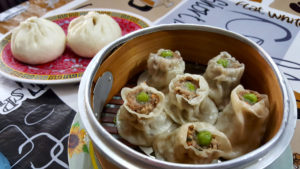 Canton, Av. Córdoba 4015, Palermo – located at the point where barrios Palermo, Almagro, and Villa Crespo come together, this is a place that I've passed by many a time and there was always something uninviting about the exterior. It just looks like a place that you'd be risking your stomach if not your life to even walk into. But, that turns out to be just the outside facade, as inside, it's not the dingy hole-in-the-wall I expected, but a large restaurant, clean, well maintained, and while dimly lit only by light from the front window, I imagine that as dinnertime rolls around they do turn on the overhead lights.
It also turns out that this place is going on twenty years, and in addition to the usual suspects, has a short menu of dim sum specialties. Friendly albeit lackadaisical service at first, though as I got talking to the waiter and it became clear I wasn't just going to order a plate of fried rice, he became more interested in discussing the menu. Ordered up a batch of the Cantonese shumai – delicate wrappers around a savory meat and vegetable filling, steamed perfectly (85 pesos), and some of the best steamed pork buns I've had in a long time (45 pesos). And, what the heck, a plate of kung pao chicken, "extra spicy", came out exactly that – extra spicy, and a well balanced and mouthwatering mix of chicken, onions, carrots, zapallitos, and peanuts (130 pesos). I took half of it home for Henry and he ate in seconds. All reasonably priced too, and especially for the large portion size of the main course. We'll be back to check out more!
---
Copyright © 2017
SaltShaker
. This feed contains copyrighted photos and text from SaltShaker. If you are not reading this material in a feed aggregator or by e-mail subscription, the site you are viewing may be guilty of copyright infringement. Please contact
[email protected]
so that I can take appropriate action.
Plugin by Taragana






This post first appeared on SaltShaker, please read the originial post: here