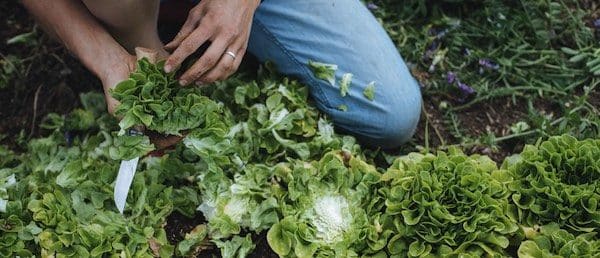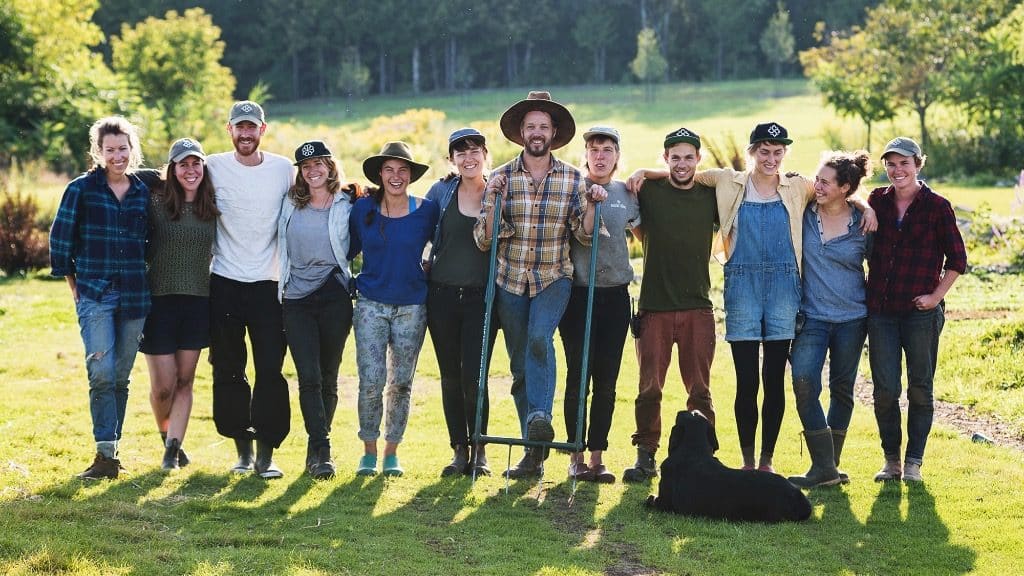 Small-scale Market gardens feed more people on the planet than industrial agriculture, recent studies have shown. Small farms also have far better community outcomes, less climate impact, and create more land-based livelihoods than any other kind of farming.
So how do we get more small farms established where we live, to help make our landscapes, communities and food systems healthier?
The answers include access to land, and more importantly, knowledge. Good knowledge, good teachers, and the intelligence of students to adapt what knowledge is available to their own particular growing contexts.
Most of you folks will be at least a bit familiar with Jean-Martin Fortier, a market gardener, author of The Market Gardener and teacher from Quebec. We brought JM out to Australia a few years back to teach and show his rather excellent small-scale organic growing techniques.
JM now runs Ferme des Quatre-Temps farm in Quebec, and has just started teaching online Market Gardening. And so we're pleased to be sharing with you that he's running a free webinar of crop planning very soon!
A good chance to check-in with this fine human and see where he's at regarding his market gardening story, his new market gardening project, longevity, online farming courses and of course, surfing…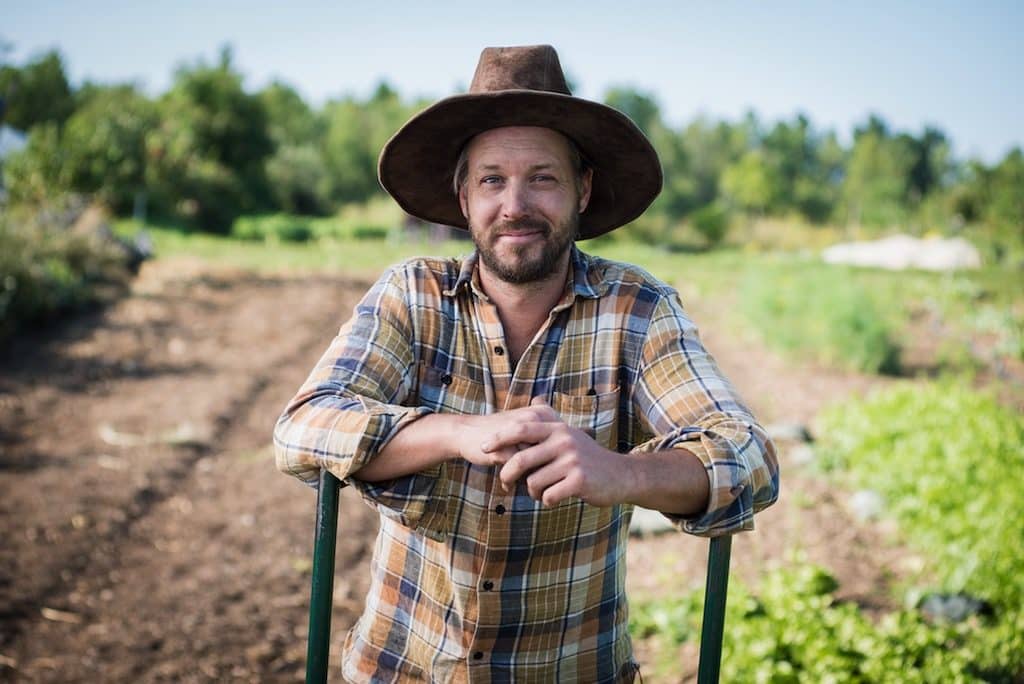 Hello JM! Many of our network know you from your travels to Australia and from reading your book, watching your videos and using your techniques… but many of us don't know the backstory – can you tell us how you got started in market gardening?
First of all, I didn't grow up on a farm and my parents weren't farmers at all. I never heard about organic food or anything like that as a kid. I was raised up in the suburbs south of Montreal and frankly, I was mostly interested in sports, skateboarding and snowboarding.
I always felt connected to nature so I went to study at the School of Environment at McGill University and that's where I met my wife Maude-Hélène. We both loved the outdoors so in the summer we worked in tree planting in British Columbia, picked morel mushrooms in the Yukon territory and in the winter we studied ecology and environmental science in Montreal.
When we graduated we went on a trip to Central America to work on fair trade coffee farms for a few months, and after that, we went to New Mexico to learn to build a type of passive solar house called Earthships. There we met a French Canadian guy who was running a two-acre market garden and we started volunteering for at his farm. We were selling the produce at the farmer's market on Saturdays and that's where we saw how cool and how successful small-scale farming could be.
We ended up staying for two years and managing another farm there. Eventually, we came back to Quebec to start our own project. For the first two years we lived in a tipi on rented land with our one-year-old son, operated a small market garden and sold at farmer's market and through a small C.S.A.
We eventually bought an old rabbit barn on a four hectare property, with three hectares of forest and one hectare of grass to build our market garden.
Our biggest influence was the American farmer Elliott Coleman with his book The New Organic Grower and also a trip to Cuba where we saw organopónicos which are raised bed with super intensive vegetables growing really close together. It was the first time we were seeing hectares and hectares of vegetable production without tractors.
That was the start of our story. The land constraint on our farm has been our biggest teacher and the reason why we came up with most of the techniques and strategies that I now teach to people.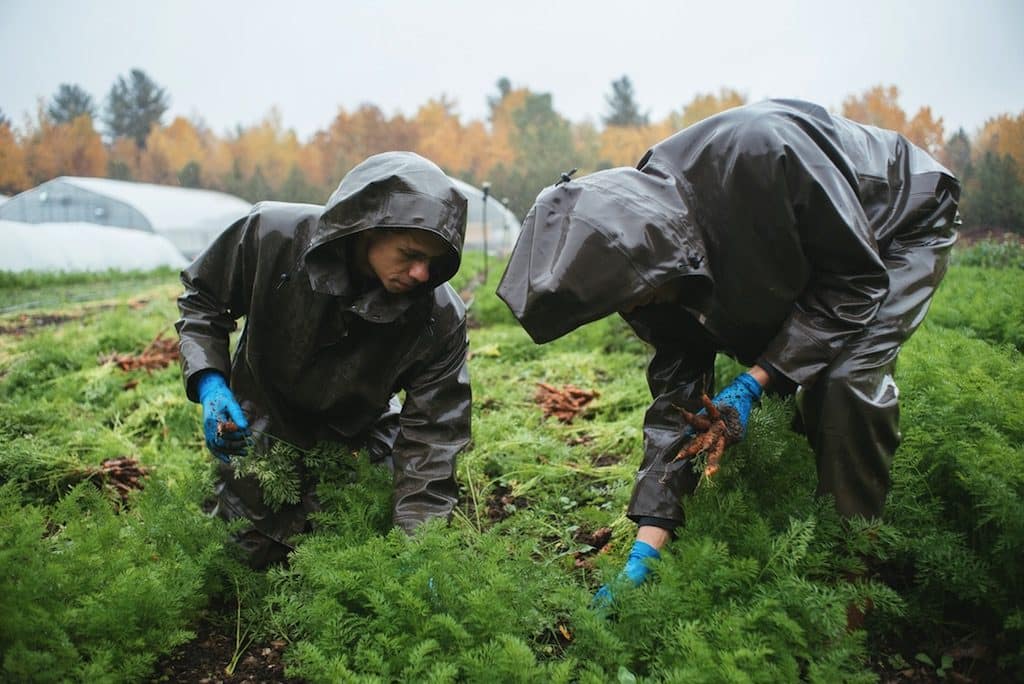 What part of market gardening do you find the hardest, and how do you cope with that?
The part of my work that I find the hardest I think is the changing temperatures up here in Québec. We have some really cold winters and some blooming spring but temperatures can go from below zero to 22 degrees and super sunny and dry to rainy for a few days – and often be changing in the same day! So adapting to weather conditions is a big part of our work.
I would also say that some of the regulations here are obstacles to our success. For example, you need to have a quota to raise more than 100 chicken and they are very expensive and hard to get. Another example is that some of the farmer's markets here don't have bylaws that restrict vendors from buying vegetables from abroad and reselling them. It's really hard to compete on price and selection with stands selling produce from a wholesale distributor.
I would also say that doing everything that we need to do on a given day and working 8 to 5, which is what we want to do, also brings a lot of challenges. We need to be super well organized and really efficient as time is our biggest constraint.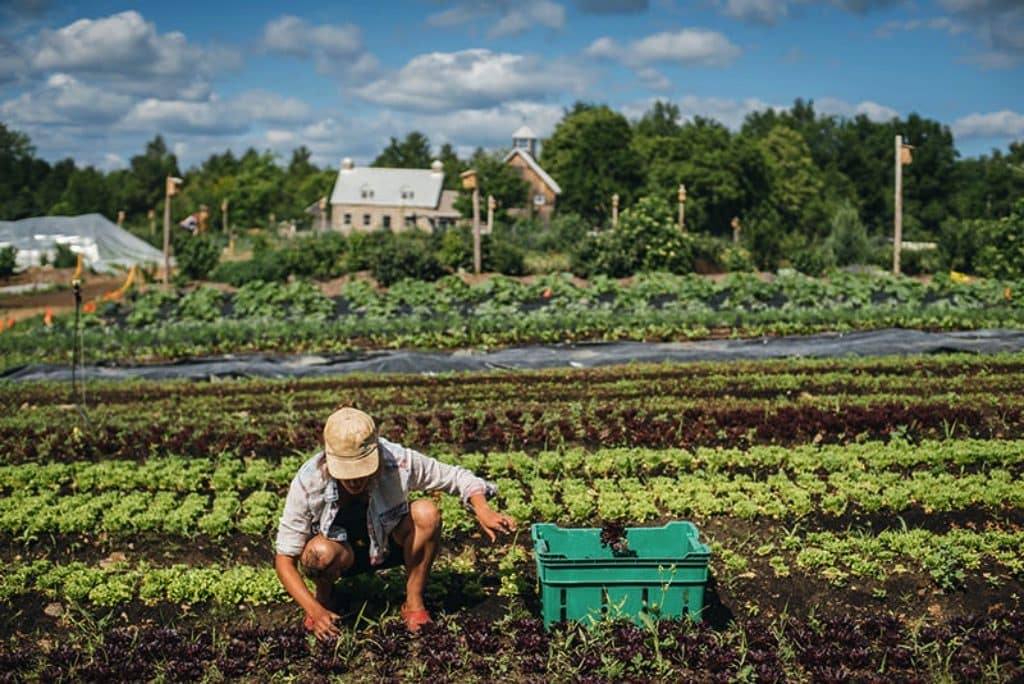 The new project at Ferme des Quatre-Temps is a big scale-up from Les Jardins de la Grelinette…, your small family farm – can you tell us a bit more about this new big project?
About four years ago I started another farm called Ferme des Quatre-Temps which is a very big project over here in the province of Québec. It was initiated by a very wealthy businessman who wanted to create a holistic farm built around regenerative approaches to food production. The farm has animals, vegetables, and a food lab where products are transformed.
I joined this project because I saw an opportunity to have more young people learning under me but also to experiment on a lot of new tools and techniques that I've seen elsewhere.
The market garden is about five times the size of my own. We are currently 12 people working in the garden plus some administrative and support staff. The sales of the vegetables produced on that farm have been great: we went from $200,000-$500,000 last year and to a projected of $700,000 this year.
We are able to pull this off by all of the design that went into the project and the new methods and strategies that I've developed over the last few years. I have a really awesome team of young growers working with me there.
The farm was the subject of a 10-episode television docu-series that was filmed last year called Les fermiers (The Farmers). The show has created quite a ruckus here in Quebec because we're talking about a revolution in agriculture and showing how beautiful it could be.
When people are touched by our story and our work, they want to support this type of agriculture. The episodes are available online but unfortunately, they're only in French for now.
What part of market gardening gives you the most joy?
What gives me the most joy is definitely my team at the farm, working with such brilliant, goodhearted intelligent, fun and playful people all day long doing applied ecology gives me so much joy!
I love the work that I do, growing vegetables in a beautiful place, listening to the birds without the noise of engines and feeling that we are doing productive and meaningful work every day. I really really love my job!
At our recent agrarian gathering of small farmers here in Australia, the theme was 'longevity' – there were some great discussions around sustainability of the farmer, as well as the farm… Where do you see yourself in 20 years time?
Easy! I think I will be doing exactly what I'm doing now: growing vegetable for market working alongside beautiful people in a beautiful place and trying to promote the importance of this work as much as I can. I'd like to surf more though!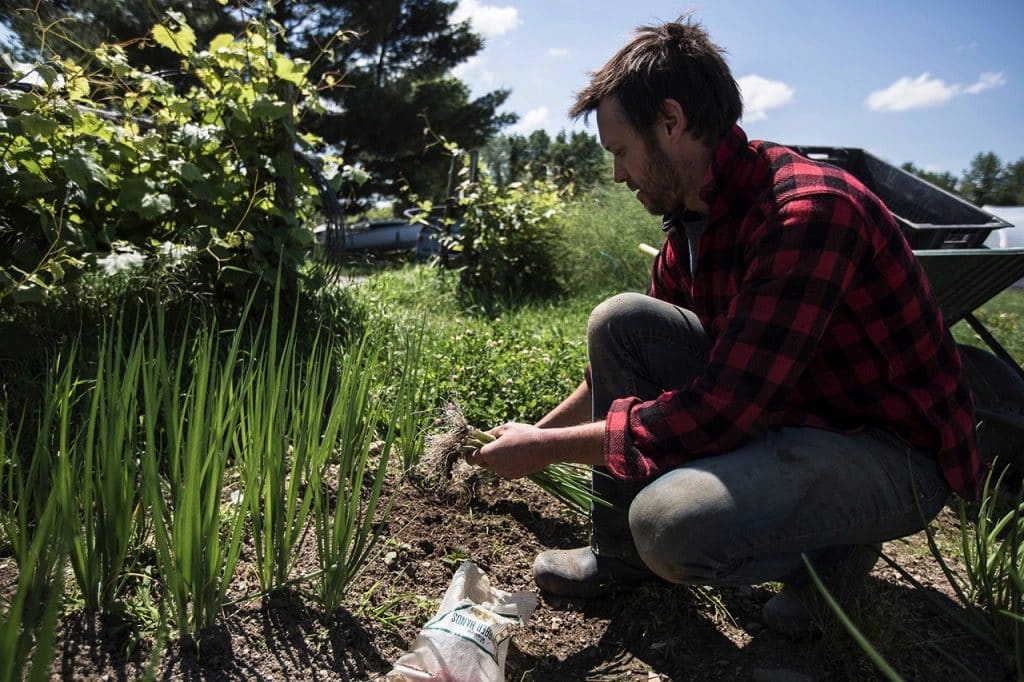 Do you miss the small scale of your previous project at all?
Yes, I do. Not so much the scale but the beauty and simplicity of the project that is also my home. Every night I go back to my home farm, which is now run by my wife and I enjoy it so much there.
On my new farm project, I have bigger challenges, bigger upsets, but also bigger rewards. It was a big challenge to pull this project off considering the scale and scope. I have learned more in the last 4 years working on this project than my previous 10 years working on my own.
I feel that I am a more complete grower now, with a lot of tools in my toolbox, and that I could now start a successful farm anywhere in the world.
Have you had any time to go for a surf lately?
Haha not nearly enough! Maude-Hélène, the kids and I went to El Salvador in March and we did catch some nice waves there. I would love to start a farm somewhere close to a nice surfing beach somewhere in the world!
Lastly, can you tell us a bit about your upcoming free webinars? Who are they for? What will growers get out of them? Are they for absolute beginners, or small-plot growers looking to scale up?
We've been doing free webinars as part of launching The Market Gardener's Masterclass and the response has been amazing. We have thousands of people show up for these the live classes, which shows me that there is a big need for specialized education about market gardening.
In the next upcoming webinar that I'm doing, 5 Step To Effective Crop Planning, I will be teaching the steps I use to plan my whole farming season each winter.
The class will definitely be more relevant for market gardeners but I think anyone who is serious about growing vegetables will learn something of value, mostly why crop planning is so important for farming success and how to apply universal principles for the most optimal results.
I wish someone had taught all this to me when I was starting out! Which is why I'm so happy to now be able to share what I know with those who can benefit from it.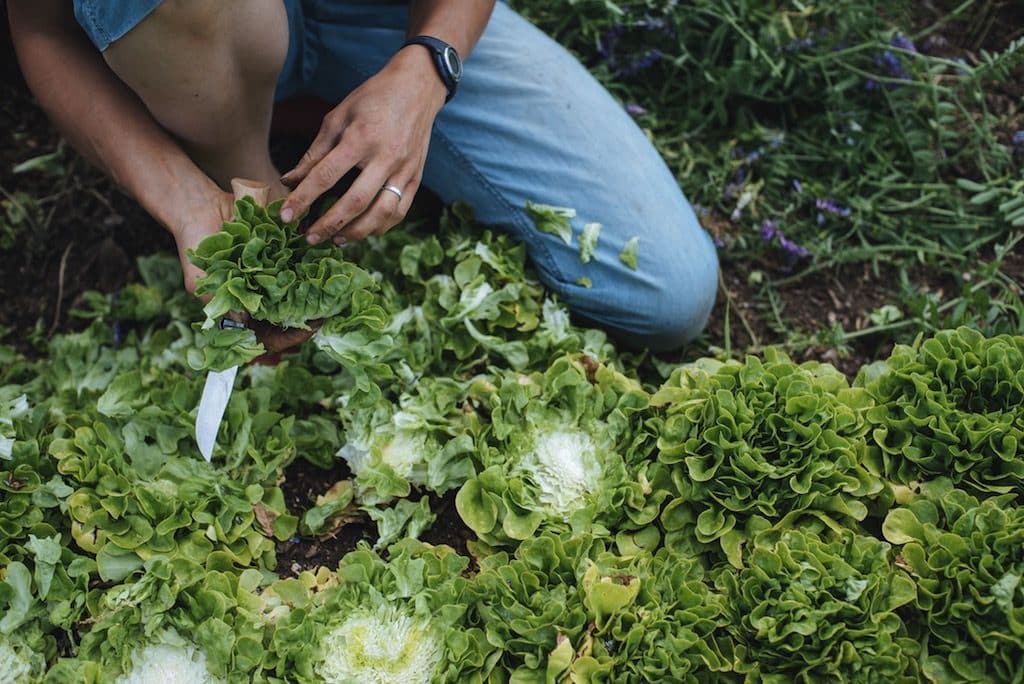 Sounds good to us, thanks JM! Ok so the 5 Step To Effective Crop Planning webinar with JM is happening on Friday 22nd June at 10am AEST.
If you're already growing, or wanting to get your head around crop rotation, go right ahead and sign up here – it's free.
If you're super keen to do online training with JM and learn all the techniques he uses for growing, crop by crop – with videos, live advice and heaps of resources… there's also The Market Gardener's Masterclass which will be taking enrolments shortly.
And best of all, we've been given a $100 discount code for The Market Gardener's Masterclass to pass on to you lovely people!
The $100 discount code will be in our newsletter on Tuesday, so make sure you're signed up to get it (and a host of other awesome knowledge + things).
Grow well, friends x
Further reading: Hungry for land: small farmers feed the world with less than a quarter of all farmland
The post JM Fortier on market gardening & a FREE crop planning webinar appeared first on Milkwood: permaculture courses, skills + stories.