When we first started planning a weekend roadtrip to
Thale Noi
in
Phatthalung
province, out came the trusty Lonely Planet. I went to the "Southern Gulf" section... no Phatthalung. Must be under "Andaman Coast"... well, that can't be right - no Phatthalung there either. It seems to be the only province (that we know of) completely left out of our guidebook. Poor, neglected Phatthalung! We got a few ideas off the internet, and set off for the non-existent province. (pictures)
We opted to take the roads less traveled (and, it turns out, less signed) hugging the coast of "Thale Sap", the large complex of inland seas that get progressively less salty until you reach little, freshwater
Thale
Noi. We stopped for lunch on a small peninsula, and encountered a shrimp-lover's dream: prawns the size of lobsters, no joke! While we were waiting for our food, I went to grab my camera from the bike, and the waitress pointed across the road, where she was headed. She said "shrimp", and motioned for me to follow. There, in a shallow cement tank, were the most enormous shrimp I'd ever seen. She fished one out, and we walked back. I returned to the table babbling excitedly about freakishly large shrimp, and I think Tr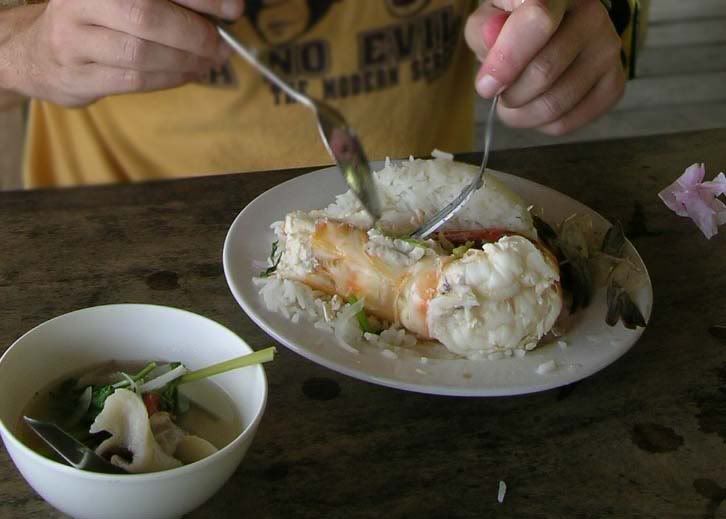 evor didn't really believe me until our Tom Yum soup came with a 16-ouncer in it. [I think they were giant freshwater prawns -
Macrobrachium rosenbergii
. Common length: 20cm/7.8in. Maximum length: 34 cm/13.4in. Weight: 0.32kg/0.7lbs - 0.40kg/0.9lbs. Big shrimp.]
Closer to Thale Noi, we pulled off to investigate the "Phatthalung Botanical Garden" which turned out to be a kilometer-long boardwalk through some interesting swampy forest. By then we were both getting stiff and sore from the bike, so it was a nice break to stretch our legs and check out the birds and trees.
The park bungalows were unfortunately full, but Pitt had booked us a room at a nice guesthouse along the main strip of shoreline, and we got settled and took a stroll to check things out. The existing park accommodations are some fairly nice bungalows over the water. At the other end of the strip, some new bungalows under construction looked like they might be park service as well, though all the signage was in Thai. On that end, the water vegetation was fairly dense, and there was a lot more opportunity for wildlife watching directly from the pathways.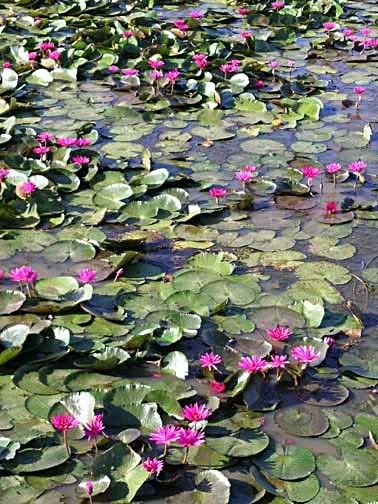 Our early-morning
Boat Ride
was really beautiful. The lotus were definitely done blooming, but pink and white lilies were still in fine form, and Thale Noi's bird life is always amazing. We saw purple swamphens, egrets, little grebes, brahminy kites, white-throated kingfishers, and little cormorants in abundance. Bronze-winged jacanas, common moorhens, purple herons, yellow bitterns, little herons, blue-tailed bee-eaters, greater coucals, and lesser whistling ducks put in frequent appearances. It was also interesting to watch the fishermen at work, plying the lake with traps and nets on a fairly small scale. We did a complete loop of the lake, including a quick trip under the bridge and into the next lake (Thale Luang).
In the afternoon we set off in search of Khao Ok Thalu (A mountain/karst with a hole in it - though I'm not sure that the Thai name has anything to do with a hole). Our first turn off the main road became a circumnavigation of the karsts, which wasn't what we had in mind, but turned out to be really beautiful. We stopped at a little temple with some nice statues and a stupa set into the cliffside. We'd almost given up on finding a trail up the mountain, when one last side-road attempt put us in exactly the right place.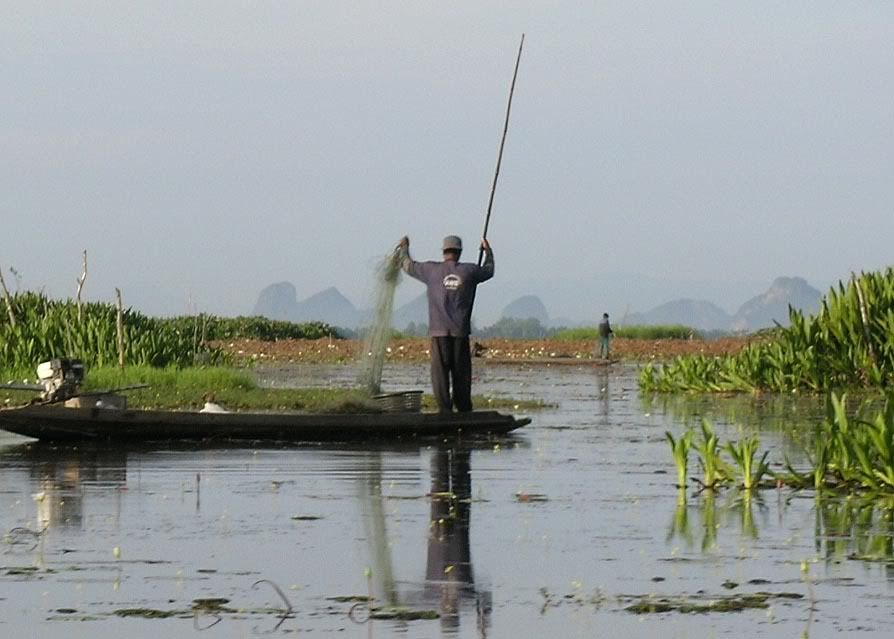 We started up some stairs....1,050 of them that went all the way up to the hole, which offers an interesting perspective on the town below.
At the top there was a gathering of monks and other folks, and we had our first encounter with the extremely friendly Phatthalung People's Association - a kind of social/service club with members who came from Phatthalung and currently live there or in Bangkok. Many of them had done some kind of run/race from Thale Noi early that morning - 20k - then walked up all those stairs to finish it off. They were having a cleanup party, and had invited monks from all over (even one from Malaysia). When we got to the bottom, more folks from the PPA offered us food from the chow tent. We tried valiantly to turn it down (already ate... very full... couldn't possibly...) but accepted some water. Which led to fruit. Which led to noodles. I felt like I'd been to Granny's house, in a good, very full way.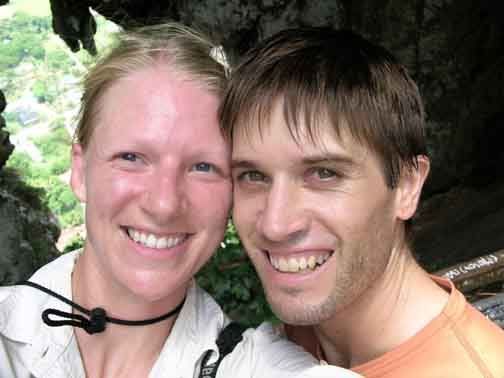 Monday we started the drive home, heading over the bridge (which we'd been under on the boat ride) and down the coast. We made a loop around a cape, and stopped at a wildlife preserve. There wasn't much to see, but a nice covered pavilion on the water overlooking the mangroves made a pleasant break. And of course we stopped on Koh Yo (Yo Island) for late lunch at our favorite seafood place. Yummy!
Total mileage: 430k.