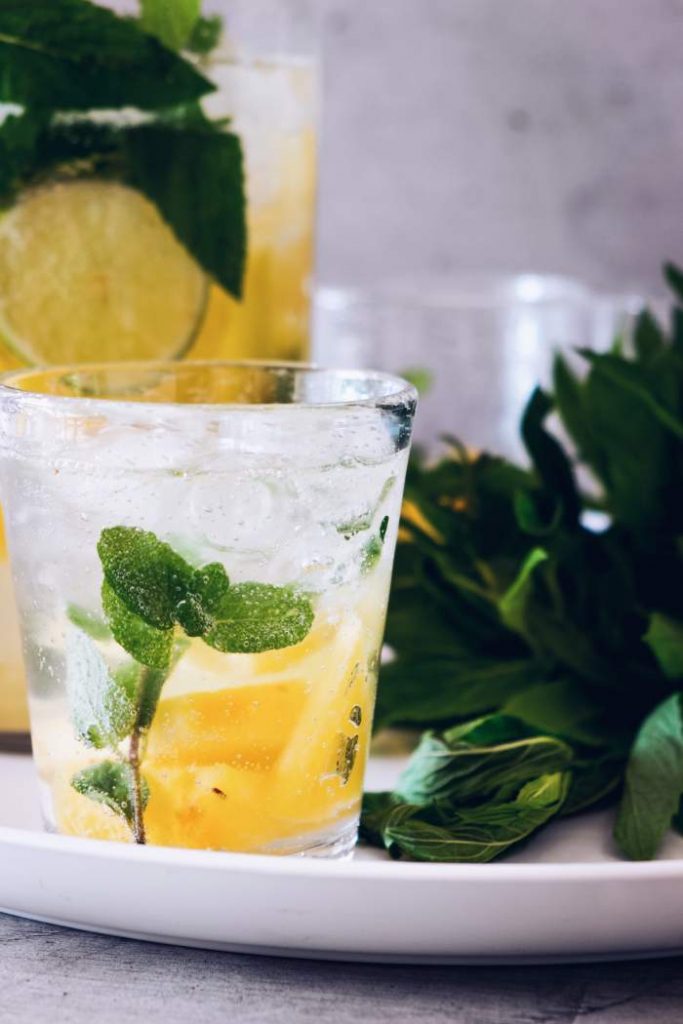 The human body is composed of approximately 60 percent of water, yet for many, staying adequately hydrated is not a priority. I've spoken to people who simply hate the taste of water, and prefer to drink fruit juices and other unhealthy beverages. A surefire way to make drinking water more palatable is to infuse it with your favorite fruits and herbs. I start my day each morning with lemon Ginger infused water and continue to sip it throughout the day.
I make a ginger infusion every Sunday. This step makes it so much easier to prepare my infused water recipe on the weekdays. The batch usually lasts for about a week, just make sure you refrigerate yours after each use. Fair warning, this ginger infusion packs a serious punch — It's basically the essence of ginger.
Ginger Infusion
You'll need
Blender
Pot
Strainer
Water
Ginger root
Directions
Add the ginger root and water into a blender. I like my batch spicy, but if you prefer a more subdued infusion, just use less ginger. Blend the mixture until it reaches a frothy consistency. Transfer it into a pot and heat it up for about fifteen minutes. Remember to allow the mixture to cool down to room temperature before straining it. Sometimes, I leave some ginger bits behind because the flavor intensifies with each passing day.
Lemon Ginger Infused Water Prep
You'll need
Water bottle
Water (regular or sparkling)
1 lemon or lime
Ginger infusion
Apple cider vinegar (with the mother)
Turmeric powder
Cinnamon
Cayenne pepper
Mint leaves
All-natural sweetener
Directions
Fill up your bottle with water, leaving enough room for the rest of the ingredients. Add in the juice of one lemon, a splash of the ginger infusion and two-to-three tablespoons of apple cider vinegar. Incorporate a dash each of the turmeric powder, cinnamon and cayenne pepper, then stir. Add a few drops of an all-natural sweetener, I personally enjoy the flavor of this brand. Tear the mint leaves with your fingers and add it into the mixture — this technique helps release the flavor.
Benefits of Lemons
Lemons are rich in vitamin C, potassium, calcium, phosphorous and magnesium. They help maintain the body's pH balance and guard the body against immune system related deficiencies.
Benefits of Ginger
Ginger contains many health-boosting benefits, chief among them being its anti-inflammatory properties. Consuming ginger helps relieve nausea, reduces the effects of the common cold and flu symptoms, and improves cardiovascular health. This pungent spice also helps remedy menstrual cramps, tummy issues and morning sickness.
Benefits of Apple cider vinegar
Several small studies have shown that consuming apple cider vinegar aids in the reduction of blood sugar levels. It may also help with weight loss and cholesterol.
Benefits of Cayenne pepper
Cayenne pepper contains vitamin C, vitamin B6, Vitamin E, potassium, manganese and flavonoids. The capsaicin in cayenne pepper has metabolism-boosting properties, and can potentially help burn off calories, suppress appetite and relieve congestion.
Benefits of Cinnamon
Cinnamon may help reduce the risk of developing diabetes and cardiovascular diseases. Researchers also concluded that people who consume a diet rich in antioxidant spices, like cinnamon, may see a reduction in their body's negative response to high-fat dishes.
Plus: DIY cold and flu bomb.
The post Lemon Ginger Infused Water Recipe appeared first on Stapha Arabella.