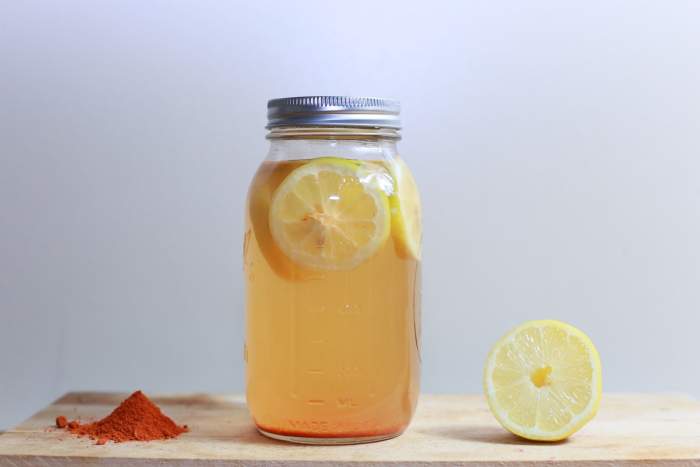 All-natural DIY cold and flu bomb
It's prime flu season. According to the Centers for Disease Control and Prevention (CDC), while signs of influenza can be seen as early as October, activity often peaks between December and February, and can even last well into the spring season (May). The best way to prevent the flu is to get vaccinated each year. However, if you've contracted the influenza virus before getting your flu shot, avoid polluting your body with over-the-counter cold medicine that might make you drowsy and even elevate your blood pressure. You can easily banish the flu with this all-natural DIY cold and Flu Bomb.
Ingredients (for one mug)
2 cloves of minced garlic
A quarter-size chunk of grated ginger
Juice of 1 lemon or lime
3-5 tablespoon of apple cider vinegar
1 tsp. of turmeric
1/2 tsp. of cayenne pepper
1-2 tsp. of raw honey
3-4 drops of oregano essential oil
Hot water
Directions
Mince two cloves of garlic and add it into a mug. Crushed or chopped garlic contains a compound called allicin which has antiviral properties.
Mix in the grated ginger. Ginger has anti-inflammatory agents that will help relieve a sore throat and kill common cold viruses.
Squeeze one whole lemon or lime into the batch. Be sure to remove any seeds.
Add three-to-five tablespoons of apple cider vinegar. Use a brand that contains "the mother."
Sprinkle in the turmeric powder and cayenne pepper. Turmeric is a powerful antioxidant with anti-inflammatory properties and cayenne pepper contains capsaicin, a natural decongestant.
Drizzle the honey into the mixture, then add 2-3 drops of oregano essential oil.
Pour in the hot water and stir.
*Since the acid from the lemon/lime and apple cider vinegar can damage the delicate enamel on your teeth, use a straw to consume the elixir.
The benefits of oregano oil
Many experts say oregano oil is more effective at treating the flu than common over-the-counter drugs like NyQuil. However, others say while the oil has promising health benefits, more data is needed in order to green light it as the next big thing in treating the cold and flu.
Caution: You might develop an allergic reaction to oregano essential oil if you have a preexisting allergy to plants in the Lamiaceae family — such as basil, catnip, bee balm and bugleweed. If that's the case, you can omit the ingredient from your flu bomb.
Serious flu complications and when to see a doctor
Young children, pregnant women and people who are 65 years old and older have a higher risk of developing serious flu complications. Possible complications include pneumonia, inflammation of the heart (myocarditis), brain (encephalitis), and respiratory and kidney failure. Individuals who suffer from chronic conditions like asthma, diabetes, and heart and lung disease are also susceptible to these life-threatening complications. Call your doctor or go to the emergency room if you experience shortness of breath or chest pain while you have the flu. It could be a sign of a more serious problem.
The post DIY Cold and Flu Bomb appeared first on Stapha Arabella.