I have to admit I feel bad about celebrating Thanksgiving for what it is… It's a Holiday that is a day of mourning for some.. and a day of just eating a ton for others. A prelude to Black Friday where you go shopping and hope to score a good deal.
As… someone who spends far too much time for her own good online and thus being exposed to the opinions of others. I have a hard time… allowing myself to enjoy the things I like without an intense amount of guilt.
I feel like I will easily insult or hurt someone without meaning to and just the worry of that alone causes rather crushing guilt.
So.. while we celebrate Thanksgiving, we celebrate it as nothing more than just a day where we get extra time to spend in each other's company, being together and enjoying a big meal.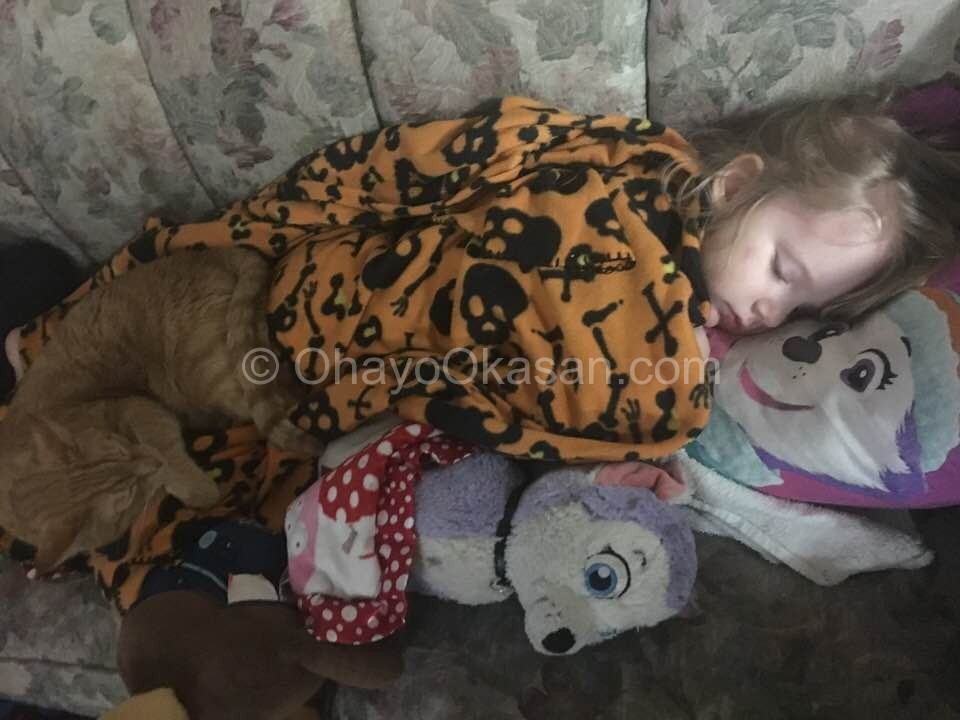 Sadly, this year.. Risi was sick. She spent the entire day before the holiday throwing up anything that went into her tummy. Until about 2AM Thursday morning, where she was suddenly very (obviously) thirsty. So I gave her watered down gatorade, about an hour later she was thirsty again and really wanted milkies. Okay.. I can do that. She got milk and went back to sleep until later in the morning.
Where she woke up with bright red cheeks and covered in a sand-papery rash. I thought, okay.. she got really hot last night sleeping under my blanket and in my bed. I'd jut keep an eye on her. She had a mild fever, but was better than the day before and ate a tiny bit. Sadly.. she didn't really want to eat much at all. She did take in fluids so I wasn't too worried. She said her neck hurt, so I thought she meant she slept funny and her neck actually hurt. I found out the day after Thanksgiving, since the rash was still there and she wasn't very hungry that no.. she had Strep Throat.. and by her "neck" hurting she meant her throat. Ugh.. mom fail. I also found out that she had freaking scarlet fever! From the strep throat. So… antibiotics it was. Thankfully she was feeling better the next day and started to eat again. You know Risiel is sick when she doesn't want any of her usual foods, not even Mac and Cheese!
She really wanted Mac and Cheese on Saturday.
Back to actual Thanksgiving for us… T-day..? Meal day? We don't even have turkey.
Most of us don't like Turkey unless it's lunch meat. So.. there's no real point in a giant turkey.
This year, we made Sushi again. Again? Yeah… it's something we all (aside from Risi, but I made things she would eat just in case…) like, so I went for lots of food we'd like and spending time together.
Sisi had come home from her dad's house not feeling well the week before, but it sort of drug itself slowly through her. So she was upstairs resting a bit while I had two big girl helpers!!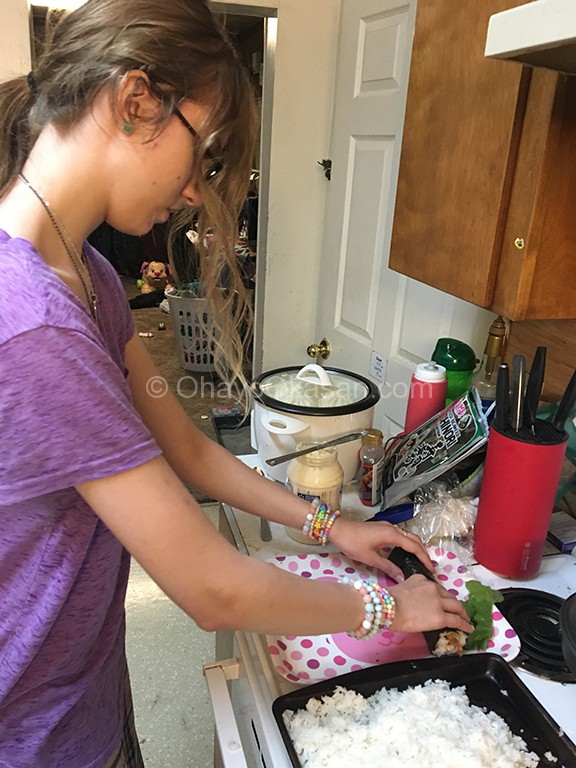 Kat learned how to make sushi rolls with me! She also set up the rice cooker to steam Char Siu Bao! Those are Chinese BBQ Pork Buns, and they're really good. We buy them at an Asian market over in Spokane, as we don't really have a good selection of Asian food here in CDA. Now.. I do have a bamboo mat for rolling sushi, but I taught myself how to roll sushi long before I ever had one. So… I actually never took the mat out of the package. I'm sure it's someplace in the kitchen, but I just use my hands. I just taught Kat the way I do it, and she did really well!
In the picture above she is making Tempura Shrimp roll sushi.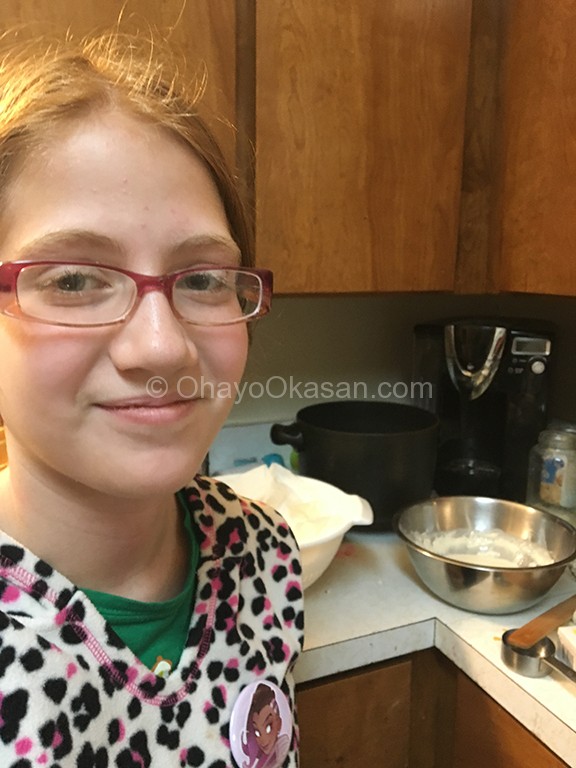 Lisi had helped with shopping for supplies and solo worked on the tempura sweet potato. I would have had more veggies for tempura but I was already a bit going crazy with shopping various stories and trying to work on so many other things plus sick kids.. colds.. flus… agghhhhh. T_T
Yes, I did let my 11 year old use the deep fryer. She's learned how to be very careful while deep frying, as we use the fryer also to make tonkatsu at times and at other times tempura vegetables. She also can use the air fryer. Meanwhile I was finishing up Char Siu Chicken (chinese bbq chicken), chicken wings, prepping other stuff, cleaning up messes, fielding questions, and keeping an eye on the not feeling well baby.
It was really good to have help this year, even if I don't always feel like our kitchen can handle three people, it's a lot bigger than the kitchen we had for a long time when I was younger.


Not pictured in this (admittedly awful) panoramic picture are the pumpkin and chocolate pie. Hey, we may not want traditional turkey and mashed potatoes, but you can bet we want some darn pie.
Risi ate a little bit of pumpkin pie, had part of a croissant, and got lots of snuggles.
Left overs didn't last long, more so of the sushi. We had extra rolls that didn't make it on to the square tray but even they were completely devoured the next day.
So.. there you have it. Our… Thankful day? I dunno.. like I said, I struggle with my feelings about this holiday more than most other controversial holidays. Probably because it's one I've always just celebrated as a day to spend with family.
I hope that… by doing so.. I really haven't upset anyone. I completely understand why it's a day of mourning for many. For me though… I often need that extra reminder to slow down, get together, and enjoy time with my wonderful kiddos and some yummy food we all enjoy. Anxiety, stress, and depression often make remembering to do so more often a difficult task.