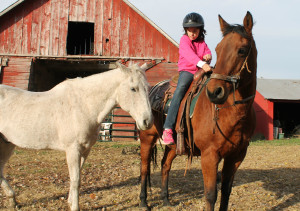 Last week we had a special visit from my parents. They drove all the way from Idaho to Iowa pulling a gooseneck trailer with six horses in it, dropping off two at our place, staying overnight and spending the next day with us, then continuing on their way to two other siblings' homes to deliver the rest of the horses. After 50 + years of ranching, my parents are finally retiring, selling their ranch and cattle, giving away most of their twenty-some horses and mules, and buying a house in town and a travel trailer to enjoy some southern winters and visits to grandkids.
I'm excited for them, but also sad that there won't be an Idaho ranch to go visit. We loved helping them with their spring cattle drive every year, and some of their horse-training endeavors! While the Idaho place never felt like "home" (my heart will always be in the middle of the Nebraska Sandhills where we grew up and ranched for so many years), it was a really beautiful place to visit and make many family memories. I'm sure we will still go visit them, but a house in town probably won't be quite as exciting as their ranch always was.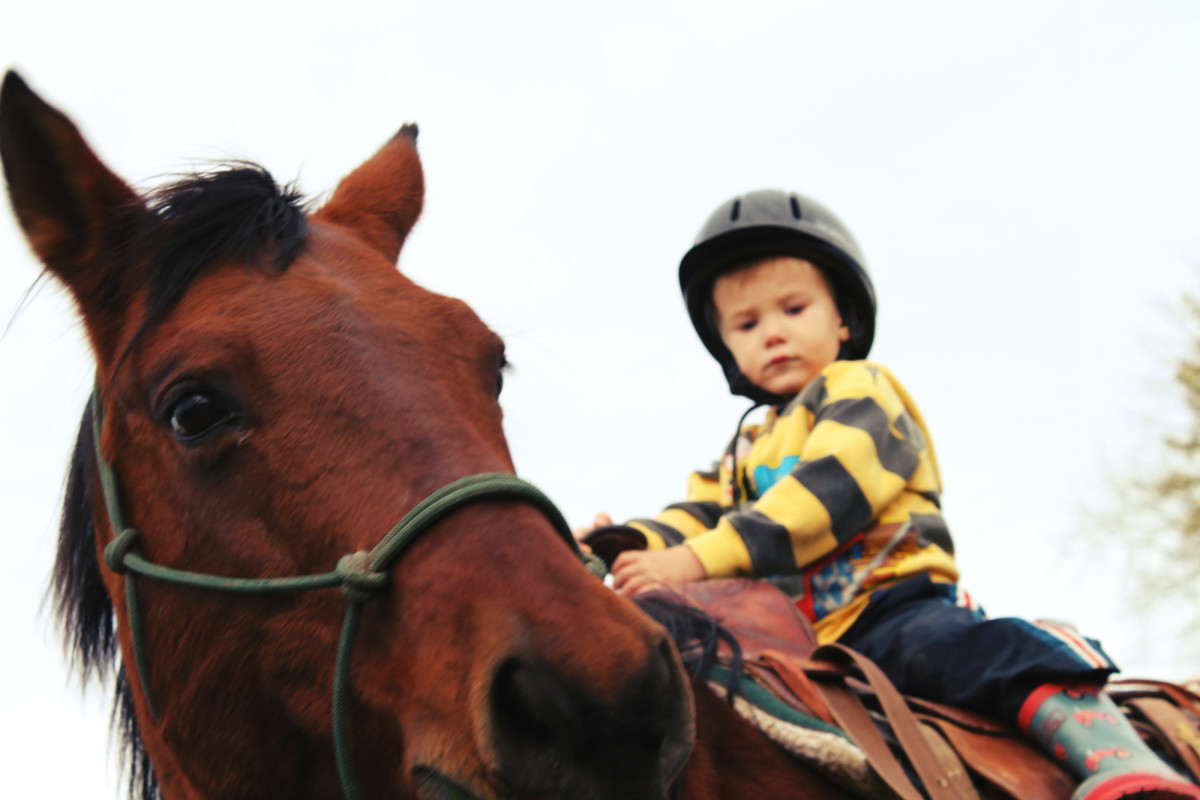 The kids were so excited to get one of the horses they usually ride when visiting Grandpa and Grandma. Red and Challis were always their favorites, and Challis has migrated to Michigan with my little sister who just got married and moved away from the ranch. So Red came to us. He is about twenty-three years old, if I remember right. The vet who did his coggins aged him at twenty. He is a registered Quarter Horse, but I remember we sent his papers back to AQHA when he was a colt, because they didn't include a tiny white mark on his right hind pastern, and we thought they should. Well, AQHA requested photos of the mark to prove it before they would change anything, and we just never got around to sending any. So his papers are still at the AQHA office, and it doesn't really matter if we ever get them back, after all these years.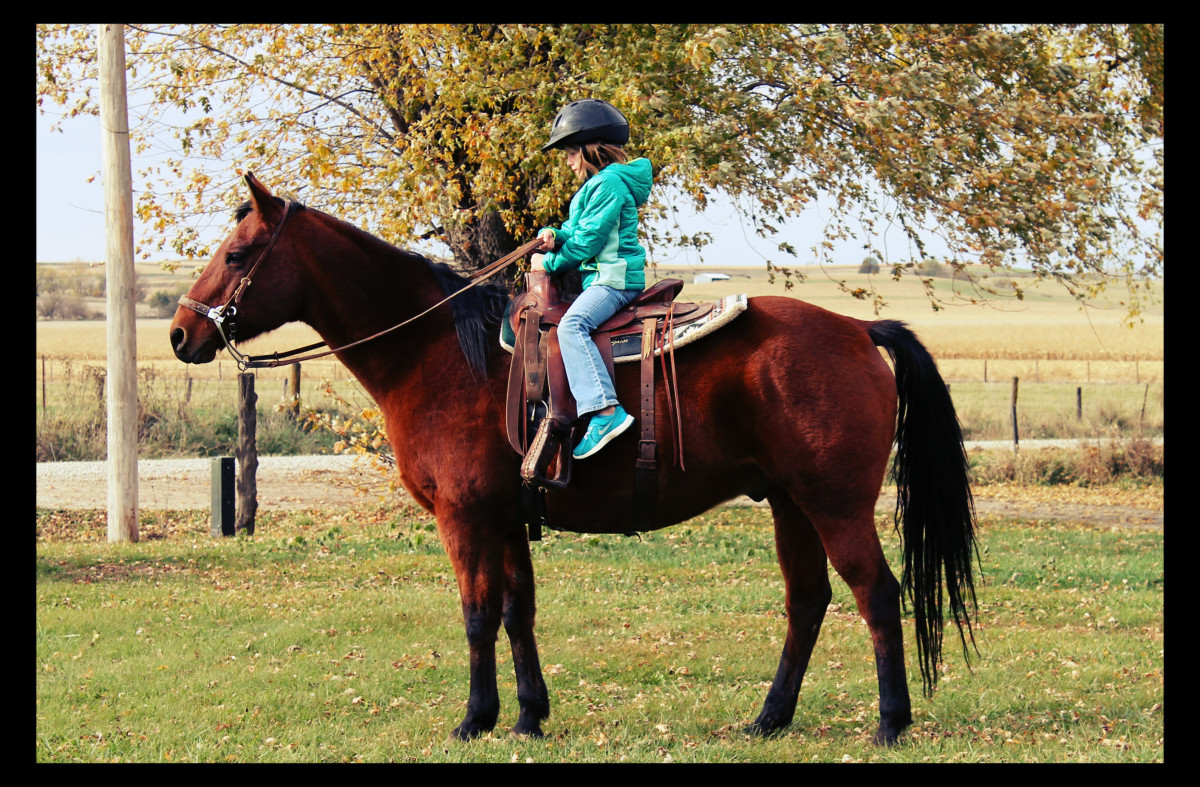 Red was born on our ranch in Nebraska, a son of Watch Joe Starlite, our Pitzer-bred stallion, out of our Three Bars bred mare, Tara Tenspeed. We kept so many of Tara's colts to ride—they made great cow horses. Red's full sister Belle was a mare I trained and rode a lot. He is a half brother and nephew of my old horse Rudy. Red was broke at age two or three, and used a lot on the ranch by my brother-in-law Charles and brother Kris, when he was a young horse. From age ten to fifteen, he was my Dad's best riding horse, and still is a horse you could go to if you need some quick cow work done. He never used to be a kid horse, as he was too high-powered and fast for kids. But he has had so many miles put on him over the years, that at age twenty-three he is slowing down just a bit.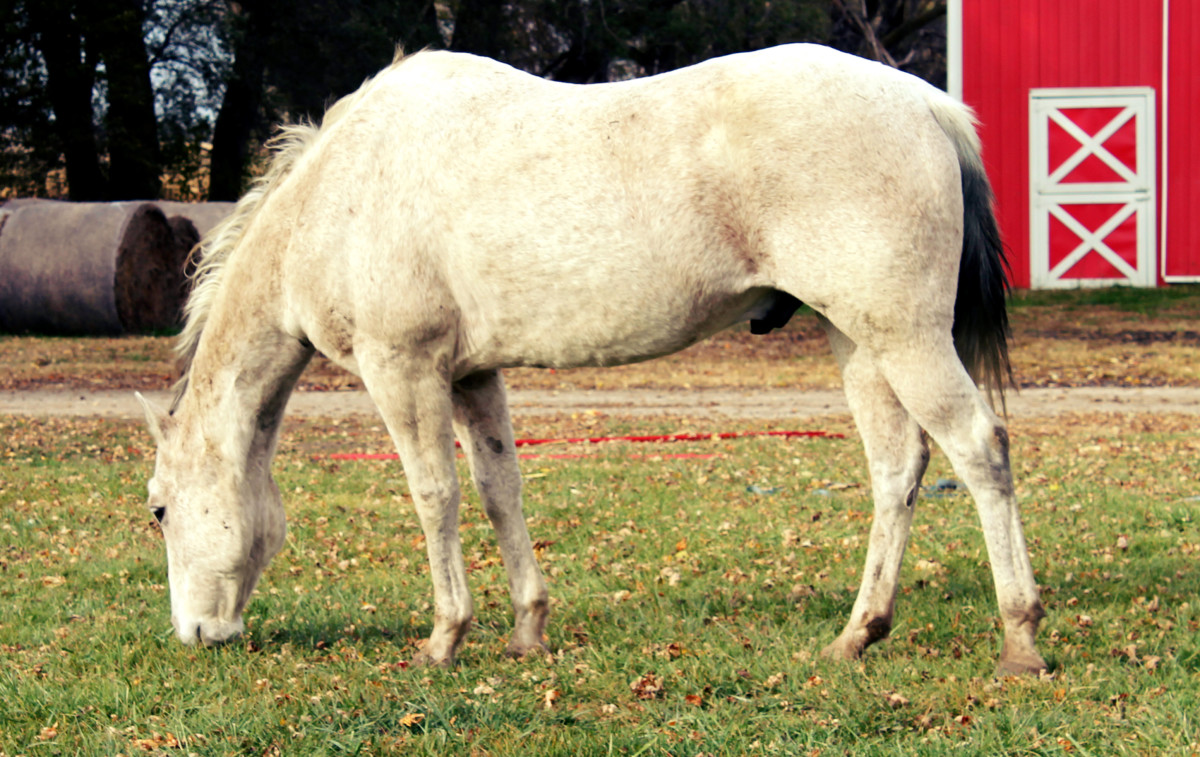 The other horse Dad brought for us is Rudy, my very own horse from my childhood. He was born in 1988, the firstborn of our Two Eyed Jack stallion, out of the old grandma mare of most of our horses, Tasha Jo. It was the only baby they had together, because Tasha got cancer and had to be put down. When Rudy was two and I was eleven, I started riding him, but I didn't put the training on him that he needed. Finally, when he was a four year old, I started riding him a lot. From then on, we were inseparable. When I left for college in 1996, my dad started riding him. Dad liked him because he was fast and had a huge work ethic. You could never accuse Rudy of being lazy!
Like Red, Rudy was never a kid horse–he ran away with me often when I was a teenager, and nothing could break him of it. I learned to just hang on, and never let him get excited. You could read his body language and tell when he was getting geared up to take off. My dad could talk him out of it, by reining him in and speaking to him gruffly to get his attention. But riding out to start a roundup, Rudy would be in the lead of a bunch of riders, and he would be dancing sideways he was so eager to go. He could not tolerate being behind another horse, and while he never reared with a rider, he would start hopping in place, up and down, until he was at a boiling-over point and then he would be gone in a dead run! After several miles, if you were still with him, you could slow him down, turn around, and go get a day's work done.
Rudy has been out to pasture for the last five years or so. He is arthritic in his front knees, and has lost some weight and muscle tone over the last year. The vet that did his coggins test checked his teeth and said they are good. He just needs to be on grain and good hay and not let other horses drive him away from feed. We don't plan to ride him at all. He has earned his keep here, by putting up with me when I was a kid. He is almost twenty-eight years old, and we will keep him until he dies here.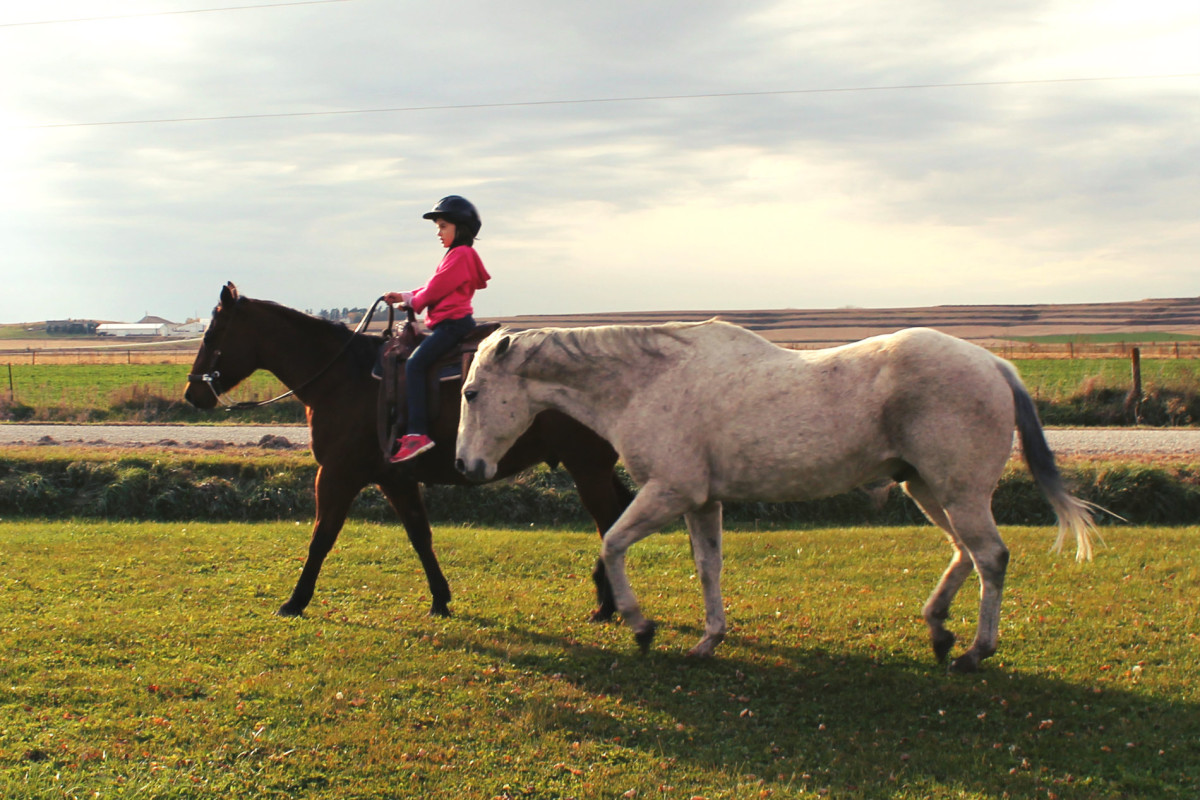 I've taken the kids out to ride several times already. They usually take turns riding Red and Daisy, and sometimes Cricket. Rudy follows along, free and riderless, right behind Red. I think that he views Red, the dominant horse, as his protector against these other "new" horses around him. Being the oldest horse doesn't always mean you are the toughest, and Rudy has never been a bossy horse in the herd. Maybe that's why he's been such a great cow horse….cows were easier for him to dominate.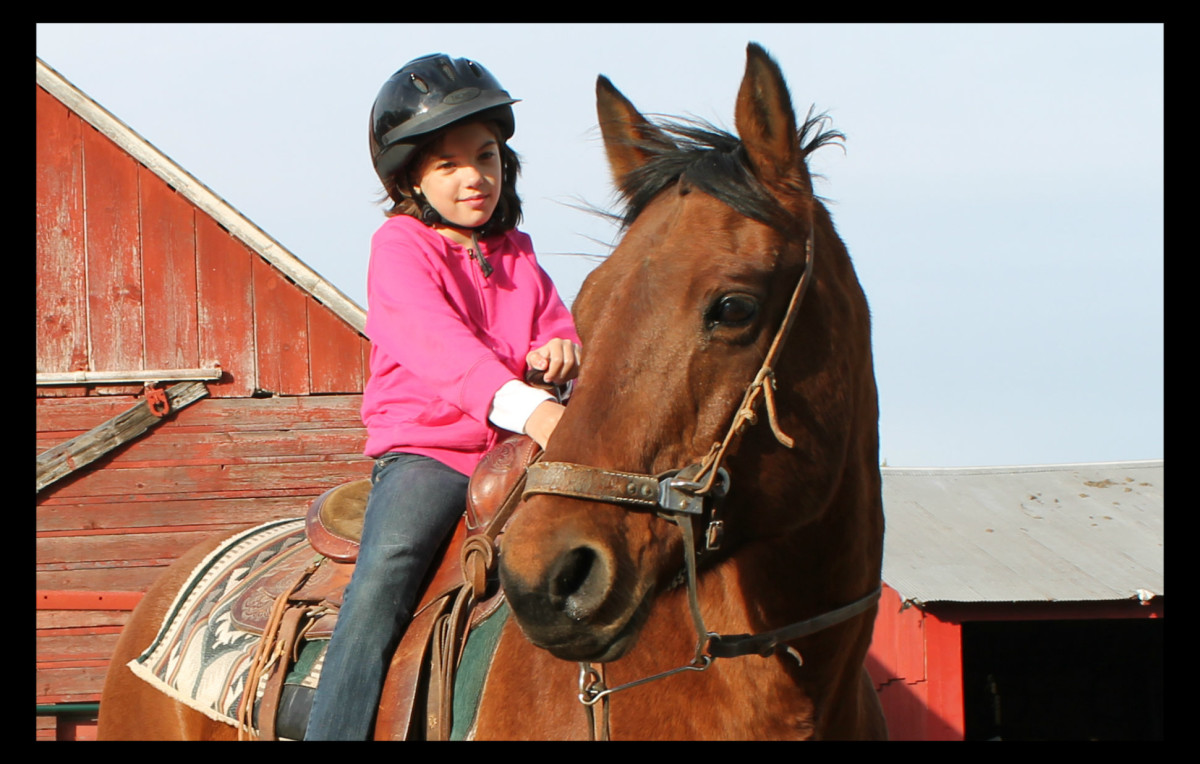 I view these two old horses just like soldiers coming home from the war. We won't expect much from them, other than a gentle ride now and then with the kids. They have chased cows, roped calves, jumped sagebrush, and hauled riders up and down mountains and sand hills for their whole lives. They deserve to rest. It makes me so happy to feed them every morning, and watch them standing at their feed bunk, soaking up the morning sun and eating their grain in peace.
Old Soldiers, Home At Last is an original post by CowgirlDiary.com , written on November 2, 2015. If you are reading this on any other website other than CowgirlDiary.com, please understand this is stolen material and the site owners should be ashamed of themselves. Thank you!