Toys as gifts to children date back almost 150 years. Of course over that time, they may have been delivered by Sinter Claus, Father Christmas, Yule Father, St. Nick, or Santa Claus. The earlier Toys were hand made from combinations of fabric, wood, metal, and/or fabric. Looking at these toys now they look primitive and only the well to do could afford the more elaborate manufactored toys.
Ever wondered exactly what a Whirligig was? Here's you answer. But I digress.
The more elaborate or "fancy" toys were expensive and therefore limited
in the 1800's.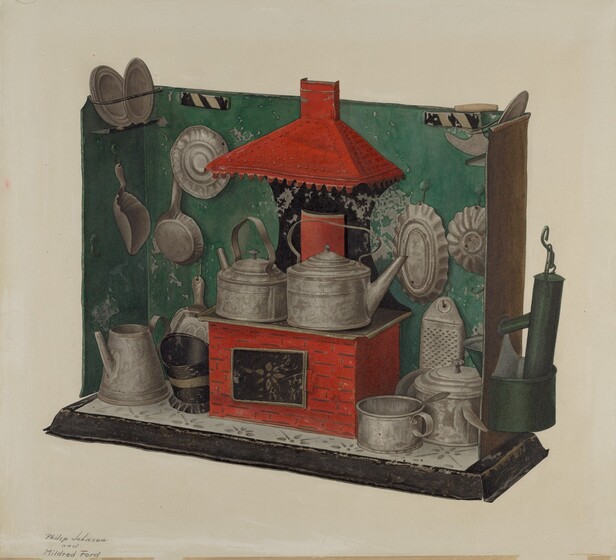 In the early 1900's the Industrial Revolution brought about the wide spread manufacturing of toys. This was the first time they were available to the masses. During this time metal toys and dolls were the most popular.
Some of these toys were incredibly detailed, such as this store in a box.
In 1918 Johnny Gruelle wrote and illustrated the first book telling the story of "Raggedy Ann". He based the story on a rag doll he had introduced in 1915. Most people are quick to recognize the rag doll with bright red yarn hair, a white pinafore, and a triangle nose. Gruelle patented the doll and marketed it with the book. In 1920, Raggedy Ann was joined by Raggedy Andy.
A fun fact- Gruelle named the doll as a combination of the names of 2 of James Whitcomb Riley's poems "The Raggedy Man" and "Little Orphan Annie".
Did you know that a character introduced later in the series of "Raggedy Ann Stories"
was Beloved Belindy, a black mammy doll? Truely a non PC intenty, but part of America's history.
Today's Raggedy Ann and Raggedy Andy dolls are the same design as the orginal ones.