Twin to Twin Transfusion Syndrome is a condition that occurs in the placenta of pregnant women with twins. This condition only occurs if twins in the womb share the same placenta.

With this condition, abnormal blood vessels appear inside. Besides, twins who share the placenta will experience circulatory problems.

One baby will get too much blood flow (recipient baby) and the other baby will not get enough blood flow (donor baby). As a result of this uneven blood distribution, one of the twins is at risk of experiencing problems such as dehydration and slow growth.

Meanwhile, other twins have too much blood and have the potential to experience excess fluid, high blood pressure, and heart failure.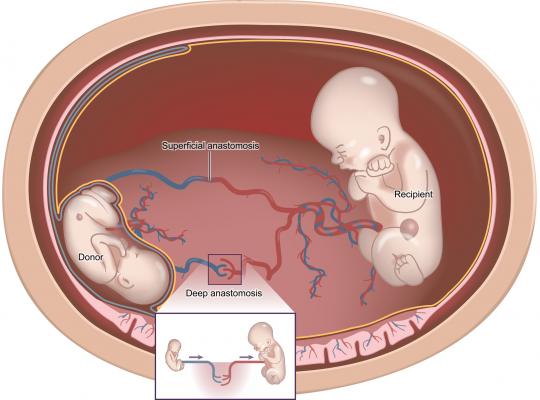 image from : www.fetalhealthfoundation.org
Causes of TTTS
It is currently unknown what the exact cause of twin to twin transfusion syndrome. There are several variations of blood vessel development that can cause blood exchange to become unbalanced.
Twin to twin transfusion syndrome is a rare condition. In the United States, 25% of twins share a placenta. Of this percentage, 10% of twins have the potential to experience TTTS.
Stage of TTTS
There are 5 stages of twin to twin transfusion syndrome based on the severity that must be known.
Stage I: Little amniotic fluid is found in the donor baby and large amounts of amniotic fluid are found in the recipient baby.
Stage II: besides the above conditions, ultrasound is unable to identify the bladder in the donor baby.
Stage III: abnormal blood flow in the umbilical cord of twins is visible
Stage IV: the recipient baby swelling under the skin and has heart failure.
Stage V: one of the twins died. This can happen to both donor and recipient infants.
Symptoms of TTTS
One symptom that must be considered by pregnant women is if the abdominal size suddenly increases in size. In addition to the size of the stomach, other symptoms include pain, tightness or early contractions.
Treatment
Twin to twin transfusion syndrome can be treated using a surgical procedure called endoscopic laser ablation. This procedure is done in utero (in the womb) and can correct imbalances in blood circulation caused by TTTS.
Lasers can find the exact connection of blood vessels between twins and physically cut and seal them. This procedure separates the blood flow of twins from each other.