Lists are my life-lines. I live my life in lists. To-Do Lists, Grocery Lists, Guests Lists, Wish Lists… and of course the Bucket Lists which has hundreds of things which I have not done and would love to do them before I die!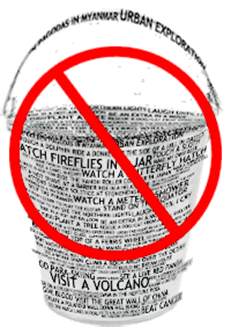 Recently, I came across the concept of Anti-Bucket List!
I liked the idea very much. I am all for exploring and experiencing the thrill and adventure of something different and new. But I am also clear about my likes, my preferences and I know my fears too. And I certainly have overgrown many things. Also I know that there are so many things that just can't be done.
So, here's a list of things I hope to NEVER do before I die.
I will never color or dye my hair. I have earlier got my hair highlighted with red, copper and burgundy streaks a couple of times. But no more artificial colors for my hair. I am falling in love with my greys.
I will never deceive or hurt others or cheat on any one in any relationship.
I will never abandon family and friends during a difficult time in their life. Never ever. Have been there, so I know.
I'd never be a doormat in any relationship. I hope never to forget myself and self-respect in any relationship.
I would never want to lose my passion for reading books.
I'd never eat any kind of bizarre food, even though I am getting a bit experimental in trying out new foods and flavors. But I'd like to stay clear of those animal brains, tongues, livers, worms etc. Ewwww
I'd never smoke or do drugs.
I'd prefer not to get addicted to anything. I should be able to stop doing something whenever I want.
I will never give up on my dreams. I may get flustered or uninspired at times, but never ever give up.
I'd never do extreme sports like sky diving, bungee jumping, para-sailing or ride on a roller coaster though scuba diving and a ride in a hot air balloon are in my bucket list.
I will never write a full-length novel.
I will never commit suicide. I have always wondered about those who do and it disturbs me to no end that they must be so sad and unhappy from life and its circumstances that ending their lives was the only solution or escape in front of them. No, surviving and then thriving despite the odds ie surthriving would it be for me, always.
I'd never learn to drive again. Have failed thrice and I have kind of made peace with this.
I'd not go for any body piercings other than my ears. I am indecisive about a tattoo though.
This list is neither comprehensive nor completely serious. I could have probably added more to this list, but a lot of them are things that go without saying, like I will never kill someone!
Now it's your turn. What will you NEVER do? What would go in your Anti-Bucket List?
The post My Anti-Bucket List appeared first on A Rose Is A Rose Is A Rose!.