I've been trying to increase my time writing and sharing my story. I joined the Blogher writing prompts for this month. Sorry, I haven't been doing as well as I had hoped. I missed a couple so today I figured I'd catch up a little and work on this prompt from earlier in the week: Oldest thing in my home.
At first, I joked in my head that it was me. LOL Ok but seriously, I didn't have to think too long about this. I have a watch and a pin that belonged to my husband's grandmother and I thought about posting that but then I remembered one other thing that we have that is even older. This!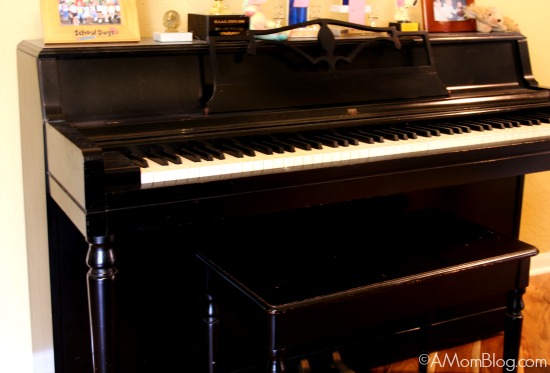 This beautiful, black Piano. It used to belong to my husband's grandfather who passed away when he was little. I never got the chance to meet him. It would have been nice to do so. I'm sad the his great-grandkids didn't get to meet him, to have had the chance to Listen to him play on this beautiful instrument that now adorns our living room. It's been moved too many times and almost didn't survive one. It's got a couple of nics and it's not perfectly tuned even though we've had it tuned before but that doesn't matter. It was the one thing that completed our home. As soon as we brought in into our home we just knew that's where it belonged.
Every now and then my husband will sit and play. I could listen to him play for hours. I love it when music fills our home. It makes me wonder how many hours his great-grandfather played it while his wife listened to him with as much love in her Heart as I do for their Great Grandson.
We lost Great Grandma when our Bug and Princess were very little. I remember great grandma sitting in her chair next to the piano while little Bug would plink away on the keys. Remembering her smile while watching her great grandson tinker on the piano is an image still fresh in my mind and heart. Did she have the same smile when great grandpa played? Did he ever have a special song he'd play for her? I'll never know but in my heart I believe he did and I will picture them together enjoying it in my mind.
One day one of our kids will have it in their home. They will play it and fill their homes with music. Their spouse will listen with love just as I do when my husband plays it and his grandma did when his grandpa played it. It's treasury will continue in our hearts and in our homes.
© 2016, Nanette. All rights reserved.
Related posts:
No related posts.