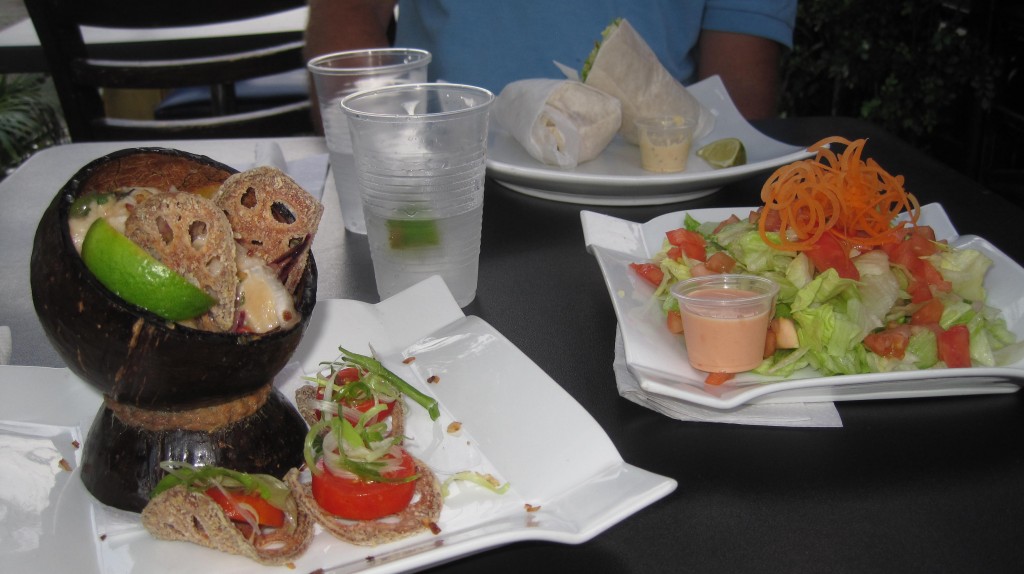 Going out to eat is one of those luxuries that is just so nice every now and then. Living in Rincón we have some of the best food around, but it is not always Cheap. Food in general is expensive in Puerto Rico due to shipping costs and so eating out is often even more expensive. In Rincón it can be really pricey because it is a tourist town and you can easily find yourself in a "tourist trap" paying outrageous prices like around $20 for just a hamburger if you aren't careful. Even in more moderately priced locales, if you have a couple of drinks, add in the tax and tip, two people could easily spend $50 on a night out! So in order to still be able to enjoy going out in our own town, eat something fairly healthy and not a chain (AKA not Churches or Burger King) and spend under or around $20 for two people, here's what we do.
Firstly, we don't go out anywhere feeling famished. We eat a couple of boiled eggs, bananas or some chia seeds to fill up on our way out. That way we can often just order one entrée and share it!
Here are our top 8 + stops when eating out on the cheap. Also note that businesses are always coming and going in Rincón so keep your eye out for new places and realize that many of these may not exist in a year or two. (Editor note: This is current for March of 2017.)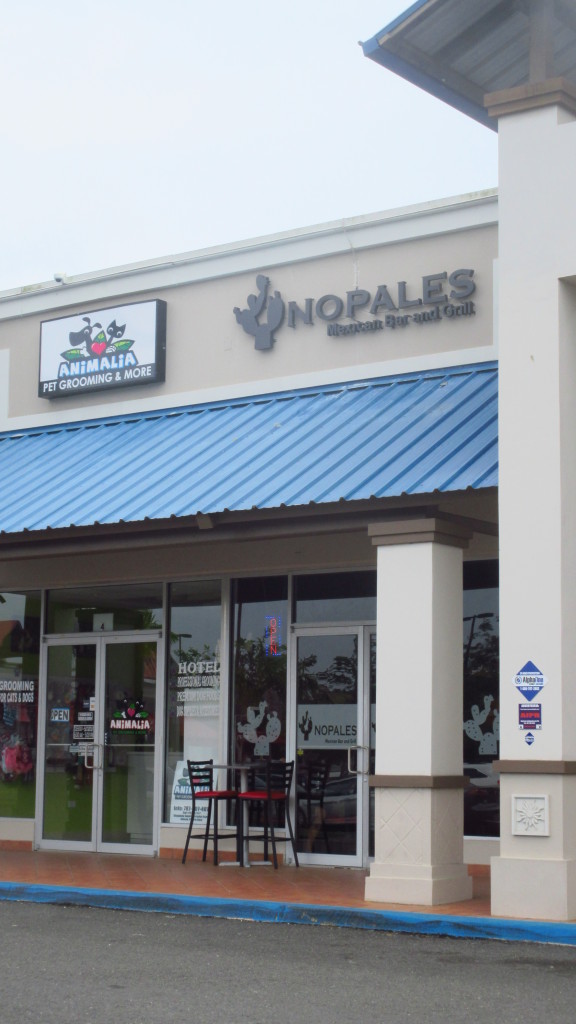 1) Nopales. This place just opened up in the new Econo strip mall and we love it. It is basically a Chipotle or Qdoba concept of burritos or tacos. We order one burrito and split it. $6 plus tax. The women who work there are also super friendly and nice. Definitely our current #1 favorite place to eat out on the cheap in Rincon.
2) Panaderias. Pretty much any panadería in town (or on the island for that matter) you will find lunch or dinner specials. Try EC, Calvache, Rincoeño or Econo's cafeteria. A huge stryrofoam container full of chicken or lechón, and rice and beans will set you back about $6 plus tax. Or sometimes we order a sandwich for about the same price. I like the pollo asa'o.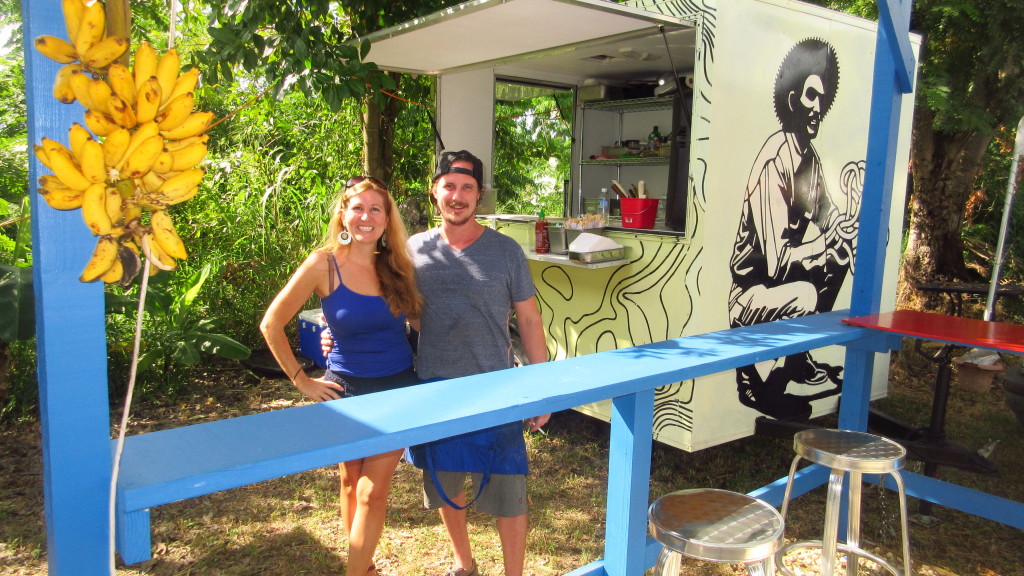 3) Food trucks. These can actually sometimes be a little more expensive because they are run by the owners themselves and often with fresh, local ingredients. Sometimes they later become brick and mortar locations like Mi Familias and Jack's Shack. Pizza Truck on the 413 is a quick, easy and cheap stop, but maybe not the healthiest fare. We love all the trucks on the corner by Mama Mel's. Generally, most of these have shareable courses for around $8-12.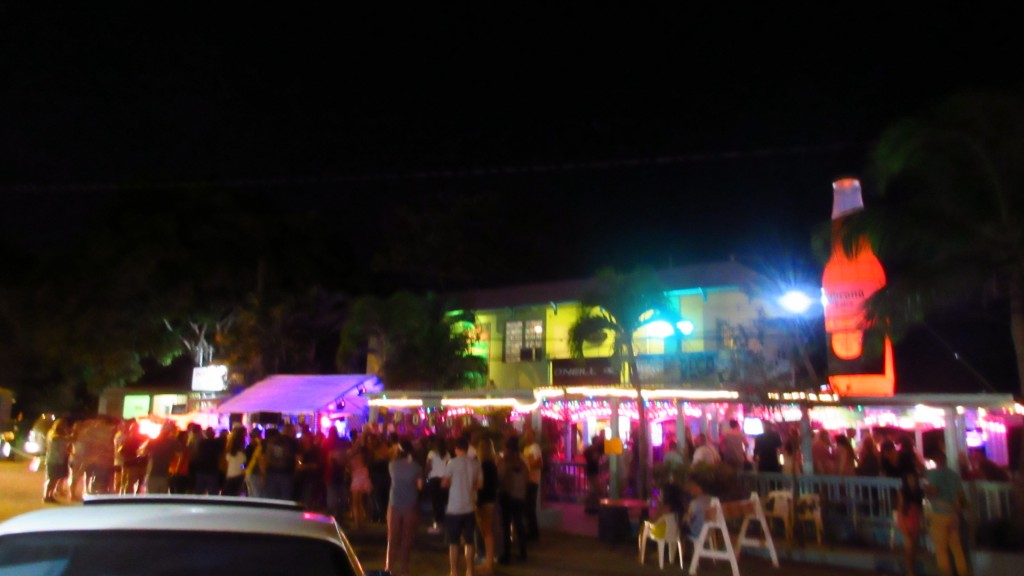 Calypso during an event
4) Calypso. You just can't beat the happy hour rum punches, sunset view, music and decent bar food here. We usually share some nachos and a couple of rum drinks and can get out of there for around $20. One note: bring your own water. They will not provide tap water but will sell bottles.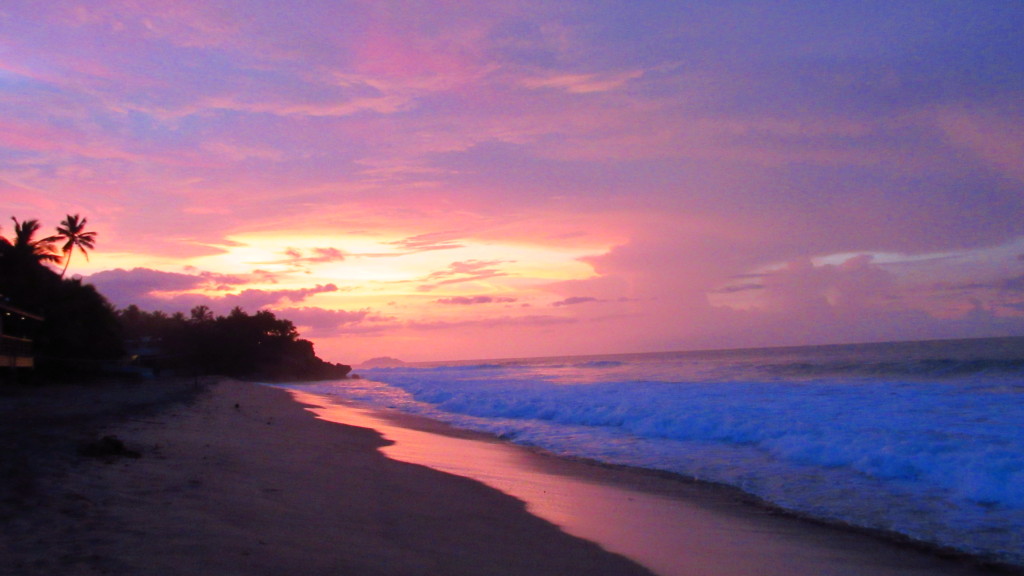 Sunset on beach by Tamboo
5) Tamboo. Another favorite mainly for the location, but the food is really good too. It is located right on Sandy Beach where we have witnessed sea turtles hatching as well as whales waving their fins at us. We like Mexican Tuesdays where they have really good Mexican food that changes every week. We've had awesome chimichangas and stuffed bell peppers. Entrees are usually about $13-14. With a margarita and a beer or two we can walk away about $25 lighter and a belly full.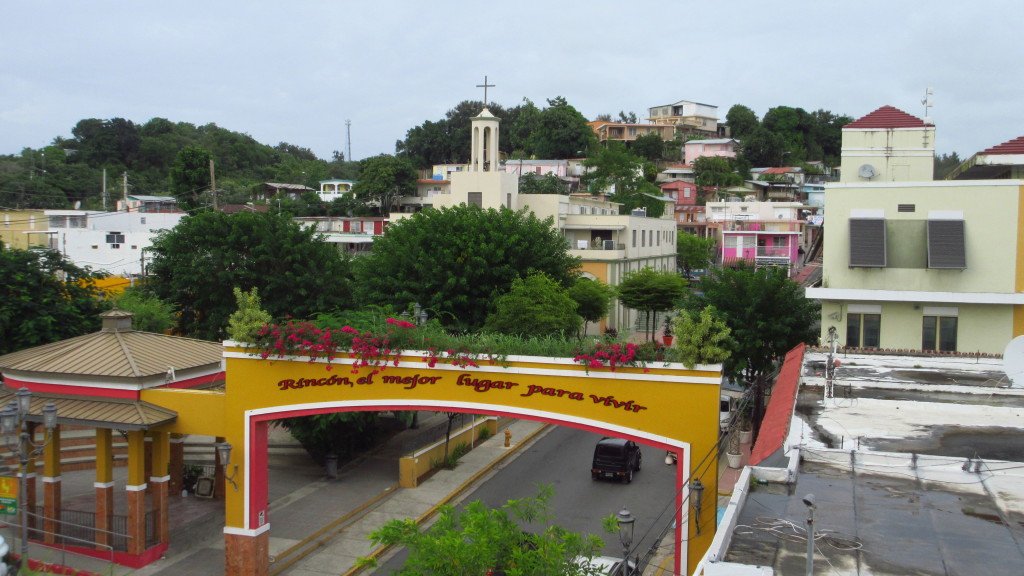 Downtown Rincon (la plaza)
6) Downtown. There are now so many options in Rincon's plaza area. Some are much more expensive than others, but if you are willing to share you can still get out of most of them for $20. Try all of them if you have time: Rincón Beer Company, Rincón Gyro, Café 413, Roots, Cappriccio, Mangia Mi, De Bocas, Brother's Pizza. Note for those really on a budget: A pizza slice and a Medalla beer will be less than $5 at Brother's!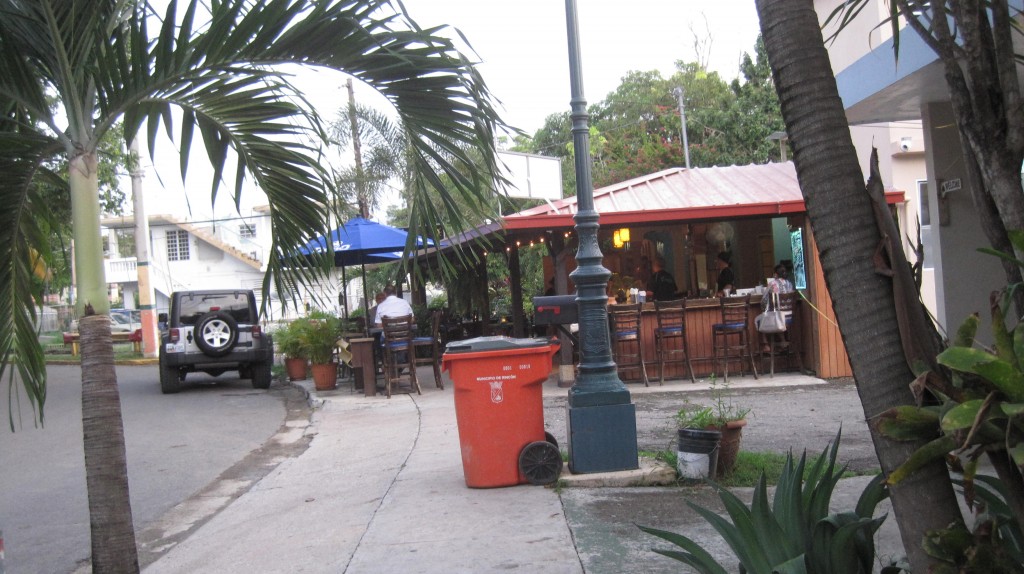 7) La Cambija. Kind of a weird location right on the road down from the balneario, but they have some of the freshest fish at decent prices. The parking situation is also a little awkward because they have a little golf cart that will ship you back and forth. I like their fish ceviche, pinchos, tacos and burritos. About $8-10 per course or $4 for a pincho. Another place to bring your own water to avoid paying for it!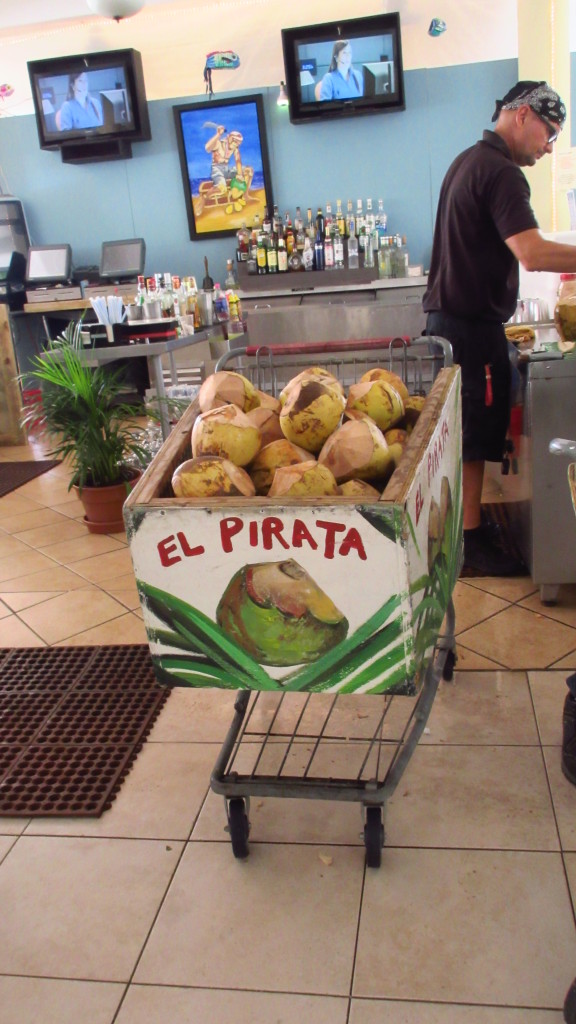 8) Villa Cofresí. Right on the water, it's a great place to watch the sunset and drink Piratas which aren't cheap, but pack a punch and are served in a coconut! We call this place the cruise ship of Rincón because it has that sort of feel. There is a fancier, air conditioned restaurant but to eat on the cheap, order from the bar and sit outside. A burger and fries is less than $10 I believe. Note: drink the piratas at happy hour and it's about $2 less than regular price.
Honorable Mentions: These places are not very cheap, but they are really good, beautiful and/or different. You can still get out for around $30 if you are careful of your selections and share food.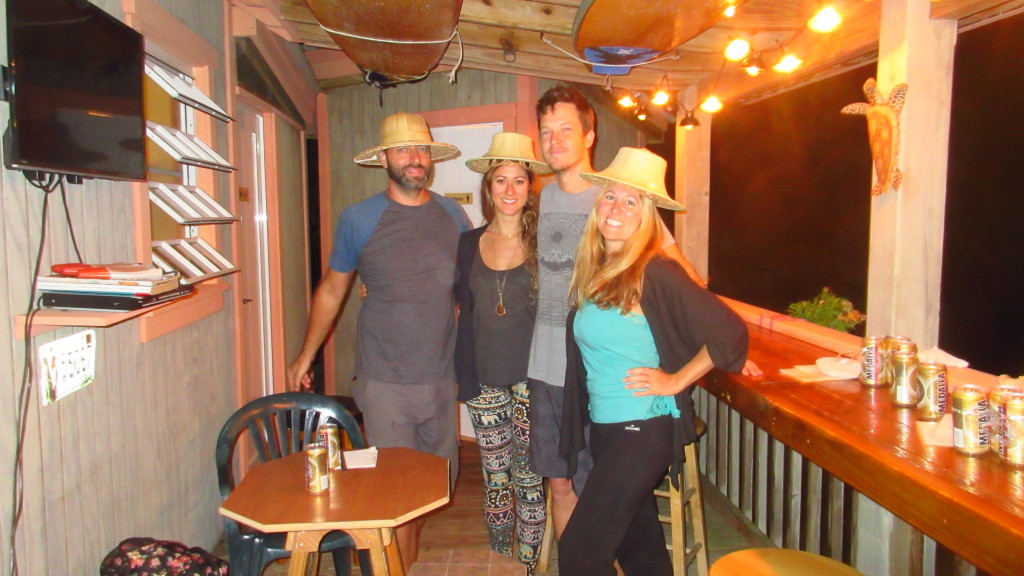 Having fun at "Secret Thai" or "Thai Lady's"
Secret Thai: Ask around and you will find it through a series of strange directions that include two snakes. The very best authentic Thai place that everyone knows about but…hush, doesn't! Bonus: You can bring your own beer!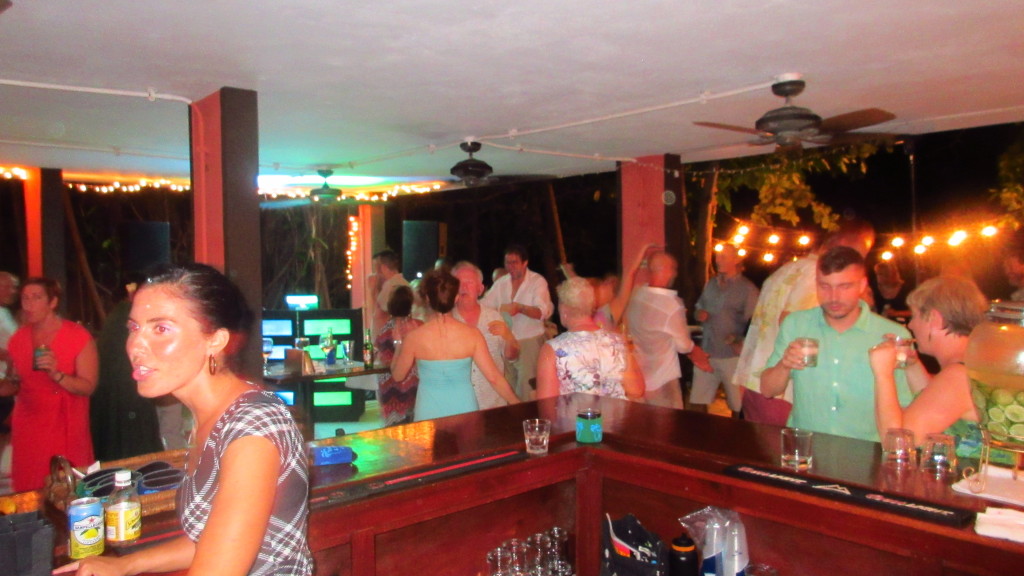 Bar area of Copa Llena
Copa Llena: Right on the water by the marina. Romantic and beautifully lit. After a fantastic meal you can sit out on the Adirondack chairs and put your feet in the sand.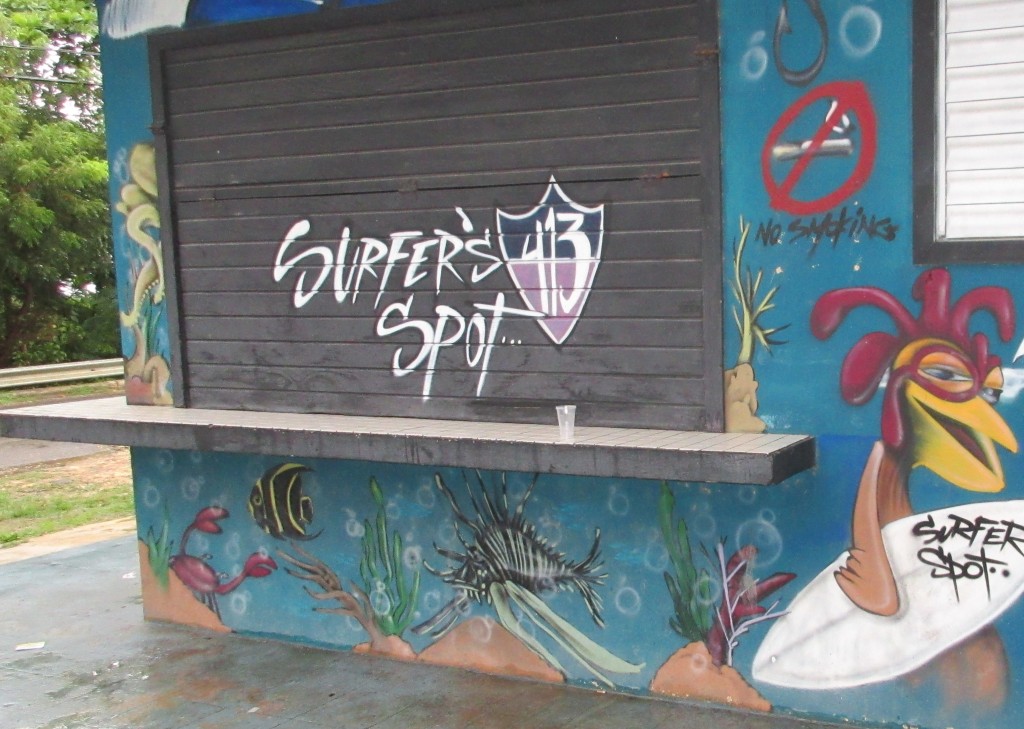 Surfer's Spot during the day

Surfer Spot: This is the place for the best cheeseburger I have ever eaten and we are from beeflandia Colorado! They have great pies and other food too, but the cheeseburger is just divine especially at $9 including fries that we can share. I don't even really eat beef, but I make an exception for this cheeseburger in paradise! The only drawbacks are that it is only open really late at night to serve the night scene and right on a busy road (the 413).
English Rose: Up in the hills overlooking the ocean you can have a wonderful breakfast. There are not many breakfast places, and this is the best both in food and ambience. It's really not too expensive either.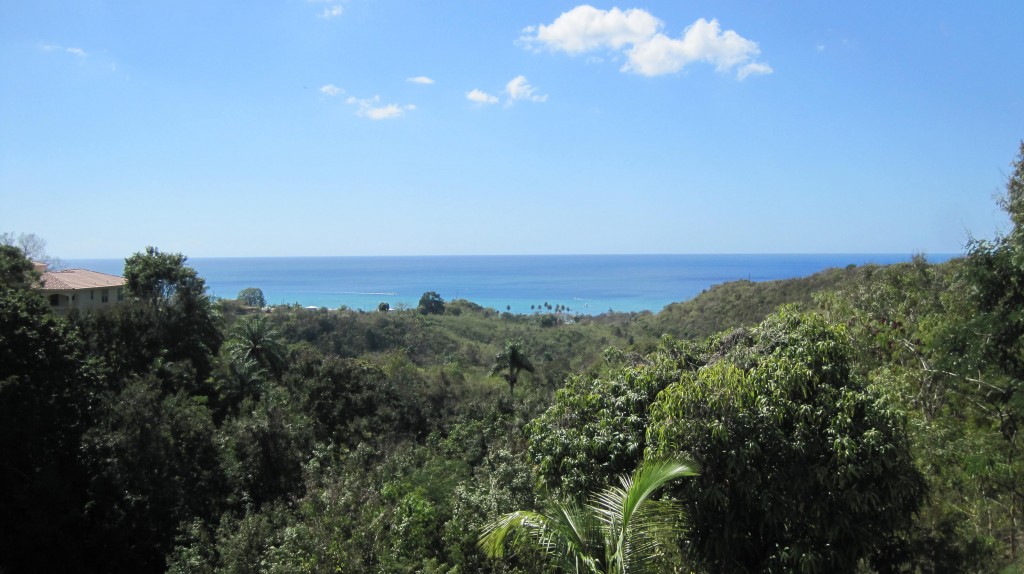 View from the English Rose