Brace yourselves Friends fans – you're gonna need all of this merchandise
Friends has been off the air for fifteen years now which means that we've all resorted to copious amounts of Netflix binging. If you're craving even more Chandler, Joey, Ross, Monica, Rachel, and Phoebe in your life – never fear. There's plenty of very cute Friends merch out there to satisfy all of your Central Perk needs.
Enoch Friends Central Perk Latte Coffee Mug Black
You may never actually get to hang out with the gang at Central Perk but that doesn't mean you can't play pretend with this mug. Gunther would fully approve.
Could I Be Any Cuter Friends TV Show Inspired Baby Bodysuit
It's probably best that you introduce your baby to Chandler Bing sooner rather than later.
How You Doin Color Block Fleece Sweatshirt
Curl up on a chilly night with this "How You Doin'" sweatshirt. None of us will ever be able to pull it off quite like Joey did but it's worth a shot.
Cool TV Props Friends You're My Lobster Plush
Give this "You're My Lobster" stuffed lobster to the Ross or Rachel in your life. Don't forget the hand gesture, too.
The Original Friends TV Show Keychain – Authentic Monica's Peephole Door
Want to bring a piece of Friends with you at all times? Snag this keychain with Monica's classic yellow peephole frame.
FRIENDS TV Yellow Peephole
Or get the actual peephole frame for your door. Now all that's missing is an impromptu visit from Joey.
FRIENDS TV Show Monica's Kitchen Homemade 1 cent Pickles Jar
Want to make your home even more like Monica's? Buy this exact replica of the utensils holder featured in almost every single episode of the show. Next purchase: Monica's fancy china that's only fit for the queen.
Della Pace Pivot Friends Couch Mug
There are few scenes better than the one when they try to get that sofa up to Ross's apartment. We should all probably rewatch while drinking out of this mug.
Friends TV Show Collage – Tile Coaster
This coaster is very cute, features some of the best moments from Friends, and won't leave rings on the table (because Monica would not approve).
There are few better gifts to buy a couple than this mug set featuring an homage to Mike (Crap Bag) and Phoebe (Princess Consuela Banana Hammock). This should probably be on every wedding registry.
Winning Moves Games Friends Trivial Pursuit Quiz Game
Think you're the #1 Friends fan? Prove it by challenging your friends to a trivial pursuit game. Warning: you may or may not lose the nice apartment.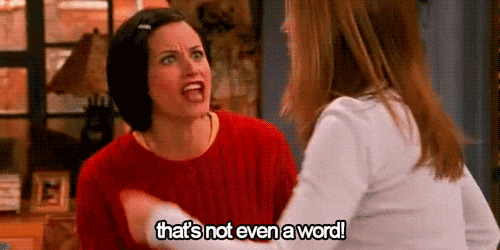 Now go rewatch the show for the one millionth time. I don't have Unagi or anything, but I'm gonna guess that it'll be a really, really good time.
We may earn fees from purchases made via links on this page and affiliated sites. All opinions are our own.
The post Every 'Friends' Fanatic Needs This Adorable Merch appeared first on Scary Mommy.
This post first appeared on Scary Mommy, please read the originial post: here