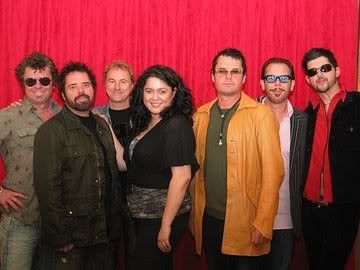 >>>link to full size photo
Originally posted at Rockband.com: Nashville recap Thread...
---
INXS Switched On Tour: Nashville, TN - 4/22/2006
...so I see we are writing mini novels now, lol...well here's my entry...nothing really new...just the view from my own eyes and ears...all still in Nashville...
Viva NashVegas! Part One...Timing is EVERYTHING...
Nashville. Home of country music. A lovely city in the great state of Tennessee. An approximately 8 hour commute from Seattle, WA.
So, my dear Rockband, what oh what was I doing there(here for now as I am still)???
Well, when the set of shows including Nashville were announced, I hadn't planned on a 2nd leg show until Vancouver in June(of course now it will not be until Reno, June 9, but that is another story!). None of the new dates were geographically pleasing nor time accommodating. I had done my BIG traveling for the BINXS when I ended up in St Charles almost 2 monts ago.
But, if you follow my always concise(NOT!) random posts, in March I found out I was potentially going to a conference in Nashville. And I remembered the BINXS were playing Apr 22...hmmm, wonder when the conference is exactly? So anyway, it turns out the BINXS and I are going to end up being in Nashville at the same time!!! I am freaking out!!! What to do, what to do? Well, I am batshit crazy, so I did what any other logical rockbander worth their BSC salt would do...I purchased a Platinum Ticket of course. The stars had been properly aligned...
Viva NashVegas! Part Two...the long wait...
Wow, I was so excited to be seeing the BINXS in a little over a month at that point! I knew a few other rockbanders were going and thought, cool, this should be a good time. Then a few more said they were coming, and then a few more, and on, and on, and on...wow a BUNCH of rockbanders were coming, to what soon became dubbed NashVegas. So it wasn't quite as many as the actual Vegas adventure...but it was a lot for a show in ...Nashville! Kind of unexpected to me at least. As the time got closer, a few more peeps popped up as going. I was so excited to finally meet so many people, and visit again with a few I had already met. I was looking forward to this, honestly more than Vegas. For Vegas, I was excited, but very nervous. For NashVegas, I was just excited! I hope all the squeeing in the chat thread didn't piss anyone off, but I think the whole crew was beyond themselves. The second leg was starting, some peeps were planning a 2-3 day BINXS roadtrip, many rockbanders were converging on NashVegas...the anticipation for a fresh round of live crack was palpable...
So finally, it was almost time to go to Nashville. My trip was not even a week away. The month had passed. I had received my email from the promoters regarding the M&G that my ticket included. I was a little nervous about this, but a few of us were going, so I was confident it would be ok. I got what I now dub my $350 backpack....it really is lovely. Very useful. I used it as my carryon on said trip as a matter of fact.
Then, something unexpected happened. I was lurking on Rockband, and noticed a new post on the Nashville thread regarding a ticket error. Anyway, after some various communications, I found out I was able to get my ticket upgraded... I just had to pick up new ticket when I got to Nashville.
So anyway, I was like cool! I was really impressed that the promotions folks would even follow up on something like this. Honestly when I purchased my ticket originally, I thought, wow, these platinum tickets guidelines must be kind of loose...but hey 2nd row behind pit is nothing to sneeze at, so I never complained...I mean I was getting to go, and it did include those fabulous extras, like a backpack, lol...But now, I knew I would get to be a bit closer! I was wondering where we would end up...
Viva NashVegas! Part Three...earlybirds catch the worm...
So did I mention...that flight I scheduled, was a RED EYE Friday night before the concert...errrr! This would mean I wouldn't have slept for almost 36 hours when I would finally get to meet the BINXS face to face! Oooh, good planning...lol. So there it is. I leave for the airport Friday night around 10ish when my shuttle comes to pick me up. I get on plane at around midnight Saturday morning, and we take off shortly after. All goes well, I change planes in Houston, land in Nashville, checked bag arrives with me. All is good. I catch a taxi to the hotel... I rested for a bit, and then decided to head out. I called Numbers , and she was hanging out w/Adan, and company, and then WATT and NIF and we all decided to meet up for lunch...I think it was beinghuman, Aussieb, quietrokbabe and the aforementioned...Am I leaving anyone out...I have no idea...headcount anyone?!?!? Anyway, we all met up for lunch and it was like a bunch of old girlfriends getting together! I only had ever met NIF and WATT in person, but it didn't matter...Rockbanders are an awesome bunch, and I never cease to have a good time whenever I meet up with any of them.
So we munch...and listen to some live music...there is live music everywhere in Nashville...some, uhmmm, well, they try! I think they even have live music in the ice cream shops here! It is music city after all... Anway, our lovely waitress was a bit slow...but it gave us all lots of time to visit. This wasn't the whole contingent mind you, just the early birds...So once all food and drinks were finally delivered and consumed, we realize it's about 3 already, and we are need to get back to make ourselves fabulous before heading off to meet our full rockband contingent at about 4ish...ok, so some are already fabulous, and didn't need to do anything...me I had been up ALL night...I needed to freshen up!
Viva NashVegas! Part Four...Howdy, have you seen a Rockbander round these parts?!?!?!
So the time arrives, and folks all have headed/are heading over to Tootsies for the big rockband pre concert meetup. I get there and a bunch of the crowd is already in attendance...and I get to meet Kira! and then Hot & TLO show up...have I mentioned they are one hot couple? Lol...sweethearts they are! And at some point, Jausten and hubby join us, another hot couple!...and eventually Inzane gets there...and then, Sooner and Mii arrive...and I know I have missed people...and I know I met a few others, and others I didn't meet still likely...but it does not matter...I got to hang out with all the fabulous rockbanders for many hours before the concert. Shortly after my arrival at the bar, we realized we needed to relocate out back, as the bar was super loud and stifling hot! Out back...paradise(much cooler—ahh fresh air)! And the party continued! Many of us were well lubricated(I mean drinks people!)...and it was a fun, fun time...much laughter, joking, and just plain BSC being BSC.
At some point the Band arrives in the alley out back by where we are hanging out. A few peeps go out to get a closer look....Most of us stay behind the gate/fence of the bar...we all kind of cheer w/the crowd when the boys get out of their cars and wave or smile our way...lol...their vision of most rockbanders...behind bars! Nice...I'm hoping we all look a bit fuzzy and are not discernable, lol...
So back to the drinking...well, since the gathering had started about 4ish...and we didn't finally head in for good to the venue until 8ish, you can imagine...lol...I was mostly drinking mandarin vodka tonics, when I noticed some of my fellow BSC's downing long islands...and old favorite of mine, so I decide to switch...uhmmm...holy heck those babies were STRONG...good stuff! Anyway, the group was fun, we were all chatting, drinking and having a good time. At about 6.45 the M&G crowd heads over to the Ryman right next door, to pick up our instructions...we run into Drumtech....one of our lovely rockbanders runs up and gives us a hug...he waves hello, etc etc...the details have been shared...I think I was a little buzzed, it's all a bit hazy...
Anyway, at the venue, lol...we get this note that tells us to meet later again, at 8pm back at the venue...it struck us as funny...like what was going to be the next instruction??? Anyway, we have another hour, so what do we do, we head back to the bar and continue to party...
Really it could get no better. Everybody just continued to have a blast, or at least I hope we all did. I had a great time!
Viva NashVegas! Part Five...the Band awaits the Fabulous...
So, as you might have gathered...a few of us spurlged on the Platinum packages, for the awesome seats up close. I had gone to get my upgraded ticket earlier that day and found out I was joining the peeps down in the 2nd row of the Pit...and we were DEAD center...Squee ! it was going to be a great night.
So anyway, back to that one little extra that you get with those lovely 'Platinum' package tickets...you're given the opportunity and privilege of attending a meet and greet with 'select' members of the band. We had all wondered for a while what the setup was going to be like. It continued to amuse us once we arrived back at around 8 for our second instructed time.
Eventually they moved the M&G group out of the center of the lobby...we were blocking the entrance a bit...causing a commotion and whatnot, lol. So they stuffed us behind the stairs and we waited. Eventually M&G coordinator dude comes around talks about what we are going to do, does a roll call, etc... Then he tells us we can't take our libations up stairs, and one of the peeps I was right next to had just ordered a tall cold one (aka: a giant cup of beer), so 3 of us worked on downing this...we finished about 2/3'rds of it and then tossed it as the procession of peeps was led up up and away to the hallway around the side up the upstairs of the building.
And there we ended up, in the upper hallway of the Ryman, backs against the wall, single file...it kind of felt like we were there to get our mug shots or police line up or something, lol...it was a small space...we wondered what it was going to be like...hmmm....so anyway, M&G dude, continues to explain how it is going to go...then we see Tony/Security peek out...Precision, beinghuman and I are the 1st 3 in line...we see Andrew just beyond the door behind Tony...a few seconds later the BINXS were led out...
Being the brilliant men that they are...they of course split up, and half started at one end of the line, the other at the other end...Oh, did I mention, ALL of them were there! Squee! So they each proceed to stop by each individual and chat for a couple of seconds, we offer brilliant compliments, etc, they willingly sign something if we ask. They are tiny...did you hear me...they are TINY! LOL! I felt like a giant! But they are super sweet. And just gorgeous up close...The whole thing reminded me of a receiving line at a wedding or something. It was well organized, and I think worked fine. About as well done as something structured like that could be...I found it rather amusing...Oh, and witty gal that I am...yeah...remember how I said that my gift to them would be a 'thank you', well yes, I lived up to that witty repartee, lol..each BINXS I shook their hand, and said 'Thank you so much, it's been a great year!'...here, sign this! I just brought a cd liner...of which we got another when I left...so I should have been more creative? With both witty repartee and autograph target...not that it matters, lol...it was so cool just shaking their hands...I am 12! Squee I got to stare into their eyes , or rather down to the BINXS...well except for Jason...at least he was taller than me in my giant heals! But he is a twig! SKINNY! And yes, duh, he is uber hot...and a bullshitter... telling stories I tell ya!
Ok, so once they got through basking in our fabulousness, exchanging brilliant witticisms and whatnot...it was picture time...errr, I was not looking forward to this...I know I am going to look like a troll!!! But you have to...lol...well maybe not have to...but I am not a total wimp...so 3rd in line...the first 2 lovely gals were nice and petite, and fit in w/the group of BINXS perfectly...gorgeous, hot, etc...So me next...ok...uhmmm, I have to stand in front/middle of them??? Uhmmm, I'm a giant and they're TINY! What to do...so I jump on up there, and try to scrunch down a little ...I think I put my hand on one of their shoulders or something...I think I smiled...I really don't remember...their closeness all at once fried a brain cell or 2 of mine...so then, it was all over...the M&G at least...we picked up our stuff including a presigned liner...I think they said they will send us a signed program when they come out...anyway...off to the PIT!
Viva NashVegas! Part Six...DEAD CENTER...
BH, went to get another drink...I think we ordered doubles, lol... we conned Jausten's hubby(I think??) who was already in line, to order ours ...thanks!!! So, we get to our seats and we are second row, like 6 feet from the stage...and uhmmmm...DEAD CENTER!!! Squee!!! ....the five minute clock came on shortly—did I mention, it was almost all rockbanders in our row...to my left was BH, me, Inzane, then in some order-not sure, NIF, Precisn, Mii, AussieB is here somewhere too...I lost track, lol...it doesn' matter, they did not stay there long....anwyay, we did a little squee at 4:48, and then we squee'd like every 15 seconds until time equaled ZERO....then the BINXS were there! Suicide Blonde, it is the color of her hair... squee!
Ok, so a few details on the seating before I lose myself in the actual concert telling....the pit rows had 2 rows of folding chairs lined up...the rows were tied together so you couldn't really push through the chairs from behind. Most of the second row ended up snaking around the end of the rows to stand right behind the front row peeps that were at the stage.
Myself and BH though were DEAD CENTER...so to scoot up the way the rest had...we would lose our angle...Our only option for maintaining, was to climb straight over...which we eventually did pre encore, when the lights flashed out...Personally, I was scared to go before that, because we were so exposed, visible to the ushers, etc. I should not have been such a wimp, but oh well.
As for cameras....I always struggle with this... will security care ? Do I really want to? Can I get some good shots from where I'm at? Etc, etc... Here, in Nashville, there was officially, a 'no camera policy', but it sounded a little hazy when we asked around...So like I said, once our 2nd row neighbors pretty much abandoned us...lol...we were very exposed to said ushers...and everytime I would do more than shoot a couple of pics w/the camera held up so I could actually see what was in the frame...I would get a good tap on the shoulder...this happened many times...each time, I would just put it away. I am actually surprised they didn't take the camera away...I might have freaked out if they had....maybe they were told to only discourage? And not crack down too hard? I have no idea....I am happy that I was able to get many good pics and some fun, if kind of fuzzy video. A lot of the video, if not most of it, was shot without me looking through the viewfinder, with me holding the camera, literally close to the vest , lol...I would hold it basically down around chest level and maybe peek now and again to see what I was getting in frame... So all that said....one can imagine why some of it turned out the way it did! Now New Sensation, NTUA, and Hot Girls were all during the encore, so we had already climbed over and were right in front... I figured it was the end, more or less, and security usually gives things a pass during this time from what I've heard...so I was a little more brazen...and we had just hopped the front row, and were still dead center....I held the camera up a little bit, and actually tried to make sure stuff was in frame, and even somewhat focused....I am so glad I did...I am loving rewatching the stuff, even if the sound is a little distorted...I think that is because of location, and my little camera cannot filter that type of amplified sound...And the angles when OB was standing right in front of us...when he would lean in a bit, it felt like he was right over us...and he kind of was...it was crazy...it was awesome!!! Nothing beats the front ...I am so happy to be able to share that perspective a little via the pics and video. I think quality can be forgiven a little for sheer effect, lol...
Viva NashVegas! Part Seven...INXS, LIVE...in concert...
So the actual concert, the performances, the songs, the band...holy smokes....this is always the best part, and the part I am least able to describe. It's always so fucking great. I am always beside myself. The highlights for me, were Elegantly Wasted and Hot Girls. I was SOOOOO happy they added those songs to the set list. Those were the 2, one from back catalogue, the other from Switch, that I most wanted in the show...I could not believe it the night before when I heard we were going to be getting to see these...I prayed we would get these songs in Nashville...I have to say, I was a little worried when we realized the set list was not the same...It was GTT when we realized the order was different...
Segue to GTT. A lot of folks have been very complimentary towards it, etc, etc. I have to say , I was not really moved. I could do with out it. I like it on the CD, but in concert, it just does not speak to me. Probably my least favorite of the night. I just don't find that it blends with the rest of the set... I wouldn't mind seeing either another ballad or maybe Remember Who's Your Man in it's place...heck, if we need to stick with Switch, I would even rather hear Like it or Not, and it is my least favorite Switch song, but I predict that it would be an awesome live performance...
I also really love the 4 song encore...I was worried though, when we had not yet heard Hot Girls...I so wanted to hear, see that one....and oh, it did live up to my expectations!!!...and it's not even what JD did specifically, it was just the expression and feeling that he and the rest of the BINXS put into it...I know it is not the most brilliant of songs, lol...but , live...it was HOTTTTT!!!!! Smokin' hot! Uhmmm, did you guys see his expressions in the video close ups?!?!? Let's just say, *poof, thud, dead* may be an understatement. This and some of his antics in NLYG, really showed off JD's heightened confidence and uber sensuality, and raw sexuality that has evolved(uhmmm, see the video—naughty JD!)...It's not just Taste It anymore folks! I mean, Taste It continues to be the most outlandish of choreography, that if you concentrate is totally engrossing and thud-worthy...but OB has cranked his presence up a notch throughout the show....and it's not just the outrageous... again, it's the raw expression...hot, hot, hot...you must see it...I would say JD was so much more commanding on that stage than I have every seen him.
The rest of the BINXS...well others have said, Tim did seem a bit more reserved...though I do catch a couple of shots on video of him interacting with the crowd...I don't know, maybe he was just tired from the travels...or he was just more intense...he did seem rather intense in some of my still shots...you never know. Garry was as happy as always, but he seemed to stay back by the drum kit just a bit more...though I did catch a couple of him coming forward...I love the shot of him with his bass and the 3 others and the guitars...hot...and just beautiful! Also, because of my angle, I really could barely ever see Andrew...Jon looked like he was as on as ever back there, banging away...very intense...lots of stick flips, lol...I'm thinking the slappy girls were happy! Kirk seemed rather playful...him and JD had more than one moment...and in NTUA, there is clearly something cracking Kirk up...can't remember what it was?!?!? They all played brilliantly of course...they are so clearly a complete band...it seems very solid now, not questioning or nervous or anything...the confidence of their union is shining through, and the music sounds great...Even songs that are not my favorite, ie: Kick, I see how they play the heck out of them...they freakin rock each of those songs...all very good.
Viva NashVegas! Part Eight...the boys, and their Crazy Cool Drool Worthy Ensembles...
Squee, well I at least have photo/videographic evidence to help me recall this!!! Upon meeting them earlier, I was still all agog, and not able to really properly catalogue anything beyond their uber hotness, lol...
So , JD...the Batshit...that zip up red shirt....uhmmm, uhhhhh....fukluasinfvjk! it was so hot...guh! And there were points in the show where he teased us...zipping up and then further down...no words...and then he changed to the 'Sinner' shirt...LOL...how appropriate...And the hair and trimmed up stubble...ALL.KINDS.OF.HOT!!!! seriously, everything was working...I know we have already discussed the fine courdoroy pants...I still have to say, I have a bit of a soft spot for the lace ups—I remember them well...may they rest in peace, lol...the final Tshirt, an oldie...and of course the asshat made a bit of appearance for the encore...I have to say I developed a little bit of a fondness for it over the course of the concerts, and I had never really cared for it previously...I guess, as with most things Batshit, it grows on you...So conclusion...the Batshit...still hot, lol..
Ok, now Tim, since he is so popular, nowadays, lol...can you believe how fit he is...I swear, he seemed so tiny! Face to face...and all kinds of hot...Up on stage, uhmmm, nice jeans...I got some good pics of those, eh?!?!? And, ooh, the button ups are clearly working for Timmy....good on ya mate! I swear, he seems younger every time I see him...he is seriously drinking from the fountain of youth...
Kirky...how hot is Kirk...did ya' see the shot I got of him on the Hot Girls video...hoowah! Kirk...mate...howyoudoin??!?! And he is a charmer...he was one of the first ones I met in the M&G line...a twinkle in his eyes...always, and a grin ready...Also, I think they were all or some wearing different clothes to the M&G than on stage...I swear Kirk was wearing some sort of suit at the M&G??? I also remember the others in other than stage clothes...buts it's all a bit of a blur...maybe I am just dreaming? Oh well, I guess I will see for sure when I get the pic...
Andrew...totally adorable...GGB, totally working those distressed leather pants...I'm thinking the Garrem wenchubines were likin' it, likin it! And Jon, kind of hot up close...have to say of late, I haven't been feeling Jon on the hotness scale...but he was probably the one I felt the least gigantic in front of lol...so that was hot! Hey, it doesn't take much...I am already predisposed to finding these guys hot, so it is a short trip...oh, and he does have pretty pretty eyes...
So in conclusion, OB:OB...still hot....bwah!
Closing statements...Rockbanders Rock Nashville...
Well, the end of this night as with everything else, has already been well documented. I had the pleasure of ending the night with some of the most fabulous BSC rockbanders, again over at Bailey's, etc...Yes we did run into Drumtech...yes him and saxtech(new nickname for Kirks tech) came in after us...we ordered them a round...LOL, yes thank god they stuck w/the cheap stuff...What a couple of sweeties...they came over to chat of course before they left...so being the fabulous hot rockbanders that we are...we of course held court...
And while at Bailey's we also posted for a bit...NIF was a doll and brought her laptop w/wireless connection and we passed it around each posting a little bit for you all...we really enjoyed being able to share a bit...after all, rockband was why we were all there together...ok, now I have to stop, before I get too mushy...It was an awesome night...
...and for those that had their own adventures...all is good...for those I did not meet, I wish I had, and maybe we will someday! And for those I did, know I value it so much...it made the night to spend it with all of you fabulous people! Love you all...
Ok, that's it...over and out...Viva NashVegas!
---
>>>Nasvhille Concert Photos Slideshow Here


just a taste...

My Video from Nashville as posted on the Chat and Nashville threads...here's some not so good *low quality* video from my camera...hey at least I rotated it, lol...through much of the video I was not able to look through the viewfinder to see what I was shooting...I surprised the BINXS actually appear to have heads! bonus ;)again, it is low quality...and mostly clips, though Amazing Grace, New Sensation I believe are complete...first: Never Let You Go - clip only Nashville via megaupload
indiscernable faces, and really short clip, but OB looks really hot doing this side to side hip sway...Original Sin - bad audio - short clip Nashville - via Megaupload ...oh and it features OB dancing around w/the flag that Inzane brought
...New Sensation from Nashville via Megaupload
Amazing Grace - Nashville via Megaupload with just a bit of the beginnning of Elegantly Wasted....
Taste It - 2nd half clip Nashville via Megaupload
***if you download none of the above, you may want to give these last 2 a try...HOT...***
...so...here's the last of the video I have from Nashville...looks like I unknowingly saved the best for last...but very much, not least...looks like I finally found ONE that I didn't have to rotate and convert, lol...here's most of Never Tear Us Apart in .mov(Quicktime format) via megaupload...again better quality than the others...maybe that doesn't say much...but oh my lord...you can feel how close we were on both this one and HG when OB is like right over us...
oh, and here's Hot Girls .wmv via megaupload...there is a bit of a rough splice in it, because I had to rotate the second half...note to self, don't rotate camera half way through, lol...anyway, some of it wanders...but the parts where OB and or his package are right on top of the camera...holy heck...*edited to update Hot Girls w/second version including a couple dropped frames from the splice...