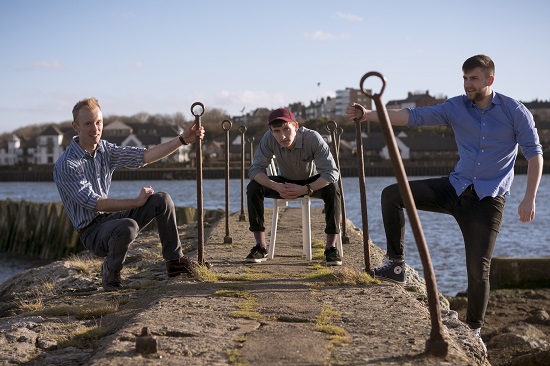 We're premiering "Natural Causes," the charismatic new track from Newcastle rockers Swine Tax. The vocals' spoken-word approach reminds fondly of Art Brut, while the blistering guitars give off a reminiscence to the likes of Sonic Youth and Pavement. The song reaches a particularly fervent climax upon the "what have I done?" repetition around the three-minute mark, following multiple series of exciting and furiously paced rock.
Per the band, the track is "inspired by Shakespeare's endlessly-adaptable revenge tragedy 'Hamlet'," … exploring "the play's major theme: the conflict between thought and action. Hence, as the grim tale unfolds, the sonically adventurous music fluctuates the song's mood between unease and outright aggression. "Natural Causes" crashes to a close with heavy riffage, reckless soloing and an epic wall-of-sound, as the listener is left with the disconcerting feeling that someone was not telling the truth."
"'Natural Causes' is obviously quite a bit heavier and darker than our usual!" explains vocalist/guitarist Vince. "The song was borne out of a jamming session we had in early January. It started with the guitar riff, which came out of the blue while Charlie was out for a smoke (though you can tell I'd been listening to '80s era Sonic Youth around that time), and the song was finished musically in about 25 minutes."
"In the production of the track we were interested in adopting horror film aesthetics. In particular it takes influence from The Texas Chainsaw Massacre music and sound-effects. At the time when I wrote the lyrics I was pretty obsessed with 'Hamlet' – so "Natural Causes" is heavily inspired by the play and particularly explores its major theme: the conflict between thought and action."
"The sample towards the end comes from a 1950s sci-fi radio drama, and provides a strange but satisfying twist to the narrative running through the song."
The post Premiere: Swine Tax – "Natural Causes" appeared first on .