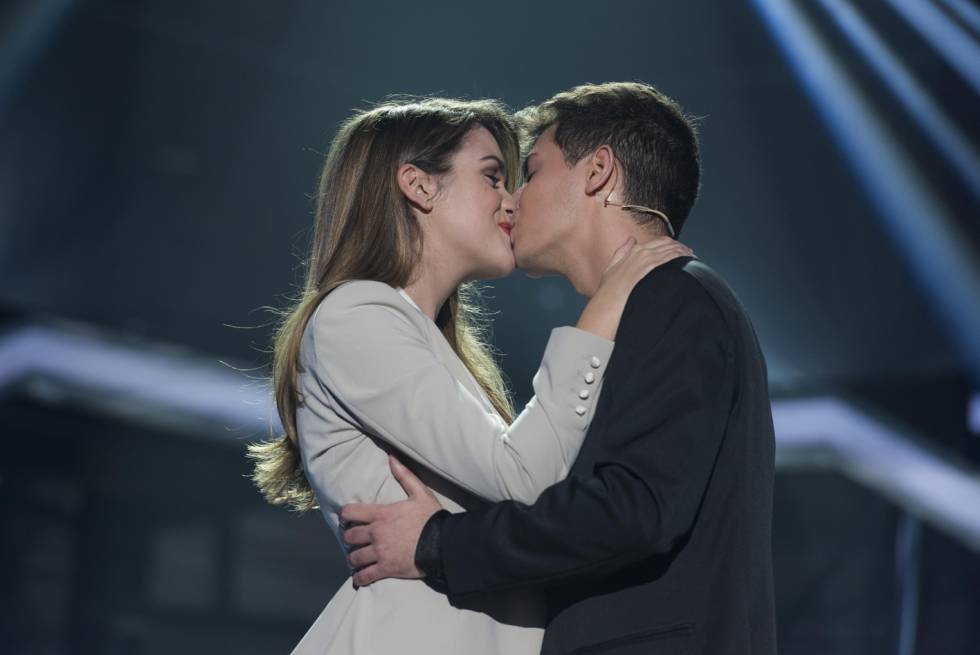 Je kunt wel een klef stelletje zijn. maar het duurt toch echt nog een dag of vier voor het Eurovisie Songfestival van start gaat. Tot die tijd laat De Jablabla Nu opnieuw zijn lichtje schijnen over de inzendingen van het Eurovisie Songfestival en geeft een eerste oordeel. Welke liedjes varen tevergeefs richting Lissabon? En wie verdient er douze points?



Vandaag:
Tu canción - Amaia y Afred
(Spain
)
Wie zijn het?
Amaia Romero Orbizu. 19 Jaar. Uit Pamplona. En Alfred Garcia Castillo. 21 Jaar. Uit El Prat. Winnaar en nr. 4 finalist van de tv-talentenjacht Operacíon Triunfo. Amaia studeert piano. Alfred audiovisuele communicatie. Liefdeskoppeltje.
Wat is Tu cancíon?
Een liefdesballad. En dan één van het ouderwetse soort. Het lied doet wat het moet doen. En zo doen de zangers. De stemmen passen goed. Verder is deze ballad gespeend van elke verrassing. Van a tot z wordt het balladboekje gevolgd. Daarmee is deze Spaanse bijdrage een beetje lief en iets meer flets, voorspelbaar en gedateerd.
Kernboodschap: Alles is perfect als jij bij me bent. Als dat maar goed gaat.
Top of flop?
De bookmakers verwachten dat
Amaia y Alfred
het niet slecht gaan doen. Het duo wordt gspositioneerd op een elfde plaats. De Jablabla Nu verwacht dat dit een te hoge inschatting is. Laatste zal Spanje niet worden met de tortelduifjes, maar meer dan een lage middenmoter hoor ik niet in deze keurige ballad.
Eindcijfer:
5
.
Amaia en Alfred hebben een Facebookpagina.
Lees hier het oordeel over de vorige inzending, het lied uit Italië.
Lees hier het oordeel over de volgende inzending, het lied uit Groot-Brittannië.