Blues rocker, Eric Johanson releases a crowd-sourced video made of clips sent in by his fans who shared how they've been keeping entertained with the pandemic. The song "Nowhere To Go" is from Johanson's upcoming album, Below Sea Level, out September 18, 2020, produced by Luther Dickinson of North Mississippi Allstars, co-produced by Eric Johanson.
"Nowhere to Go" simply rocks. The song features Johanson's vocals that sound better than ever and his outstanding guitar chops. A fun video featuring Johanson and many fans' video clips, including clips from Gary Hoey, JP Soars and Alastair Greene.
About "Nowhere To Go" Eric says "The song was recorded (along with the rest of the album) in late February 2020, before life really changed for all of us. A couple of weeks later, it took on a whole new meaning as everything shut down and there really wasn't anywhere to go. It started as a reminder to appreciate what we have at home, and turned into a very literal –that's all we have now. We reached out to fans and friends to send us video clips, little snapshots of their lives at home, and made this official video. It's a fun video and yet it still gave me a feeling of togetherness to commemorate this moment with people from afar. And there are some cute pets in it too."

Below Sea Level, the forthcoming release from Eric Johanson, is a striking collection of twelve indie rock and blues originals written by Johanson and produced in collaboration with Luther Dickinson. Sessions were held at the famed Zebra Ranch Studios in the North Mississippi Hill Country, where the raw musical energy of Johanson on guitar and vocals, Terrence Grayson (Victor Wainwright Band) on bass and Cody Dickinson on drums flowed from the formidable power trio. Mixing was completed at Easy Eye Sound in Nashville by M. Allen Parker.
Eric Johanson has long been a protégé of Tab Benoit and spent time in the bands of Cyril Neville and Terrance Simien. Johanson released his debut album, "Burn It Down," (Whiskey Bayou Records) in 2017 and recorded an acclaimed album with his cousin Tiffany Pollack, "Blues In My Blood," (Nola Blue Records) in 2019.
Growing up as a third-generation Louisiana musician certainly lends insight into the depth of American roots music. Guitarist/singer Eric Johanson, a native of Alexandria LA, now resides in the Crescent City having made a living as a musician since his teens.
About his release Below Sea Level, Eric adds, "With this album I was finally able to bring my blues and rock influences to a place of more imagination and creativity, while keeping it organic and honest. It's contemporary music naturally grown from the roots of southern blues and psychedelic inspiration. I can't think of anyone who understands that better than Luther Dickinson, who produced the album with me. We cut the record live over three days, with very few overdubs, and just captured this amazing raw energy. A lot of that had to do with Cody and Terrence really bringing the grooves to life with incredible chemistry."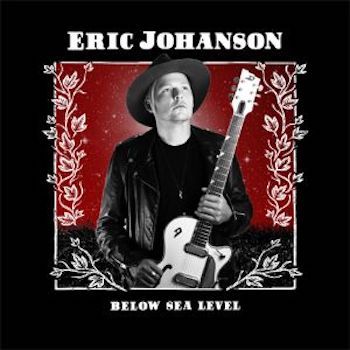 Pre-order link for Below Sea Level
Eric Johanson Online
Website
Facebook
The post Video Premiere: 'Nowhere To Go' Blues Rocker Eric Johanson appeared first on ROCK AND BLUES MUSE.