Malina Moye Guitarist, Singer, Songwriter
By Martine Ehrenclou
Flipping a Fender Stratocaster upside down, critically acclaimed singer-songwriter, lefty guitarist and actress, Malina Moye fills a void in the entertainment industry, carving out her own lane in today's music scene by straddling both rock, blues and soul genres. Guitar World Magazine called her one of the world's top guitarists.
With her latest album, Bad As I Wanna Be, Moye created a gumbo of soul, rock and funk. The album reached number 1 for two weeks straight on Billboard Blues Chart.
Moye's resume includes making history as the first African-American woman to play the National Anthem on guitar at a professional sporting event (Vikings/Cowboys football game) and performing at the Rock & Roll Hall of Fame tribute concert for music pioneer Chuck Berry.
Malina was one of the first female guitarists to join the Experience Hendrix Tour and appeared in the documentary Stratmaster: The Greatest Guitar Story Ever Told. Moye's "Diamond & Guitars" tour served her as an opening act with Robin Thicke and legendary rock group Journey.
Moye is also an actress and made her screen debut in "The Samuel Project" directed by Marc Fusco. She wrote the song "Enough" for the film, which is also featured on her latest album, Bad As I Wanna Be.
As the co-founder of a nonprofit organization, The Drive Hope Foundation, Malina Moye gives back to the community in a big way. Her foundation offers resources to disadvantaged young people and inspires them to see greater options for their lives. From arranging inspiring role models to speak in classrooms, to providing funding for education programs and scholarships for students, Drive Hope's mission is to help young individuals help themselves.
Martine Ehrenclou: What struck me about your video/song "Enough" was your message of empowerment—that we are all enough just as we are. Please tell me about that song, elaborate on the message and why you wrote it.
Malina Moye: Great question, I wrote it because I saw certain platforms weren't being fair when choosing artists like myself for coverage. It had nothing to do with talent but rather whether or not we fit into the status quo of their audience or readership.
ME: You are a left handed guitarist (like Hendrix, Eric Gales, and more.) How did you start playing a right-handed electric guitar? Was your father, George Moye, a big influence on you learning to play guitar?
MM: Yes, I'm a fan of both Eric and Jimi. In fact Eric is my "play" big brother. He is an incredible guitarist but an even better person. As far as who influenced me starting out, my dad gave me a right-handed guitar when I was nine. I hated it. When he left the room, I flipped it upside down which felt more comfortable to me since I'm naturally left handed.
ME: I read that Hendrix and Prince were big influences. Please tell me about how they influenced your music and guitar playing.
MM: What is amazing about both players is their expression of freedom, tone, and phrasing. What I love about their lead guitar playing is the freedom from their soul—that thing that happens when you are in fifth gear or the next stratosphere. That's where the real magic happens. Both have rock, funk, blues and soul in their playing and music. They both pushed genres forward musically.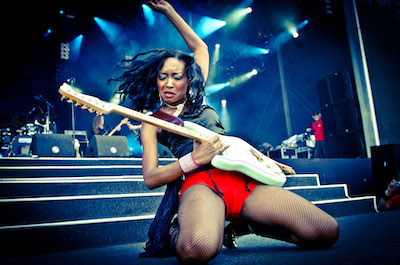 ME: On your album, Bad As I Wanna Be, you play "If 6 Was 9" by Hendrix. You do your own unique version of it, modern rock with a funk/groove. How did you decide to include that on your album?
MM: Thank you. When I heard the song I fell in love with it. It was right up my alley but I really wanted to do my interpretation of it. I think when you cover or remake a song, the goal is to bring something new to it—your own thing.
ME: You've been described as an electric guitar powerhouse. After watching a few of your videos, I'd say you are a powerhouse guitarist, singer, and performer. Where did that confidence on stage come from? Are you innately multi-talented or did you have to work on certain talents?
MM: Thank you, I grew up performing on stage in a musical family, so I think being around musicians all the time gives you a certain access to artists and good music. My mother, a great performer in her own right, raised my brothers and I to work harder, stay longer, and put in the work no matter what. I enjoy learning and wanting to be better than I was yesterday. I love to study as well. I always watch old videos on TV, YouTube, and I am a student of life.
ME: I enjoyed your video "K-yotic" featuring Bootsy Collins. Amidst the funky groove and flash, your lyrics include real life issues about losing a job and the struggle to pay bills. "Enough" is about personal empowerment. Is writing songs about real life issues a consistent theme in your music?
MM: Absolutely. I think good songs come from the truth and three chords (laughter.) I like to tell my truth or someone else's truth. It's got to be honest and real.
ME: I read that you toured with Experience Hendrix tour in 2012. I think you and Ana Popovic are the only female guitarists to have performed on that tour. As a female guitarist, please tell me about what that was like for you.
MM: Yes, in 2012, I believe I was the first female solo artist to ever make it on the tour, but technically in 2010, Susan Tedeschi joined her husband Derek Trucks when he was involved. Ana then came on board in Fall of 2014. She's an incredible guitarist. I participated in 2012 and 2014. I love the Experience Hendrix tours. I learned so much from the other artists, and it's always so fun. Janie is family. All the guys are my big brothers.
ME: Tell me about your guitars. Do you have a #1 Strat or others?
MM: I am a Stratocaster fan, always have been. Fender just makes great instruments. I feel it's a part of the Malina Moye sound. I love all my guitars but I love my custom sea foam Strat. It's got a left-handed body with a right-handed headstock strung In reverse, with gold accessories and Dimarzo pickups. I also use Dean Markley strings.
ME: As a female musician and an African American woman, do you encounter bias in the music business? Or did you in the past?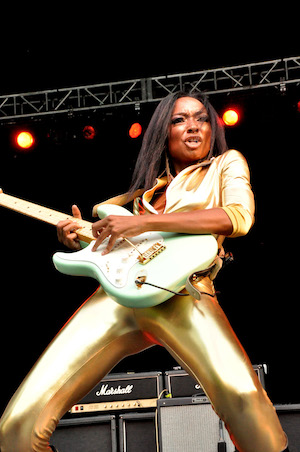 MM: Yes, on both questions, and on several occasions. All of us have. With the #MeToo movement and #TimesUp movement, so much has changed. People are finally being held accountable and the old guard is fading away, making way for new, more inclusive leaders. No matter what, it's always going to be a fight. Know your worth, stand your ground, and always know you matter and you count.
ME: You are a role model for young women. Tell me about your nonprofit that you co-founded, Drive Hope and your desire to inspire young people to help themselves.
MM: Thank you. I feel I am where I am because someone instilled knowledge into me and that's part of the process. You continue to motivate and lift up. We all play an integral part in someone's life and The Drive Hope Foundation fuels the passion of underserved youth and empowers those who possess the desire, yet lack the resources or access, to discover life and career opportunities. Simply put, it's imperative that everyone finds that one thing they're passionate about and go for it. The motto is #FindtheGr8NU
ME: Love that. What's next for you? Continued touring? Are you working on material for another album?
MM: Yes, I will be continuing to tour in June stateside before heading back to Europe this summer and fall. After scoring my first number one album, I am now looking at other global branding opportunities, movies, and a more where it makes sense. I'm always writing and putting ideas down. So when we head back in the studio early next year and I'll start to concoct and see what feels right. But right now, I'm so happy to be playing music from my latest album and I can't wait to see you all somewhere in this wonderful world this year. Please come and say hello and thank you for supporting live music. God bless.
ME: Thank you for making the time for this interview.
For more information on Malina Moye:
Website
The post Interview: Malina Moye Guitarist, Singer, Songwriter appeared first on Rock and Blues Muse.