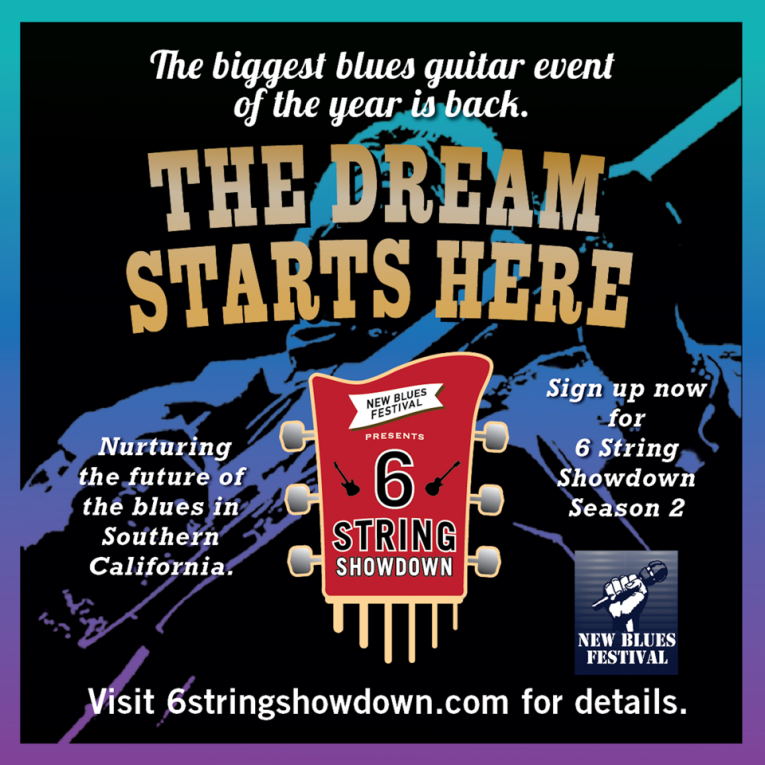 The New Blues Festival Presents The Biggest Blues Guitar Event of the Year
The 6 String Showdown
The 6 String Showdown is a blues guitar competition developed for musicians by musicians. The final goal is the crowning of The Best Blues Guitarist in Southern California.
While the competition takes center stage, promoting the blues is also a primary goal. That is why the competition is structured so that all competitors must be well versed in the various style so of the blues, as they won't' know which style they will be called upon to play until they are actually on stage. Blues content is more important than shredding.
April 7 2019 Begins Regional Competitions:
Orange County Regional - Campus Jax, 3950 Campus Dr., Newport Beach, CA 92660 - April 7 from 3-9 PM http://bit.ly/6SSCJ
Los Angeles County Regional- Joe's Great American Bar & Grill - 4311 W. Magnolia Bl., Burbank, CA 91505 - May 26 from 3-9 PM http://bit.ly/6SSLACo
San Diego County/Inland Empire Regional - Ramona Main Stage - 626 Main St., Ramona, CA 92065 - June 23 from 3-9 PM http://bit.ly/SD_Regionals
Kern County Regional - Temblor Brewing Co. - 3200 Buck Owens Bl, Bakersfield, CA. 93308 June 30 from 3- 9 PM http://bit.ly/KernCoRegional
Sign up and reserve your spot in 6SS Season Two. http://6stringshowdown.com/how-to-enter/
The dream starts here! On Sunday April 7, sixteen guitarists will face off at Campus Jax in Newport Beach to determine two regional finalists who will play for the right to move on to Huntington Beach. That's right! On April 27 this year the New Blues Festival comes to Huntington Beach!
The OC Regional winner earns themselves a spot on the Big Top Stage as well as the opportunity to represent the OC Regional in the semi-finals at the New Blues Festival in Long Beach. (we are not going to have 2 competitors face off on the Big top Stage, instead the winner and their band will play on the Big Top Stage).
On May 26 the Los Angeles County Regionals will take place at Joe's American Grill in Burbank. Hosted by noted promoter Grandstand Jam it's filling up quickly so reserve you spot now. Another added bonus! The winner of the L.A. County Regionals wins a spot on the stage at the Ragin Cajun Blues Festival in Redondo Beach.
Our final regional competition, the combined San Diego County/Inland Empire event with take place on the Ramona Main Stage on Sunday June 23. If you have not been to this excellent new venue, you're in for a great blues experience. And we are negotiating a special added bonus for the San Diego County/Inland Empire Regionals as well so stay tuned!
The Kern County Regional Event is scheduled for Sunday June 30th at Temblor Brewing Company in Bakersfield. Thanks to new sponsor Notorious Entertainment, as an added bonus, the winner of that Regional will be provide with a slot at the Kern River Bud-Light Rock and Blues Fest in Kernville.
http://6stringshowdown.com/how-to-enter/
In 2018 the New Blues Festival introduced the biggest blues guitar event of the summer. A successful series of regional head-to-head competitions to crown Southern California's best all-around blues guitar player on the Main Stage of the New Blues Festival in Long Beach. Now, the guitar celebration of the year is back. Presenting 6 String Showdown Season Two.
The Season One Regionals at Campus Jax and the Arcadia Blues Club drew 40 guitarists ranging in age from 16 – 65, from as far away as Sacramento and Phoenix. 6SS Season Two promises to be bigger and better with added venues, more regional showdowns, and a great low price.
"We're expanding," said Executive Producer David Dot Hale. "This year the show is moving into San Diego, Kern, and LA counties and joint venturing with the Kern River Rock n Blues Fest and Ragin Cajun Blues Festival in the South Bay. Like everything New Blues Festival and brothers and sisters at the Long Beach Blues Society stand for, it's about preserving the past and building the future of the music we love."
"We had eight more signups after the first day than we had in the first month," extolled Media Director Rick Snyder. "Last year was about bringing (Music Director) Stoney Gurrola's dream to life and establishing street cred. This season it's about keeping the blues flourishing in Southern California."
Semi-Finals Judge and radio personality Kenny "Big Daddy" Williams went a step further. "This is a great way for players to get out and showcase their love of the blues and tell their own story," he said. "I don't think of this as a competition but as a way to highlight the different styles and techniques of playing the blues."
Always keeping sight on the event's primary mission "to promote the future of the blues in all its forms by showcasing, supporting and providing a platform for the finest blues players on the scene," Season One laid a solid foundation. "I'd be lying if I said there wasn't a learning curve," said Snyder. "But we had a great team who never lost sight of what we did well and what we could do even better the next time. We reached out to all our competitors after the show to see how we might improve their experience. We've implemented upon that feedback."
"I'm most proud our amazing judges, who did a remarkable job remaining fair, impartial and thoughtful in their decisions," said Music Director Stoney Gurrola, about his original idea. "I love the Blues and firmly believe that in order to 'keep the blues alive' it has to be fun, exciting and interesting enough for the new breed of young guns to pursue the genre… It's not about winning or losing, just by showing up you're a step ahead."
First season champion Jesse Godoy, who walked off with the grand prize of over $5,000 in cash and prizes including an Eastman guitar, had his own take. "It's not enough to sit around and play at home. You need to get your butt out there. You need to be seen and heard. I wanted to be a part of it, upping the OC blues game."
Enthusiasm has been contagious because everybody goes home a winner. "I participated in the 6 String Showdown last season," said Randy Blair, a competitor in the San Gabriel Valley region. "Although I didn't win a spot in the semis, it brought me to the attention of the Producers and Rick Snyder offered me the opportunity to sit in with the band he manages for a paid gig at the Kern County Fair. The competition gave me a chance to be seen by new people."
6 String provided an added benefit for OC contestant Beano Mojohand as well. "Idk if it was dumb luck or something, but when I competed in 6 String Showdown, one older retired manager approached me and told me even though I had lost, I was his favorite guitarist and he decided to come out of retirement to represent me and help me realize my dreams," he said.
Camaraderie and the sheer joy of jamming was why Semi-Finalist Andy Vimar signed up. After making it to the 6 String Showdown semifinals last year Andy and his band, The Motion, won the Orange County Blues Society Blues Challenge play-off. This earned them entry to the International Blues Challenge in Memphis where they advanced all the way to the finals! "You really can't ask for more value than connecting with people that are active in the business. The 6 String Showdown brought all kinds of people together, I'm still in touch with so many people exchanging phone calls and emails".
The four Regional Events, the Semi-Finals and the Finals are events to not to be missed by musicians or blues fans. They rare opportunities for Southern and Central California's Blues Guitar community to be able to trade licks with other great musicians, and offer fans the best that So Cal has to offer!
While the competition takes center stage, promoting the blues in all of its forms is also a primary goal. That is why the competition is structured so that all competitors must be well-versed in the various styles of the blues, as they won't know which they will be called upon to play until they are actually on-stage. Blues content is more important than shredding. Want to get the best marks from the judges. Play the blues!
Created by musicians, for musicians! We understand that musicians are not rolling in the dough. The nominal fees we charge go to covering operating expenses.We pay our house bands. We pay our judges. We give our volunteers and interns a small stipend. We pay our guitar players to showcase in the Cavalcade. Then, we search far and wide to offer our contestants generous prizes and the best Media Coverage in the business!
Maintaining transparency is a primary cornerstone of 6 String Showdown. Clear communication of the rules and impartial judging are a critical to the integrity of the competition. Rules will be available online and read aloud prior to each 6SS event. Scoring with be judged accordingly: 1/3 skill, 1/3 showmanship, 1/3 audience response.
It is also a primary goal of 6 String Showdown to act as a showcase for ALL of our competitors. 6 String Showdown is committed to promoting all contestants and events across all social media platforms, not limited to Facebook, Instagram and Twitter and, when available, radio, podcasts, webcasts, e-blasts and streaming media. Our Media Team is available to help provide PR, publicity and other events to maximize contestants' exposure, including video courtesy musicucansee.com and promotional stills by our staff photographer.
Still, we can't do it all by ourselves. Since a full one-third of the scoring is based on audience response promoting these events ensures that each contestant is taking part in promoting their own success! It is a necessary imperative that each contestant also take part in their own promotion and that of 6 String Showdown. To reach this goal we ask that every entrant "share" event announcements and promos as provided by our staff, "invite" your friends, fans and followers to events and to "like" and to "follow" the 6 String Showdown Facebook page to stay up with all the latest events.
It is the hopes of 6 String Showdown that by working in concert with our participants, we can assist furthering their careers, ensure the success of the Competition, and promote the future of the blues!
If you don't take the risk, you never get the reward.
Sign up and reserve your spot in 6SS Season Two. http://6stringshowdown.com/how-to-enter/
For more information about the 6 String Showdown:
Website http://6stringshowdown.com
Facebook https://www.facebook.com/6stringshowdown/
The post New Blues Festival Presents 6 String Showdown Season 2 Southern CA appeared first on Rock and Blues Muse.