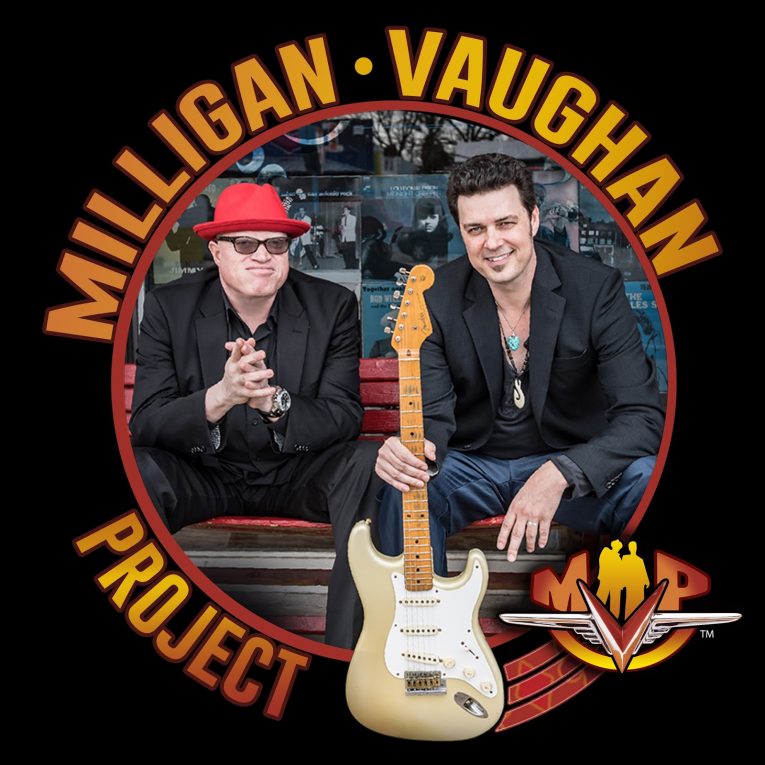 By Scott Bampton
MVP is the debut album from The Milligan Vaughan Project, a compelling blend of Texas blues, rock, soul and funk, out now on Mark One Records. A collaboration between singer, Malford Milligan and guitarist, Tyrone Vaughan, MVP sees the Texan pair teaming up for the first time despite a long-running musical association. The common link between the duo? None other than contemporary blues royalty, Stevie Ray Vaughan. As the name suggests, Tyrone Vaughan is Stevie Ray's nephew (and the son of blues guitar legend, Jimmie Vaughan), while Malford Milligan was the voice for the band, Storyville, and also joined up with Stevie Ray Vaughan's rhythm section.
With such a strong connection between the two musicians, it's unsurprising that MVP captures the pair's natural chemistry. Producer David Grissom has done a commendable job in ensuring that comes across in the mix. Having co-written a number of the record's tracks, including soul-funk opener, "Soul Satisfaction", Grissom helps The Milligan Vaughan Project find the ideal balance between sparkly production values and raw honesty. In that sense, the album feels like a three-way collaboration between Milligan, Vaughan, and Grissom.
Speaking of collaboration,
MVP
is also notable for its use of multiple backing musicians across the nine studio tracks and two live recordings; the album's roll call boasts two bass players (Chris Maresh and Jeff Hayes), two drummers, (Brannen Temple and Kenneth Furr), two keyboard players (Jay D Stiles and Michael Ramos), additional guitars by Jorge Castillo, and background vocals by Mike Cross. Yet, despite having ten musicians playing together in various configurations across eleven tracks,
MVP
never sounds fractured. At times, it's mellow. At times, it soars. But each track blends seamlessly into the next; "Soul Satisfaction" transitions bafflingly well into the rocky "Dangerous Eyes," with Milligan's husky vocals channeling the Three Kings, and even a touch of AC/DC's Brian Johnson.
Likewise, the light-hearted ragtime ditty "Driving You" shouldn't bleed as well as it does into the pair's rootsy interpretation of Buddy Guy's "Leave My Little Girl Alone." But the transition doesn't feel contrived or awkward - Milligan and Vaughan simply switch up the dynamics accordingly. As Milligan pushes his vocal cords to their raspy limits, Vaughan's guitar blazes out of the shadows into a truly jaw-dropping breakdown. Shredding and wailing like only a Vaughan can, Tyrone's playing proves he's a worthy flag-bearer for the legendary blues-rock clan.
Vaughan and Milligan also do justice to James Cleveland's "Two Wings" and Les McCann's "Compared to What", with the two oldies getting the full Milligan Vaughan Project makeover. With a capable studio army backing them up, Milligan's stunning vocal dexterity and Vaughan's masterly guitar skills pay appropriate homage to the originals while still making both tunes sound like their own.
"Here I am" and "Little Bit of Heaven" are interesting inclusions, with the two heartwarming tributes to domestic bliss contrasting with the ballsier blues rock at work across the rest of the album. Again, it all works together beautifully, with the two ballads providing moments of sanctuary from some of the more intense numbers. It creates the feeling of a blues rollercoaster ride that dips and dives through genres, eras, and emotions. It's a hell of a ride that screams to a conclusion in gritty live tracks, "What Passes for Love" and "Palace of the King," with the crackle of Vaughan's amp and Milligan's crowd interaction, an apt reminder of the duo's deep roots in live music.
A forthright and accomplished debut, MVP deftly maps out the duo's unique musical kinship - past, present, and future. If you're a lover of soulful blues-rock, be ready to join The Milligan Vaughan Project for the journey ahead.
For more information on MVP and the Milligan Vaughan Project:
Website: http://www.milliganvaughanproject.com
Facebook: https://www.facebook.com/MVPAustin/
Apple/iTunes: https://itunes.apple.com/us/artist/the-milligan-vaughan-project/id1269917503
Spotify: https://open.spotify.com/artist/4juhc01VfbIQ8oxPE3Mf3j
The post Album review: MVP by Milligan Vaughan Project appeared first on Rock and Blues Muse.