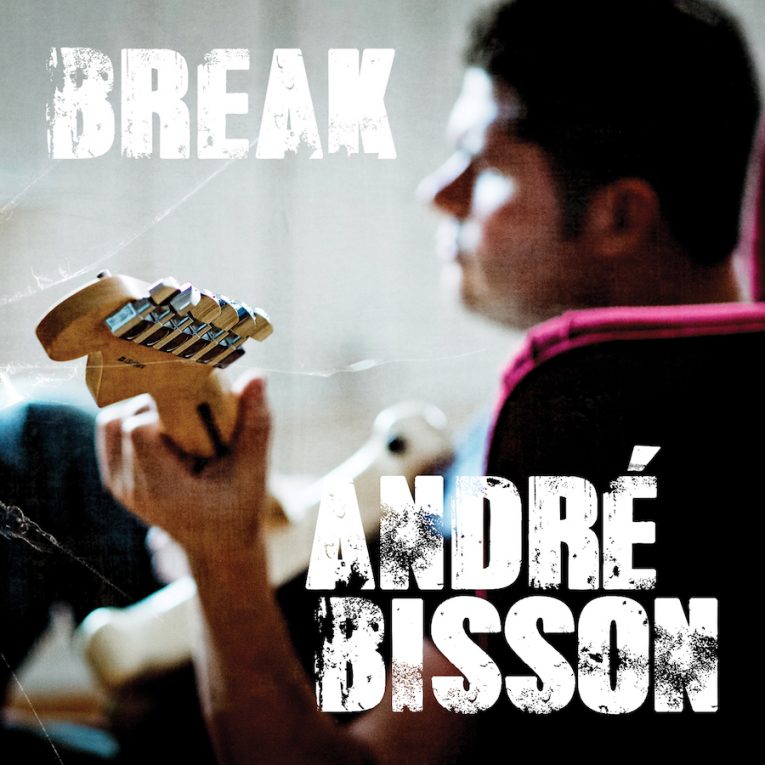 By Tom O'Connor
Andre Bisson delivered his newest album, Break on October 20th. This is the seventh self-produced and arranged studio record from this still-young Canadian, Blues Soul-ster.
Prepare to be not just impressed, but moved.
Bisson, in addition to seven award-winning albums, was honored as male vocalist of the year by the 2015 Hamilton Blues Awards, as well as nominated for "Best New Artist of the Year" at the 2017 Maple Blues Awards. He was chosen by the Grand River Blues Society to compete in the 2017 International Blues Challenge in Memphis, TN.
On Break, the soulful songs can heal your broken heart, or they can break it, leaving you begging for mercy and begging for more. Just like life itself.
Bisson has assembled a real band here, creating the kind of fat funk/soul sound you can only achieve with a real horn section (as many as 10 pieces) anchored by solid musical talents like Mike Rowell's sturdy bass, Jesse O'Brien's heart-hitting keys (piano, B3 and Wurlitzer) and Sean Bruce Parker's deft drums.
The first notes of the album opener, "Break" had me mentally digging for my neglected Eddie Hinton reissue CDs. Languid but not lazy, it feels like high tide at Muscle Shoals.
A pair of hip-shakers follow with "How Many Times" and "I Got the Right." Here we get the first real tastes of the impressive horn section, well-charted and rolling with the funk while the guitar stays locked in the pocket until it is needed to add just the right phrases.
On "The Reason Why" the pendulum swings to the soul side of things. Not just a vocal showcase for Bisson's (blue-eyed) soulful voice, it is a clear demonstration of some insta-classic songwriting skill. I could imagine anyone from Ray Charles to Lady Gaga having a hit with this song.
The pace picks back up on "Feelin Fine," one of those happy break-up songs that makes no apologies, then, landing in the center of the 12-song collection "Next in Line" is the most up-tempo stepper on the album, the entire band locked into the groove.
The ghost of Eddie Hinton especially re-appears on "Is This Happening." Let this song move you. Let the tears fall and let the horns redeem you. The first time the band leaned into the chorus section I got that all-too-rare skin-tingling feeling that can't be faked. Definitely a stand-out track, not just on this album but compared to anything I've heard this year.
A whiplash change of mood shakes things up when "Your Attention I Don't Need" appears as a companion piece to the earlier "Feelin' Fine." It almost makes you wish you had someone to break up with. "Reflections" then slides into Blues territory for another vocal and guitar showcase for the band leader. A slow tightrope walk along a wire of plucked strings, organ swells and (again) those impeccably charted horns calling to the righteous, all leading to another relatively simple, but deliberate and tasty guitar lead.
The funky swing returns on "The Last Sandwich in Hungry Town," a song that wouldn't sound out of place blasting out the door of a joint on Frenchmen Street. With plenty of room for a horn solo (or two, or six when played live) before a slippery fine guitar break, I'm betting no one in the crowd would believe this gem was written by a youngster from the Great White North.
The album closes on a mournful note with "Nothing At All." This is a whispery quiet, final sample of Bisson's tuneful, soul-singer side, reminding us that "heartache's better than feeling nothing at all." Maybe it has been said before, but that doesn't make it wrong. Feel it. Be human again.
Sincerity hasn't been cool for a while and emotion is often mistaken for weakness in these weird, hard and angry times. Admitting out loud the pain in our brittle souls isn't the quick ticket to popularity and chart-topping sales. Sometimes it takes a slow beat and a big horn section to remind us all that though we might be living in digital times, our hearts are still analog.
I welcome your comments.
For more information on Break and Andre Bisson:
Website: http://www.andrebisson.ca
Facebook: https://www.facebook.com/andrebissonband/
iTunes: https://itunes.apple.com/us/artist/andre-bisson/id409101759

The post Album Review: "Break" by Blues Soul-ster, Andre Bisson appeared first on Rock and Blues Muse.