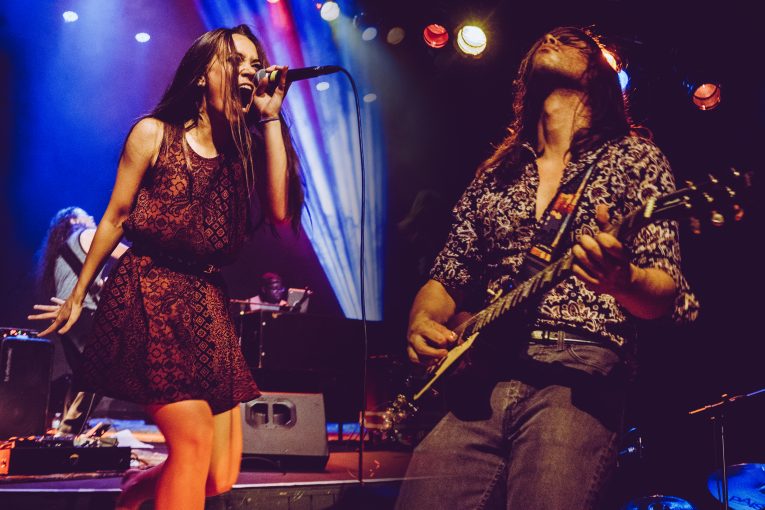 By Scott Bampton
Released May 5th on Bridge Road Entertainment, Go is the sophomore album from brother/sister duo Jocelyn & Chris Arndt. It's a work that showcases all the intelligence and maturity you'd expect from two recent Harvard attendees. That said, you can't teach raw talent - and this album proves the Arndts have bags of it to spare. A more refined effort than the pair's raw-but-promising debut, Edges, Go showcases some impressive musicianship.
It's got soul. It's got jazz. And it's got a severe case of the blues-rock fever that once claimed Kenny Wayne Shepherd. That's particularly true of the guitar playing, which is accomplished and energizing - while Chris Arndt shreds sparingly through the record, his guitar work echoes that of veterans like Stevie Ray Vaughan and even Joe Bonamassa. But it's Jocelyn's vocal ability that karate chops through the mix, grabs you by the throat, and slams you to the dojo floor.
It's almost unfathomable that such a huge voice could come from such a young singer - it sounds far less "early-twenty-something" than it does "smoked-twenty-something-a-day for fifty-something years." On tracks like "Red Stops Traffic," the forlorn vocal melodies are reminiscent of Fiona Apple's masterful balance of husk, gravel, and sweetness. Meanwhile, the sheer intensity Jocelyn displays on "Ready Steady Go" is as disarming as it is moving.
Put simply, Jocelyn Arndt's voice is the complete voice. She possesses incredible power, depth, tone, range, and control - a baffling set of skills that's demonstrated in its entirety on rock ballad, "Home." Not to be completely outdone, brother Chris rips out some wailing rock guitar lines that would feel perfectly at ease on any Lenny Kravitz or Aerosmith record. Most importantly, it's his restraint and dynamism that prevents the duo's songs becoming a cacophonic mess. Chris always ensures he's playing "for the song", rather than trying to wrestle the limelight from his sister. Natural talent clearly runs through the veins of the Arndt family, along with a rock'n'roll spirit of the grittiest kind.
Perhaps it's not surprising that the Arndts refer to themselves as "authentic rockers" - and it's an accurate enough moniker, with tracks like, "I'm Fine" and "Hollow," which demonstrates the pair's ability to create genuine, heartfelt rock recordings that deliver a killer shot to the soul. And for this album, the siblings have drafted some able hands to help beef up the instrumentation; the Go studio roll-call includes Gov't Mule's multi-instrumentalist Danny Louis and Kung Fu keyboardist Beau Sasser. It gives the album a fuller, more authentic sound than the Arndts have been able to produce on past releases - adding to the record's well-rounded feel. As Jocelyn puts it: "Their (Louis' and Sasser's) handiwork is seriously awesome on this thing! All in all, this album is a really current representation of who we are as artists."
The polished production values also help, as they're noticeably more professional-sounding than the raw-edge sound of previous records - Go feels more like a genuine album release, while Edges felt more like a collection of solid but unpolished demos packaged up together.
By the time closing tracks "Shine" and "Devil May Care" roll around, the harmonic balance of Jocelyn's powerful voice, Chris's controlled guitar playing and the backing band's sure-and-steady rhythms feels natural and complete. Those two songs round out an accomplished follow-up offering from a tight-knit outfit with a bright future ahead of them. Having already rocked South by Southwest and opened up for Marc Cohn and The Gin Blossoms, here's hoping Go helps catapult Jocelyn & Chris Arndt up to the next rung of the music industry ladder.
I welcome your comments.
For more information on Jocelyn & Chris Arndt and their album, Go:
Website: http://www.jocelynandchrismusic.com
Facebook: https://www.facebook.com/JocelynArndtMusic/
Amazon: https://www.amazon.com/Go-Jocelyn-Chris-Arndt/dp/B06Y3MYBZ5
Spotify: https://open.spotify.com/album/68MPmb22MY1AzEmC76OLa8
The post Album review: "Go" by rockers, Jocelyn & Chris Arndt appeared first on Rock and Blues Muse.