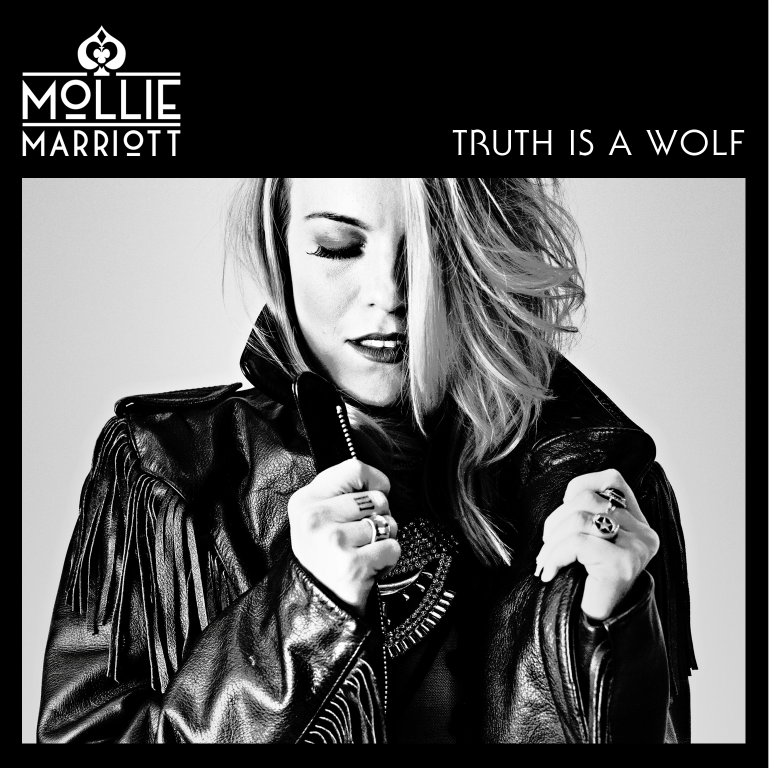 By Scott Bampton
Released November 3rd, 2017 through Amadeus Music, Truth is a Wolf is the debut album by Mollie Marriott, daughter of former Small Faces and Humble Pie singer/guitarist, Steve Marriott. She's spent the larger part of her music career as a mercenary, singing backup vocals for veterans like The Who and Jeff Beck. But with her rousing blues-rock influenced debut record now in her arsenal, she's suitably armed to charge out of the shadows and into center stage.
Written primarily in Nashville, Truth is a Wolf is an eclectic collection typified by Marriott's sweet vocal melodies that occasionally break out into an Amy Winehouse-like rasp. The resulting cocktail is like honey and whiskey - a refreshing tonic to contrast with the vanilla aftertaste left by far too many popular music vocalists.
Kicking off with lead single, "Control," Marriott's songwriting ability quickly justifies endorsements from high profile artists like Peter Frampton and Ronnie Wood. A radio-friendly fight song, Marriott wrote "Control" because she was "fed up of women using their femininity and beauty to get what they wanted and trampling over me and the people I loved." Spitting her anger over a huge hand-clapping beat, "Control" sets the tone for an album that strikes a delicate balance between moody passion and musical maturity.
Paul Weller is featured playing Hammond organ and guitar on the new single, "Truth is a Wolf."
Through the use of atmospheric stage piano and organ, tracks like "Love Your Bones" give the album a post-grunge-infused undercurrent. And while Truth is a Wolf's heart is undoubtedly rock, there's a whole system of veins running off it, pumping a healthy supply of blues, post-grunge, R&B, and brit-pop. Marriott herself names Pearl Jam and Alanis Morissette as two of the record's biggest influences. Throw in some Kings of Leon, Alannah Myles, The Verve, and Sheryl Crow, and you get a picture of the wide and varied forces at play on the LP.
"King of Hearts," my own personal favorite track on the album, elicits a feeling of '90s British indie crossing over into blues rock - like John Butler fronting Sneaker Pimps. Its guitar riffs are dark and gloomy, juxtaposed perfectly by uplifting, soaring vocal melodies. The song structure is effortlessly basic, with the same four-chord phrase cycling throughout the entire song, while the vocals build progressively over the top. It's simple, elegant, and stunningly effective.
Unafraid to call in help from heavyweight family friends, Marriott collaborates with British rock royalty Paul Weller on several tracks. The Modfather's writing influence cuts through eponymous tune, "Truth is a Wolf" at several distinctive points - namely the purposely wolf-like howling vocal hook and the gravel-toned guitar licks. The result is akin to hearing Bonnie Raitt play an intimate show at a smoky backstreet club.
Despite her medley of heavier influences, Marriott still has plenty of time for classic pop head-nods - the rimshot-driven verse of "Broken" brings to mind Cyndi Lauper's, "Time After Time," before launching into a gospel-tinged hard rock chorus.
When "Transformer" buzzes into action, an Oasis current begins surging through the intro and verse - unsurprising considering Marriott performed on the demos for the seminal band's Heathen Chemistry album. The chorus, however, is far more R&B inspired, creating an intriguing melodic change-up that shouldn't work - but does.
And in "My Heaven Can Wait," Marriott has chosen the perfect track to close out the album, bringing together the myriad genres and influences peppered throughout the record. The vocal flourishes in the chorus shrewdly give way to atmospheric gospel choir vocals - the resulting impression is one of growth and closure, mimicking Mollie Marriott's own metamorphosis into a confident and supremely capable solo artist.
Mollie Marriott is touring with Bad Touch in the UK in November. For her tour schedule see here http://www.thegigcartel.com/Artists-profiles/Mollie-Marriott.htm
For more information on Truth is a Wolf and Mollie Marriott:
Website: https://www.molliemarriott.com
Facebook: https://www.facebook.com/mollie.marriott
Spotify: https://open.spotify.com/artist/1zQ0BvcGGvuhvI6E9YBoTP
Amazon Music: https://www.amazon.com/Truth-Wolf-Mollie-Marriott/dp/B00QHD01UI
The post Album Review, Video Premiere: "Truth is a Wolf" by Mollie Marriott appeared first on Rock and Blues Muse.