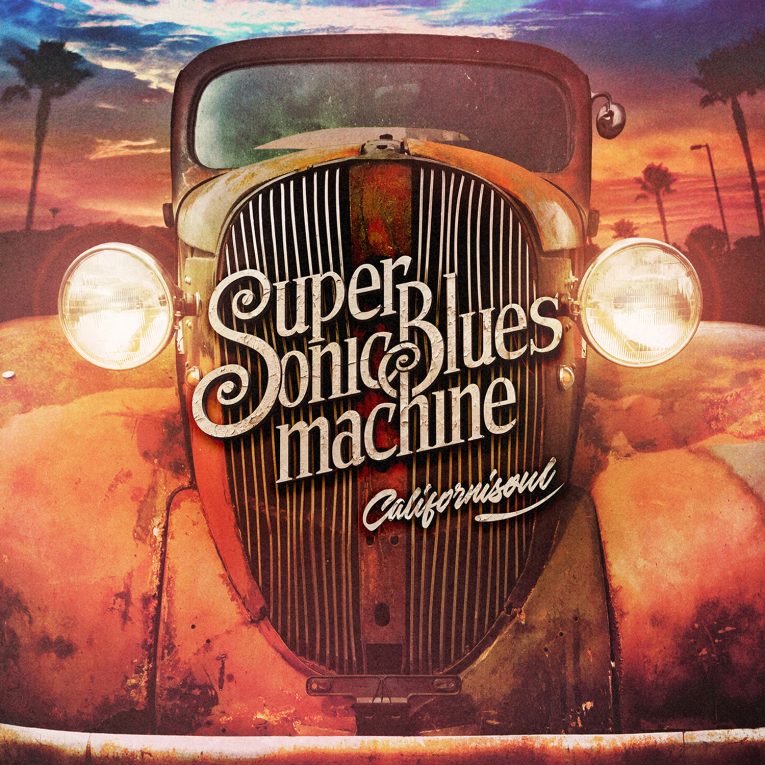 By Kevin Porter
Californisoul is the sophomore album from Supersonic Blues Machine, a hard charging blues-rock power trio from Texas. The album will be released October 20th, 2017 by the Mascot Label Group/Provogue Records. The all-star blues-rock project was created by Lance Lopez, Fabrizio Grossi, and Kenny Aronoff and features performances from Billy Gibbons, Steve Lukather, Eric Gales, Robben Ford and Walter Trout.
The trio consists of three music veterans that are deeply respected in the music community; award-winning guitarist/lead singer, Lance Lopez, producer and bass player, Fabrizio Grossi and drumming legend, Kenny Aronoff.
Like 2015's West Of Flushing South Of Frisco, this is a fun album, with killer guitar riffs and solos, and a rock-steady rhythm section.
Grossi describes Californisoul as music for an imaginary road trip along the California coastline, presumably with the windows open and the music blasting. The album kicks off with "I Am Done Missing You," an anthem for spurned lovers everywhere. The song is a funky shuffle with a reggae beat, and Lopez ends the song with a nice slide guitar solo.
"Somebody's Fool" features a thumping bass and a swampy Texas-style guitar sound that reminds us of the many guitar greats from Texas, yet is uniquely Lopez's. Robben Ford turns in the first guest appearance, and after a smoldering and snarling slide guitar solo from Lopez, Ford responds with a silky-smooth solo that serves as a nice contrast.
"Broken Heart" starts with a trademark mumble from Gibbons, and the song jumps into a lick that would fit right into a ZZ Top album, with slide guitar and a simple but tasty hook. A nice transition in key and energy happens in the middle of the song, and it ends with Gibbons and Lopez trading licks and Aronoff completely rocking it on the drums.
A favorite track off this record is "Elevate," featuring the sublime Eric Gales on guitar. A heavy bass and guitar playing in unison starts the song, then it transitions into a slow funky groove near the end of the track. The subject of the song addresses living the "high" life and the changes that must occur to live and enjoy your life. Another highlight is "One," that sounds like something that could be placed on a Santana record.
Steve Lukather, known for his work with Toto but a smoking guitarist in his own right, joins the band on "Hard Times." The simmering guitar work that is right below the surface through most of the song explodes near the end, with Lukather and Lopez trading melt-your-face solos. Walter Trout is the final guest artist on "What's Wrong," a soulful song, and Trout and Lopez trade blistering solos towards the end of the song.
Lopez is a revelation. I had not heard of him before, but wow. He shows off his impressive guitar chops throughout the album, playing a variety of styles from Texas blues to funk and some reggae, but he also matches the fireworks brought by the guest artists, which adds to the fun. He is also a good singer, with a soulful voice that fits these songs.
The musician that many are familiar with is Aronoff, who has played drums for countless luminaries, such as John Mellencamp, John Fogerty, Eric Clapton, Bonnie Raitt, Sir Paul McCartney, Ringo Starr, the Smashing Pumpkins, Rod Stewart, B.B. King, and many more. He is considered one of the finest drummers on the planet, playing with strength and finesse simultaneously. His drumming propels the band throughout the record and is a primary reason why this record smokes.
Grossi produced the album as well as played bass. He also has played with a number of well-regarded musicians, including George Clinton, Ice T, Neal Schon (of Journey fame), Slash, Eric Gales and Steve Lukather, among others. He is even more well-regarded as a sound mixer producer, and his credits include Alice Cooper, Joe Bonamassa, Leslie West, and many others.
A review of the Supersonic Blues Machine's website shows that the band just completed a UK tour in July. Hopefully, more dates will be announced once Californisoul is released, as I suspect the band puts on a great live show.
For more information on Californisoul and Supersonic Blues Machine:
Website: http://supersonicblues.com
Facebook: https://www.facebook.com/SupersonicBluesMachine
Apple/iTunes: https://itunes.apple.com/us/album/californisoul/id1276635560
Spotify: https://open.spotify.com/artist/4Q4I3c5ixM1EqJ9svcleRD
The post Review: Californisoul by Supersonic Blues Machine, October 20, 2017 appeared first on Rock and Blues Muse.