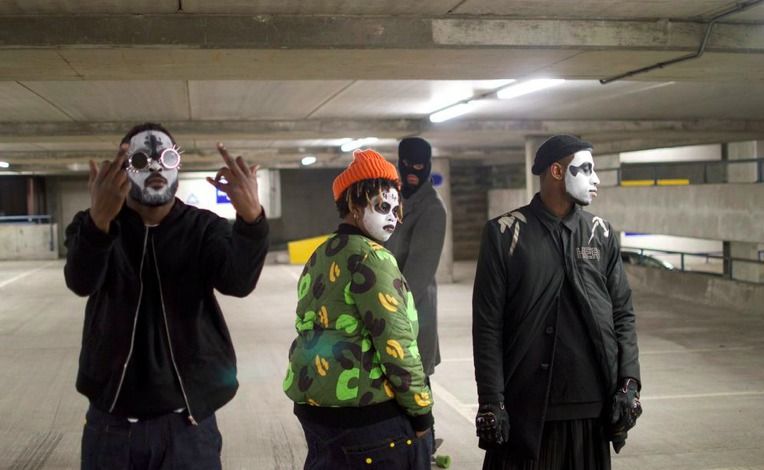 Raw energy and visceral eclecticism are encapsulated in the new EP 'North King Street' from
Blackfish Collective
, a group of young experimentalists. Formed in Dublin, the Collective comes from various African countries, including Nigeria, Angola and Zimbabwe. Many of the group arrived in Ireland as asylum seekers with their families when they were children. Blackfish Collective is all about encouraging freedom and individuality through creativity and they do just that in an innovative and unforgettable way.
Radical, gritty and grimy are just a few words to describe 'North King Street' (named after the Dublin street the group once lived on.) Despite being three tracks and a mere 8 minutes and 24 minutes long this project is hard-hitting and forward-thinking. Featuring the gravel-voiced The Vyce, 'North King Street' predominantly features Blackfish Collective member Prettyboy Francis and is searingly honest and lyrically potent. 'Badman Theme' in particular explores a range of genres with an aggressive beat and flow.
'North King Street' is accompanied by a short film called 'Badman Theme', one of the tracks on the EP, which is inspired by the Bank of Ireland robbery that took place on February 27th, 2009. The film stars the Blackfish Collective and is produced by independent filmmaker Asare Simms.
Blackfish Collective were the winners of the Afropunk Battle of the Bands 2017 and Blackfish member Caleb Kunle was the winner of NME's Emerging Artists Project 2017.
Blackfish Collective founder Prettyboy Francis, said, "As it is a new year we hope to pick up where we left off, following up from last year with our Afropunk performance and NME Emerging Artists Project winner, Caleb Kunle's EP, Eden. The EP is called North King Street which is the name of the street that we lived on the first time we lived without our parents. Inspiration is also taken from the Bank of Ireland robbery on February 27, 2009. We feel it's an honest representation and honest reflection of that time and how we felt. We were just trying to channel our anger onto the tracks.
"We want the 'North King Street' EP to remind our fans and new listeners that we are here, and prepare you for what we have coming through the first half of the year. It is Blackfish season".
The 'North King Street' EP and short film trailer create an oppressive atmosphere filled with tension, but you are also left feeling strangely elated, energised and excited. Blackfish Collective have created a thought-provoking, sucker-punching project lyrically, musically and visually. Their music explores a range of ideas and feelings which reels the listener into their world with every precious second. And that's no easy feat.
You can see Blackfish Collective at their EP launch with live performances and a film screening on Monday, February 12th at Junction House, Dalston, London E8 4AH
This post first appeared on Britznbeatz, please read the originial post: here