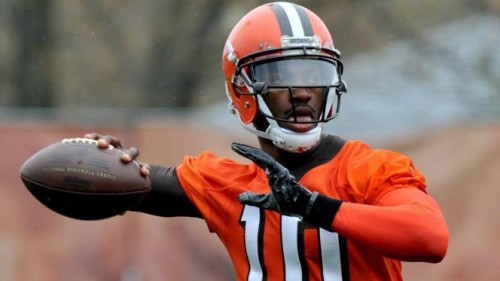 The Cleveland Browns once again have a new starting quarterback. Since 1999, the Cleveland Browns have had 25 starting quarterbacks and for the 2016 NFL season, Robert Griffin III has added his name to that list. Cleveland Browns head coach Hue Jackson has named Robert Griffin III the Browns starting QB for the 2016 NFL season.
According to NFL.com,
"It's time," Jackson said in the release. "Robert has earned the right to be named the starting quarterback of the Cleveland Browns. Since he was signed back in March, Robert has made it clear through his actions that he is willing to do everything that has been asked of him to earn this role. Throughout this process he has gained the respect from his teammates, the coaching staff and the entire organization that is necessary for him to lead our offense and really the entire team.

"(Offensive coordinator) Pep (Hamilton) has done an outstanding job with that room to get us to this point so we can make this decision at what I feel is the optimal time which enables us to best prepare for the regular season," Jackson continued. "It's now on Robert to show the organization and our fans that this is the right decision.

For his part, Griffin called it an "honor" and told reporters he never doubted he could be an NFL starter again.

"You should never doubt," Griffin said. "There's a quote out there that says 'if you don't believe, who will?' I'm thankful for my teammates and coach, Coach Jackson, (executive VP of football operations) Sashi (Brown), all of those guys for believing in me as a quarterback and giving me an opportunity."

The decision is not a shocker for those reading the tea leaves. Despite Cleveland drafting a quarterback in 2016 (USC's Cody Kessler) and Josh McCown's presence on the roster, a majority of the focus was on hoisting Griffin, a fallen star once thought by some to be the preferred alternative to Colts quarterback Andrew Luck just five years ago. Instead, a rash of injuries and an intense pivot away from a scheme that fit Griffin's playing style resulted in just five wins over Griffin's last 20 starts. He was relegated to inactive on game days throughout 2015 with the Washington Redskins.
The Cleveland Browns first preseason matchup takes place this Friday against the Green Bay Packers. Stay tuned to HHS1987. Follow @eldorado2452 on Twitter and Instagram for all your NFL and sports news.