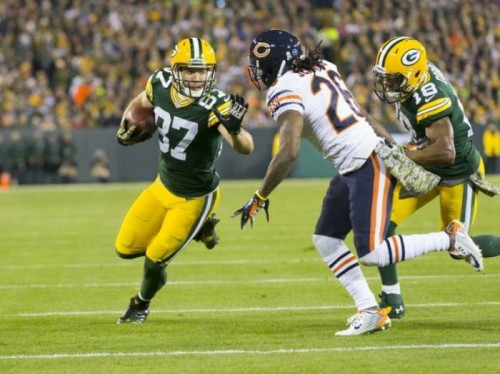 Week 7 in the NFL kicks off tonight with a NFC North battle when the Chicago Bears face the Green Bay Packers at Lambeau Field.
The Bears stand at (1-5) and they are looking to get back on the winning track. The Packers stand at (3-2) but poor play from their quarterback Aaron Rodgers has many Packers fans wondering whats wrong with their offense. The Packers will be without their star running back Eddie Lacy so much of the offensive load will rest on Aaron Rodgers. For the Bears, they just want to get a win on the board however they can get one.
Tonight I expect this to be an old fashioned NFC North shoot out. I expect Aaron Rodgers to shake his current QBR of 88 and get rolling tonight. Look for Aaron Rodgers to come out tonight and pass for over 350 yards and 4 touchdowns. The Packers running game won't be a huge factor so Rodgers will need to be sharp tonight.
The Bears have played much better since the injury to their starting quarterback Jay Cutler and tonight they will have a chance to put up big numbers. Look for Bears QB Brian Hoyer to pass for over 250 yards and 2 touchdown passes. The Bears rushing attack will rush for over 125 total and account for one touchdown.
Tonight I'm going with the home team. Let's see what the Packers can do tonight! Stay tuned to HHS1987. Follow @eldorado2452 on Twitter and Instagram for all your sports news.
Bears 24 Packers 31