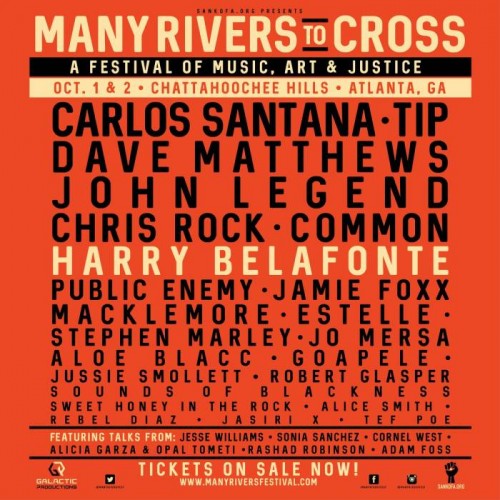 On October 1st and 2nd, many of today's biggest artistic talents, music and arts lovers and activist looking for social justice will embark on a festival like no other. Sanfoka.org is set to present the "Many Rivers Festival" on October 1st and 2nd at Chattahoochee Hills outside of Atlanta, Georgia.
"Many Rivers Festival" is a festival where grammy-winning hip-hop artist T.I. and Macklemore, Singers/Songwriters Aloe Blacc, Goapele and Alice Smith, Grammy-Winning Jazz Vocalist Dianne Reeves, Grammy Award Nominated A Cappella Ensemble Sweet Honey In The Rock, and Artist/Actor/Activist Jussie Smollett have signed on to perform at the event, joining the celebrated line-up that features a mix of artists and thought-leaders including John Legend, Chris Rock, Jesse Williams, Common, Estelle, Dave Matthews, Carlos Santana, Public Enemy, Danny Glover and Dr. Cornel West.
Along with multiple performance stages, music fans will be able to be part of the "Social Justice Village" integrated throughout the Festival to engage Sankofa.org and its social justice partners, get informed on current issues, interact with activists and thought-leaders, and find out how they can help impact change in their own communities.
Come out this weekend to Chattahoochee Hills and enjoy an experience like no other. Purchase your tickets to "Many Rivers Festival" here.
Stay tuned to HHS1987 for all your new music. Follow @eldorado2452 on Twitter and Instagram for all your music and entertainment news.