Philips is known to create some of the most innovative and functional electric shavers in the world. Contrary to some other brands, Philips Norelco electric shavers are designed for people with varying shaving requirements and budgets.
For this review, we have tested several high-quality Philips products. Below are top 5 shavers reviewed to treat your facial hair with professional efficacy. But first, take a look at 3 best selling shavers this month.
Best-Selling Philips Norelco Shavers in October, 2018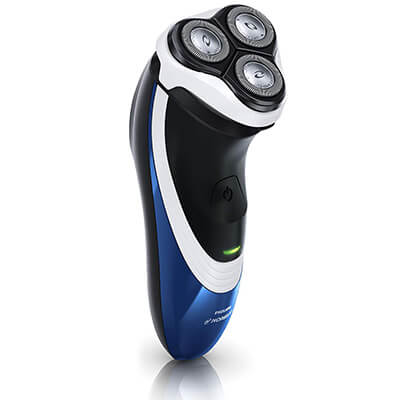 Philips Norelco Electric Shaver 3100

Easy and convenient shave with more comfort for an affordable price

Price: See Here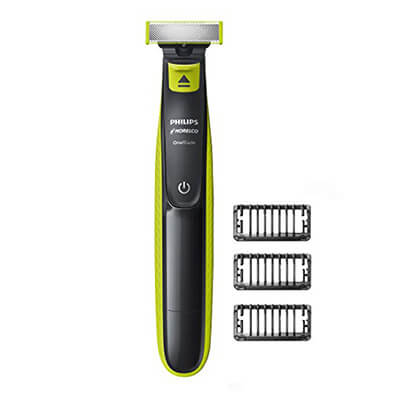 Philips Norelco OneBlade

Revolutionary electric grooming technology designed for men who wear stubble, beards, or facial hair styles

Price: See Here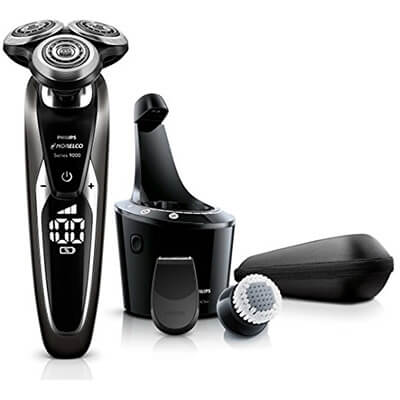 Philips Norelco Electric Shaver 9700

Unique Contour Detect Technology. Each shaving head independently moves in 8 directions.

Price: See Here
---
Top 5 Philips Norelco Shavers Reviewed
1. Philips Norelco OneBlade – The Most Handy Design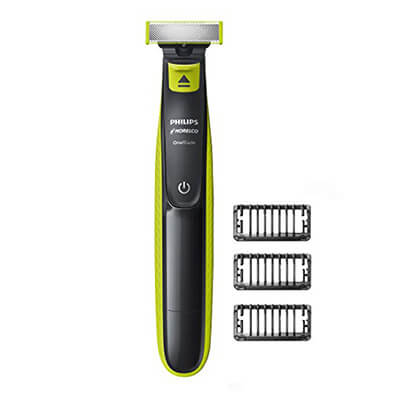 Philips OneBlade is a handy and serviceable electric shaver. It's not as good for clean shaving, but it can excellent to give you that needed touch, edge, or trim. All without the nasty cuts.
PROS:
Excellent performance
Gentle on the skin
CONS:
Not as good for tough beards
Replacement blades are expensive
OneBlade Features Overview
See Features
Design
The razor is light and maneuverable. For better comfort, the grip is rubberized and textured.
The shaving element is affixed to a flexible head that follows the contour of your face, allowing you to shave confidently and with precision.
The cutter shears hairs with a dual protection system, which ensures your having is comfortable and not too close to the skin.
Functionality
Oneblade can be safely used in the shower because it's water-resistant and cordless. You can also dry shave just fine, as there is no specification.
It is recommended you recharge the battery for at least 24 hours. The shaver itself has a battery life of 45 minutes, while the average recharge should be around 8 hours. Depending on how much time you spend shaving, it can last for several months.
The replacement of the blade is fairly easy, and the high quality ensures up to 4 months of effective shaving.
The product is shipped with 3 trimming combs:

1 mm for a tight trim
3 mm for stubbles
5 mm for long stubbles
Value
We believe this Philips blade is a great deal. The price tag is reasonably low, and the mileage you can get from this handy grooming device is nothing to scoff at. Still, we find it inadequate for a couple of scenarios: shaving long beards or styling thoroughly.
The battery life is limited, and the cutting power is not as high, so it's more geared towards the every-day shaving, up to shaving every 4 or 5 days.
Should you need anything more than that, you might wish to see into different options.
Summary
This Philips electric razor is a solid choice for most. It can deal with unruly facial hairs and help you keep your face clean and tidy.
You won't shear massive beards with the OneBlade, but it can make your personal care and styling much more convenient and enjoyable.
---
2. Philips Norelco 2100 – Affordable Option
Philips Norelco 2100 is a premium electric shaver. We don't believe you will find a razor with such a quality build at entry level, be them rotary or foil.
PROS:
Durable blades
Easy cleaning
CONS:
Battery life is not as good
Might struggle with larger beards
Norelco 2100 Features Overview
See Features
Design
Weighed and balanced for better grip. The razor is maneuverable enough to style and trim without hassle, although it doesn't have a textured grip.
3-independent cutting elements in a 4-direction shaving head for an easier shaving of the neck and jawline.
Extremely durable self-sharpening blades to ensure the utmost efficiency shave after shave. Replacements are a little expensive, but won't be needed as often.
Functionality
You can pop the heads open with a button, allowing you to rinse the blades thoroughly. They say you can do it under the tap, but we suggest using hot water to ensure everything is cleaned.
To complete your shaving, the razor has a pop-up trimmer to maintain and trim mustaches and sideburns. Though it won't be nearly as close as an actual razor.
Waterproof and cordless, so you can use them safely in the shower. Note that the device can only run in cordless mode, not while charging.
Value
Overall, it has great value. The main drawbacks are the battery time and strength of the cutting elements, but altogether the package is a nice deal.
The cost is pretty reasonable, and the performance for casual, everyday usage, is brilliant. That being said, we find the overall potency of the shaver to be lacking, and that is something you should keep in mind if you have a large beard, or intend to do thorough styling.
Summary
As an entry-level shaver, it's a premium product. For its price, it does everything you need of a Philips razor, but it won't go above that.
If you're looking for the casual daily shave, this shaver is a perfect fit, but you should definitely consider something else if your task is tougher.
---
3. Philips Norelco 4500 – Accessible and Tough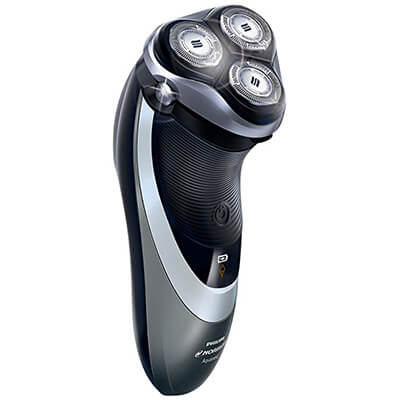 Following the trend of one-stop solutions for shaving and trimming, Philips brings the 4500 model. This is a slightly more sophisticated grooming device. Nothing too fancy in the outside, but it has some interesting features under the hood.
PROS:
Strong cutting element
Manageable recharge time
CONS:
Might not deal with all hairs swiftly
It's a bit expensive for what it does
Norelco 4500 Features Overview
See Features
Design
The shaving head has a 3-part cutting element with pivot, flex, and float systems. This allows for a close shave that is as efficient and fast as it is gentle.
The cutting elements use a dual system to shear all hairs, long and short, with an active lift and cut action. The heads are low friction and rounded for safety.
The shaver follows the contour of your face thanks to its multi-directional pivot head, which is good for shaving the neck and jawline.
Functionality
Has a LED charge, battery low, and battery full indicator. Pretty useful to gauge how much juice is left if you're in a hurry and can't afford to leave with half a shave.
The razor has a pop-up trimmer to maintain and trim your mustache and sideburns, although it won't be as close as a real razor. It's a nice tool to add a final touch after every session.
Shaving head works better while wet so you can use it safely with water or in the shower. You can't use the device while corded but a 3-minute charge should be enough for a cordless shave.
Value
It's a bit expensive for what it does, but this electric razor should be enough to deal with tougher beards, something the previous products weren't capable of. By no means it's a bad deal, but as we near this price tag, something better might await.
Altogether, it provides a just value, and we like this razor.
Summary
Out of the Philips electric shavers we've reviewed so far, we find this model to be in between budget and quality. A much-needed product for those who're looking for a mild compromise between both. We think it's a great fit for those who need a tougher razor at an accessible price.
---
4. Philips Norelco 8900 – Premium Design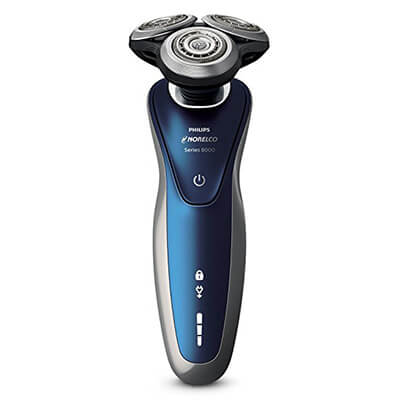 Philips' premium shavers are often worth every penny, and this is true with the 8900. We're leaving the budget behind to review a high-quality shaver to style your facial hair with efficacy.
PROS:
Excellent recharge time and 2-year warranty.
Several settings for tailored styling and trimming
CONS:
Somewhat expensive
Might require some more passes to achieve a close shave
Philips Norelco 8900 Features Overview
See Features
Design
The shaving head utilizes a patented Contour Detect Technology so that each cutting element moves independently in 8 directions, accommodating to the curves of your face. This allows a closer and more effective shaving.
The cutting elements use a precision system that collects hairs in an optimal position to cut, leading to a comfortable shave, although it takes a bit more time to get closer.
The shaving head is angled and the grip of the razor is rubberized, which allows comfortable shaving with less hand stretching.
Functionality
Self-sharpening blades to ensure maximum efficiency day after day. Replacement blades are expensive, but you don't have to change them as often due to the way the shaver operates.
5 built-in settings to trim, going from stubbles to short beard. The materials and shapes are arranged to prevent skin irritation, and they're suitable for both dry and wet shave.
High-quality battery charges fully in one hour and provides up to 50 minutes of shaving.
Value
Not what we'd call cheap, but certainly high-quality.
If we're being honest, there's seldom a difference in styling potential between a $40 and a $140 shaver, but the added conveniences and durability end up paying for themselves in the long term. This model is expensive, but in our opinion, the features and parts are high-quality, and we don't think you'd be switching to a different razor in the near future.
Summary
Premium quality, sleek design, and capable mechanical components. If there's a list of things a razor has to do, this Philips electric shaver ticks all the boxes. We really like the design, and we think the product is a good fit for most.
---
5. Philips Norelco 9700 – The Most Sophisticate Shave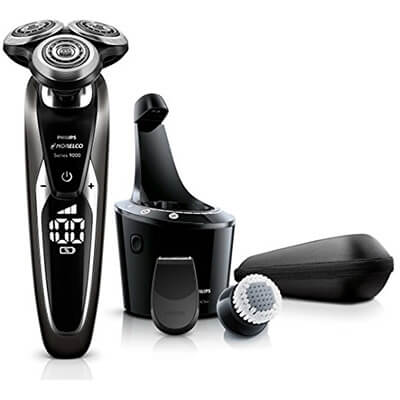 Each Philips generation revamps the previous in almost every respect, and we couldn't expect less from the 9700. Pricey, for sure, but with the reasons to be so.
PROS:
Great battery life and quick charge time
Excellent shave
CONS:
Relatively Expensive
Benefits might not warrant the high price tag
Philips Norelco 9700 Features Overview
See Features
Design
The Contour Detect Technology makes another appearance in this shaver, with an 8-directional shave head that follows the contour of your face and neck.
The cutting elements employ V-Track precision blades to ensure the capture of every hair, no matter the length. It works relatively close to the skin with fewer strokes, leaving your face comfortable and irritation-free.
AquaTec technology for effective wet (or dry) shaves, using gel or foam. It is recommended you go for the wet shave route, although there shouldn't be any noticeable lost for not doing so.
Functionality
Self-sharpening blades to ensure quality shaving day after day as well as more durability. The replacements are expensive, but depending on your usage you might not need to do it regularly.
Cleaning station cleans, dries, and lubricates your shaver automatically in an alcohol-free solution.
Personal comfort settings to customize the intensity of the shave, as well as a facial cleansing brush addon to use with your preferred wash.
Digital display that shows battery level, cleaning indicator, and travel lock.
Value
Expensive but premium, however, is it really needed? The age-old argument.
If you ask us objectively, it might not be worth it. Sure, the added convenience is fine, but it doesn't do anything extraordinary, and frankly, it doesn't do anything a model half its cost can't.
That being the said, this Philips electric shaver is not without its merits. We can't deny the professional-grade results, the excellent design, and nifty addon. If you're looking for premium performance, this might be it.
Summary
Aesthetically, this product is not as compelling as the 8900, at least in our opinion, but it grabs everything it did and does it better, not by a long walk but still significant.
We like the addon and believe this shaver could be the definitive "one-stop" solution for your facial care. Looking at it in this light, the purpose and value of the product are made evident. If you just want a nice shave, we suggest you look elsewhere, lower in the price category.
---
Frequently Asked Questions
Q: Do Philips shavers offer really close shave?
Answer
The "close shave" selling line is not new, but it's not false either. These trimmers operate under the idea that a shaver should be very gentle on the skin.
Of course, a manual razor will give you the closest shave, but it will also produce rashes, ingrown hairs, and other inconveniences.
They provide close shaves but might require a few strokes, and even then, no, it won't be as close as a traditional razor.
Q: How often do I have to replace the blades?
Answer
Unless you grow a beard overnight, not more than 3 to 4 times per year.
Different razors have different suggestions for blade replacement, but the ideal time should be once every 4 months. Self-sharpening blades are very durable and might need to be replaced less than their counterparts.
In any case, each Philip electric shaver has a blade reference so that you can get blade replacements.
Q: How accurate is the battery life?
Answer
It really depends on the particular battery of each shaver. Lithium-based batteries are totally different from Nickel-based batteries, but as a rule of thumb, it's best to use the battery life to its fullest before recharging.
45 minutes of run time, for example, could take up to 8 hours of recharge. However, those 45 minutes could amount to upwards of a month in shaving, depending on your usage.
In the case of some shavers, a 3-min charge is enough for a shaving session, but you need to read up the specifics.
Q: Can women use these?
Answer
Absolutely! In fact, many women prefer these shavers over their counterparts because the shaving is gentler and leaves no traces, which is excellent for shaving the delicate parts.
On that note, a shaver needs to be flexible, as they were designed to shave the face, which is fairly plain compared to other parts of the body. A popular strategy is doing the heavy work with an electric shaver and then finishing strokes with a manual razor.
---
Philips Norelco Series
Click & Style Series
Expand
The Click & Style Series is a 3 in 1 shaving toolkit that is designed to be used for shaving, styling and body groom thanks to 3 different attachable heads.
You can use it as a dry shaver or use shaving cream for your own convenience.
Dual Rotary Razor makes it easier to shave without getting any cuts or nicks.
5 length settings are included to adjust for the best trim.
PowerTouch Series
Expand
The PowerTouch series includes classic dry shavers.
A GyroFlex 3D system is incorporated to provide three independently pivoting parts that follow the contours of your face.
The UltraTrack shaving heads feature slots for long hair, channels for longer hairs and holes for the shortest of stubbles.
AquaTec seal allows you to dry shave or wet shave with a cream or gel.
1 hour of charging allows you to use the shaver for almost 20 days.
PowerTouch with Aquatec Series
Expand
These Philips Norelco Shavers are similar to the ones in the PowerTouch series, but they have both pivoting and flexing heads, as compared to only flexing heads of the PowerTouch series.
SensoTouch 2D
Expand
The SensoTouch 2D series is designed to offer an ultimate shaving experience and exhibit a beautiful design.
They feature both pivoting and flexing heads.
They can be used for both dry and wet shaving with gel and shaving foam.
The skin-friendly precision timer prevents any unnecessary skin contact while trimming.
SensoTouch 3D
Expand
The SensoTouch 3D is the most advanced series of Philips electric shavers.
This series includes both dry and wet shavers with Aquatec.
A GyroFlex 3D system is incorporated to provide three independently pivoting parts that follow the contours of your face.
The Super Lift & Cut Dual Blade System is designed to lift the hair in order to cut them from the base.
---
Criteria For Review
To keep things objective, we've used three important criteria to judge each razor.
Most don't pay a lot of mind to the products we buy, especially men. But there is much to evaluate when making an investment. A "standard" shaver might differ wildly from a "good" shaver, and it only takes a few minutes to explain:
Design
A good shaver is light, maneuverable, gentle, and flexible.
Philips Norelco shavers are almost always all of those at the same time, but some have better, lighter designs, while others have superior contour-following systems. It might come to preference which one you need the most, but we want each shaver to tick these boxes.
Functionality
Besides cutting your facial hair, what does it do?
Sure, you don't need anything fancy to call a shaver "good," but we appreciate pop-up trimmers, LED indicators, better batteries, included combs, or built-in settings. Even durability comes into play here.
There's no shortage of ways a shaver can do things better, and we expect these shavers to bring in more than a cutting head.
Value
What's worse than a razor that doesn't a good job? An expensive razor that doesn't do its job.
Not all expensive products are high-quality, and it requires an objective assessment to determine the value of a product. These shavers were picked because, broadly speaking, they perform a job appropriate to its cost, and sometimes surpassing its expected value.
---
Other Popular Philips Norelco Models
Philips Norelco AT810 Powertouch with Aquatec Electric Razor
See Details
The Philips Norelco AT810 Powertouch features the Aquatec technology to let you shave wet or dry as you please. So if you're accustomed to shaving with a shaving gel or foam, this would be ideal for you. However, if you wake up one morning and realize you've run out of shaving cream – there's no need to worry as you can use this dry too!
The flexing heads adjust automatically to each and every contour of your face and the neck to provide an even, comfortable shave.
You will only need to replace the HQ8 heads ever 12 months!
Philips Norelco PT724 Powertouch Electic Razor
See Details
The cutting heads of the Philips Norelco PT724 are rounded to provide up to 66% more comfort. The heads are designed in a way that allows them to flex and float so that your shaves are smooth and it also prevents any cuts or nicks.
The pop-up trimmer is ideal for trimming the mustache and sideburns. The PT724 comes in a black-blue-white theme that gives it a really elegant look. The lithium-ion battery allows the shaver to stay charged for up to 40 minutes of cordless, perfect shaving.
Philips Norelco 1250X SensoTouch 3D Electric Razor
See Details
You can now leave behind all your uncomfortable shaving experiences, thanks to the three-dimensional contouring head of the Philips Norelco 1250X. The SensoTouch series is the Philips' top series of electric shavers and includes some of the fascinating features ever to be found in an electric shaver.
For instance, the GyroFlex 3D technology ensures that the shaver follows the contours of your face and neck to give smooth shaving experience. Whereas the UltraTrack shaving heads with the Dual Precision System gives the smoothest shave imaginable. Anti-Slip grip on the shaver makes sure that it doesn't slip while you shave. Also, it can be used for dry and wet shaving using gel or foam for your convenience.
Philips Norelco BG2040 BodyGroom Pro
See Details
The Philips Norelco BG2040 is a unique electric shaver – it is not for shaving your beard or trimming your mustache. Rather, as its name implies, it's designed for men who want a comfortable way of grooming below the neck. This means that the Philips Norelco BG2040 shaves and trims hair on the chest, abs, underarms, the back as well as the groin area.
It is completely waterproof and you can use it while you're in the shower, or simply as dry. The 3D pivoting head ensures that the blades follow the contours of the body as accurately as possible in order to eliminate the chances of any skin irritation. The blades and combs have been made round to prevent any scratching of the skin.
A high-performance beard trimmer with 5 different length settings features to help you adjust based on the length of your body hair; a great choice for men who want to a grooming solution which prevents cuts and nicks.
Philips Norelco YS524/41 Click & Style Shave Toolkit
See Details
This is the only model currently available in Philips Click & Style series. This toolkit surely gives you a bang for your buck – providing a 3 in 1 solution for shaving, styling and body groom. You can change the heads by a simple pressing of a button.
The Aquatec technology allows for a close shave regardless of whether you want to shave dry or wet with your favorite shaving gel or cream. If you want an affordable all-in-one grooming solution, this one is for you.
---
Conclusion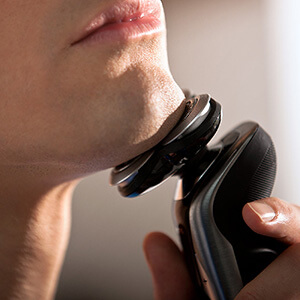 Old-school razors have close shaves, but they can do some serious harm to your face, and they take way more time per session.
The rise of the electric shaver follows their speed and convenience, but the market is flooded with them, so purchasing a quality product is not an easy task. A substandard electric razor will go to the trash bin rather quickly after messing your skin.
Philips streak of quality products is a seal of confidence, but we can't let go of our critical outlook! Hopefully, you found something you can use, but at the very least you can make an informed decision on the matter.
Other electric shaver brands to consider: Braun, Panasonic.
The post 5 Best Philips Norelco Electric Shavers Review appeared first on Mister Shaver.