You're here because you're looking for the best Braun electric shaver, right? But why Braun? It's #1 electric shavers brand in the world, but is it worth it?
Shaving and trimming is fun until you start cutting your face, and that's to say nothing about the irritation that follows! Want to know how to avoid these altogether? We've got you covered.
An electric shaver provides smooth shaving without pulling hair follicles, which leads to cleaner results and no cuts, but there are many cheap electric razors out there that aren't worth it. Rest assured, however, as we've brought you high-quality shavers from none other than Braun, the industry-leading German brand that has been innovation the way we shave since decades ago.
The Most Wished For Braun Electric Razors in September, 2018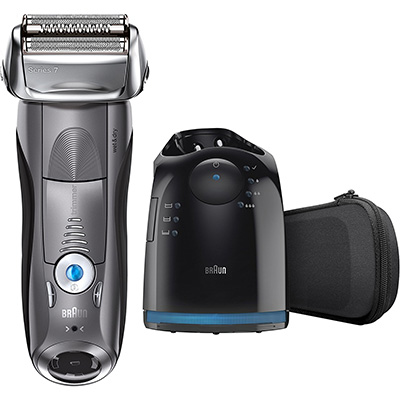 Braun Series 7 Electric Shaver (790cc)

Close yet gentle shave without compromise.

Price: See Here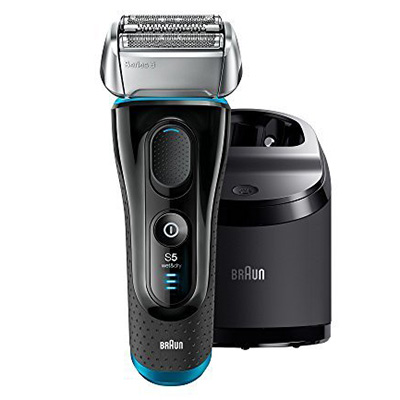 Braun Series 5 Electric Shaver (5190cc)

Innovative skin-sensitive technology AutoSensing.

Price: See Here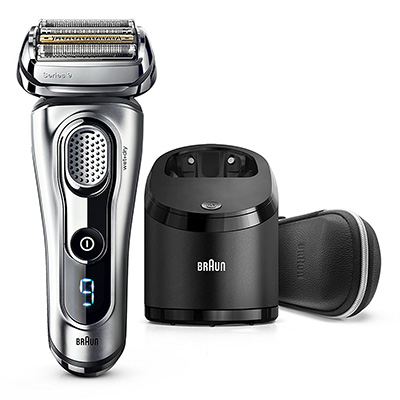 Braun Series 9 Electric Shaver (9290cc)

A gold standard in shaving. World's most efficient shaver.

Price: See Here
So these are the best-selling electric shavers this month. Now let's dive deeper into the all-time top Braun shavers review. Keep reading.
Top 5 Braun Electric Shavers Reviews
1. Braun Series 7 790cc — Innovation and Performance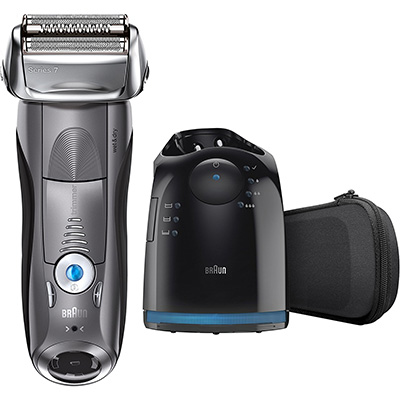 Braun is dedicated to innovating, and the 790cc is proof of that. This electric razor is capable of adapting to the shape of your face to trim even the hard-to-reach hair, and it takes half the amount of strokes too.
Braun 790cc Features Overview
Click to See the Features
Design
Braun's razor is designed with a 4-part shaving element, which employs 3 blades and a skin guard. It was built with efficiency in mind so it can shave and capture facial hair in a single stroke, rather than two.
The head and the shaving elements are floating which allows smooth movement that adapts to your skin and captures hair in 8 different directions.
The shaver is 100% waterproof and cordless. You can safely use it with running water, or even while taking a shower!
Functionality
The razor has a 5-setting turbo/sensitive modes to change the gentleness and power of operation, which saves battery life and provides varying degrees of precision.
The shaving motor was built to deliver up to 10,000 micro-vibrations, allowing the shaving element to shear hair in every stroke without pulling, even on large beards.
The charging station is unique in the sense that it cleans, lubricates, and charges your shaver. The razor comes with a cartridge to load the station, but you will have purchase more to recharge it in the future.
Value
There is no sugarcoating here, Braun 790cc is a relatively expensive shaver. While we certainly understand that high-quality is often paired with a higher price point, we can't say this is the best solution for all. But if you are looking for high quality without the budget being an issue, definitely consider this shaver.
Pros:
Outstanding precision
Very sharp, but gentle on the skin
Cons:
A bit costly
Somewhat unwieldy for precision trimming
Our Verdict
Are you looking for professional quality and cutting-edge technology? Look no further. However, if you'd prefer the Braun quality at a lower price point, keep reading.
All in all, you can get amazing results from Braun 790cc with the assurance it won't go to the trash bin in a month or two. The performance more than makes up for the price.
---
2. Braun Series 5 550cc — The Closest Shave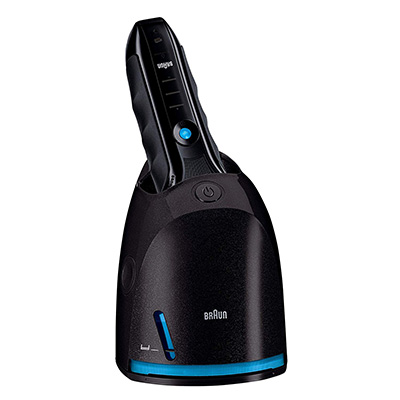 The Braun Series 5 shavers are regarded as the sweet spot between performance and cost. The 550cc is part of the series 5 and provides triple-action cutting to achieve close shaves without nicks or cuts.
Braun 550cc Features Overview
Click to See the Features
Design
The 3-part shaving element uses 3 blades to shear hairs consistently per stroke, and it progressively gets closer to the skin to provide amazing results.
The razor's body is slightly elongated and slim, and it was designed to trim sideburns, mustaches, or full beards with ease.
The unit has rubberized sides for better grip and comfort, which allows tighter control of the movement.
Functionality
The razor is recharged in Braun's charging station, which cleans, charges, lubricates, and dries your shaver at the press of a button. You must purchase additional cartridges for the station. The alcohol-based solution is sanitary and scented.
Braun's OptiFoil and ActiveLift technologies work in tandem to lift, cut and capture flat-lying hair close to the skin.
The rechargeable battery is optimized for quick, five-minute charging, and you can get between four and five thorough uses before having to recharge it.
Value
While not exactly in the "affordable" section, Braun 550cc is still available at a reasonable price, and the quality of the product leaves no doubts as to whether the investment it's worthwhile or not.
Pros:
Adaptive shaving head
Very close shave
Cons:
Battery lights are a bit of an annoyance
The adaptive head is not so good under the chin
Our Verdict
Braun 550cc has a favorable cost to value ratio, which makes it an attractive solution to those looking for a compromise between professional-grade shaving and technology. Braun's quality rarely comes cheap, but in our opinion, this is a fair deal.


---
3. Braun Series 9 9290cc — The Best Performance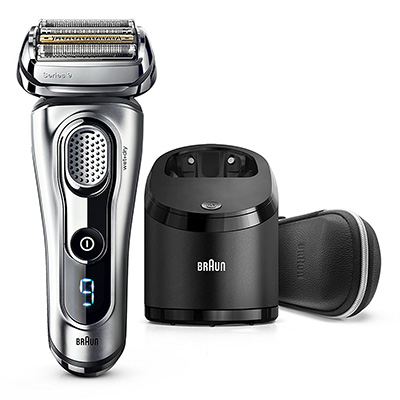 Braun 9290cc is regarded as one of the best shavers in the market. Now, making such a claim would be a bit too much from us, but we can say with certainty that this is by far the most technologically advanced electric razor.
Braun 9290cc Features Overview
Click to See the Features
Design
This Braun electric razor is designed with a 5-part shaving head, which employs 4 blades and a skin guard. Altogether, they shear hairs quickly with each stroke without generating discomfort in the skin.
The shaving head is flexible and moves in 10 different directions to adapt to the skin. The independent floating cutting elements can capture even the trickiest hairs.
Trimming is made easier with 2 trimmers, including a titanium-coated trimmer to deal with large or curly beards. Size 7 is appropriate for the sides, while size 9 is better for general shaving.
Functionality
The 9290cc is waterproof and cordless so you can use it with running or water, or while showering. It's just as good for dry shaving, in case you fancy that route.
The shaving motor can deliver up to 10,000 micro-vibrations to shear hair in every stroke without pulling. This gets rid of the nicks and cuts, even on large beards.
The charging station cleans, lubricates, and charges your razor. The shaver comes with a cartridge of the sanitary solution, and you will need to purchase more to recharge it in the future.
Value
Braun The 9290cc is on the expensive end, more so than the previous models. The quality of the product is undeniable, but the price might be too steep for some. This is a product for the stylish perfectionist, looking for the highest degree of performance.
Pros:
Quick cutting
Gentle and close shaving
Cons:
Expensive (but worth it)
Low battery life
Our Verdict
Braun outdid itself in terms of performance with the Series 9, not so much in costs. The results you can get from this electric shaver are more than refined, but they come at a high price.
Cost-prohibitive as it may be for some, this unit appeals to the prospective consumer who seeks symmetrical and stylish looks. All in all, the investment wouldn't go to waste, as you can expect several years of mileage out of this piece.


---
4. Braun Series 3 390cc — High Quality for Low Price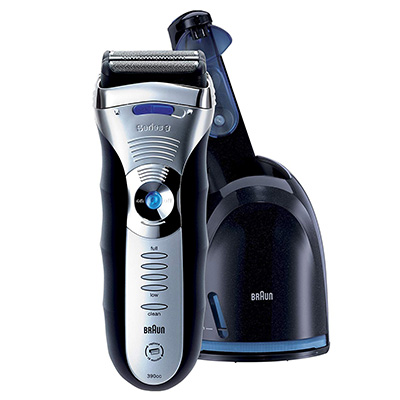 Braun Series 3 shavers might not be as popular as they were, especially considering the newer series. However, the series 3 has high-quality razors, such as the 390cc. It won't be as flashy or technically-superior as the Series 7 or 9, but it serves its purpose well enough.
Braun 390cc Features Overview
Click to See the Features
Design
Shaving head has independent floating cutting elements for better adaptability to your skin. It makes use of triple-action cutting to shave with precision, and without pulling hair follicles.
Compact sized and comfortable grip, which makes it a decent travel razor.
Each stroke of the 3-part shaving elements shears hair, progressively getting closer to the skin.
Functionality
The razor is recharged in Braun's charging station, which cleans, charges, lubricates, and dries your shaver at the press of a button. You must purchase additional cartridges for the station. The alcohol-based solution is sanitary and scented.
Uses Braun's SmartFoil to capture hair more efficiently and in different directions.
The rechargeable battery is optimized for quick, five-minute charging, and you can get between four and five thorough uses before having to recharge it.
Value
Agreeable price and above average performance. This is what we call a deal!
Granted, it might have a few shortcomings, such as a lower battery life or slower shaving, but altogether, you get all of Braun's quality and performance for an affordable price.
Pros:
Affordable
Triple-action cutting
Cons:
Doesn't shave very quickly
Might overheat if used for too long
Our Verdict
An excellent electric shaver. It will suit just about anyone, from those looking to save money to those looking for a stylish, refined look.
It might still come as a bit expensive for some, but that is precisely the best part about this unit: it provides you with a healthy balance of quality versus cost.


---
5. Braun Series 5 5190cc — The Best Value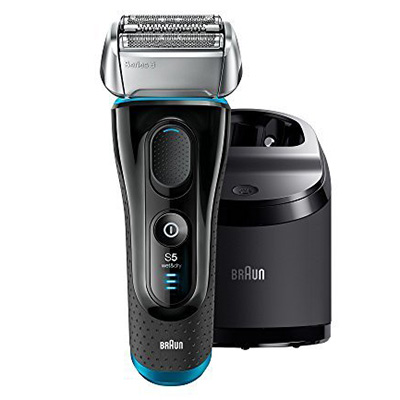 The most balanced option wouldn't be other than a Braun Series 5, such as the 5190cc. It's effective, affordable, and it can provide you with a close and stylish shave. If you're looking for a quick and cheap tool to refine your looks, this might be it.
Braun 5190cc Features Overview
Click to See the Features
Design
The razor is designed with a 3-part shaving head, employing 2 blades and a middle trimmer to capture and shear hairs.
The shaving head doesn't rely on pressure. Instead, the head is flexible to move and adapt in 8 different directions.
FlexMotionTec allows the razor to get closer to the skin without applying pressure. It achieves the same results without irritating the surface of the skin.
Functionality
High-speed motor and ActiveLift ensure fast and effective shaving, and the AutoSense technology accurately adapts the blades to match the problem areas.
100% waterproof and cordless, so you can use it with running water, or even in the shower.
The recharging, cleaning, and lubricating is done in the charging station. The razor comes with an alcohol-based sanitizer cartridge, but you will need to purchase more to recharge it in the future.
Value
The 5190cc might just be the razor with the best cost to value ratio. Its performance is comparable to the Series 7 shavers while being on a cheaper category.
It won't satisfy the most demanding consumers, but the cost and quality are enough to warrant a thought over it.
Pros:
Comfortable on the skin
Affordable
Cons:
Somewhat loud
Cleaning might be fiddly
Our Verdict
This razor is, generally speaking, a good fit for everyone. It delivers a close enough shave that doesn't irritate the skin, it's affordable, and shaves rather quickly.
The performance and durability of the razor ensure a long mileage, and the cost is fair for a beginner entry into the market of electric shavers.


---
Frequently Asked Questions
Q: Many of Braun Shavers Have a Charging Station. How Can I Charge While Traveling?
Answer
You can use shaver's cords on their own, without the bulky station.
Another matter entirely is the outlet. Typical Braun products come with US outlets, but a foreign one might be needed, depending on your destination. Also if you travel often, consider buying a compact shaver for traveling. It's cheap and saves a lot of space in your luggage. We recommend Braun M90 Mobile Electric Shaver.
Braun M90 – Electric Shaver for Travel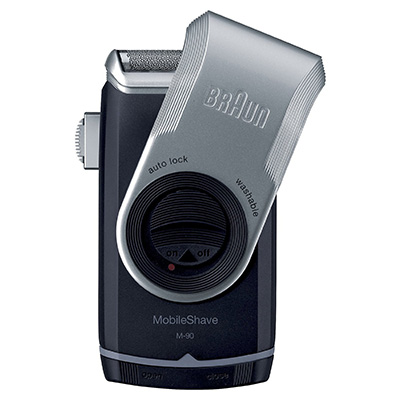 The Braun Mobile Shaver is the smallest shaver created by Braun. It is designed for people who are always on the move and would like to utilize their time to the maximum. The mobile shaver has a compact size and is powered by 2 AA batteries, allowing to be used at work, in the car or when commuting by other means.
The wide floating foil ensures a comfortable, smooth shave and a rotatable twist cap protects the foil when not in use. Costing less than $30, this shaver is a must have for people on the go!
Q: How Often Do I Have To Change The Blades/Foils?
Answer
The mileage varies with use, person, type of bristle and skin, and even the razor itself. That being said, most recommend replacing the foils once every 18 months or so.
If your beard is naturally curly and you shave on a weekly basis, you might need to replace it every year or so, perhaps even sooner. On the contrary, if you shave almost daily, you might postpone a bit more.
Q: How Often Do I Have To Change The Cleaner Cartridges?
Answer
The charging station should indicate you if the cartridge needs replacement, but just as it is with blades/foils, the mileage is heavily dependant on the usage.
It is a good practice to remove the foil head every few days or so, tap it to remove hairs, and then put it back together. Doing so will economize the solvent.
As a rule of thumb, if you can smell the scent of the solution, it should be alright, but if you'd like a hard number, 8 to 10 weeks is the bare minimum you should expect.
Whenever you replace cartridges, don't forget to rinse out the collected hair. If you let it accumulate, cleaning will take more detergent and won't be as efficient.
Q: Are Braun Shavers Good For Black Men?
Answer
There are always concerns regarded how good can a razor handle the differences in physiology when it comes to skin and hair types. Fortunately, Braun's been known for being adequate for African-American men.
This isn't something you see explicitly mentioned in product descriptions, but according to several reviews, both from Amazon and other retailer sites, Braun razors are powerful enough to deal with all kinds of hairs or textures.
For the best results, you might want to apply an aftershave moisturizer to avoid skin irritation.
Q: Can Women Use Braun Electric Shavers?
Answer
Women typically use sensitive razors due to the delicate nature of their skin and the areas they shave. However, Braun shavers are designed to be used without generating discomfort or irritation in the skin, which leads to smoother results.
Therefore, women should be able of shaving comfortably and reliably with a Braun Electric razor just as well as with their own.
---
How We Appraised Each Braun Electric Shaver
Most men think purchasing a razor is a matter of picking the first product they see. Such dismissiveness is understandable to some extent, as we're all a bit simplistic regarding the "small stuff." Anyhow, we know that there are details that set "good" from "standard."
Braun products are, on average, amongst the best available in the industry, but we've compared each electric shaver to assess how well they fare in three key departments to determine if they deserve a spot in the list.
Design
Design
Here we take a look at the construction and shape of the unit.
Braun electric shavers are usually balanced, light, and maneuverable. This is an important factor when we're talking about self-styling, as the lighter and more maneuverable a razor is, the easier you can get your desired results. This is why we've featured shavers with sculpted handles and rubberized sides.
Some shavers have static cutting elements, and so the angle plays an important part in avoiding nicks, cuts, or irritation, but most Braun razors make use of clever free-floating, independent cutting elements that work in tandem with their patented flex technologies to adapt the head to the shape of the face.
Almost all of Braun razors can be used both corded and uncorded, and some are waterproof to boot, catering the busy man who doesn't have time to shave after the shower but does so while showering.
Functionality
Functionality
Here we take a look at the settings, motor, and patented technologies.
A powerful motor might be enough to shear through a lumberjack's beard, but specialized, in-house technologies make Braun electric shavers what they are. In addition to power, you find components that lift and capture hair, even in the trickiest places and thus cut the time we spend shaving.
Another useful element is the charging station. Not many are fans of these stations, but their performance at cleaning and lubricating shavers is undeniable, not to mention the fresh scent and feel they leave in the foils.
Some Braun razors feature settings to adjust how much power is delivered to the foils, allowing you to set the cutting action to match your goals, whether they are trimming the beard or styling.
Value
Value
Here we take a look at the cost and the value of the product.
We define value as what we get in relation to what we paid for it. A razor that takes twice as long to shave your beard might not be too bad if it was dirt cheap.
However, Braun products are from the cheap end, and so we expect them to be good. That being said, it's a well-known fact that their electric shavers aren't inexpensive, but some offer excellent compromises between quality and cost, and they must not be overlooked.
The products reviewed here bring value, and that is not to say they were cheap. Some are expensive, but their performance matches the price tag, and in some cases, such as the Series 5, they offer a convenient bridge between cost and performance.
The History of Braun Brand
Germans are famous for their engineering, and this is why Braun has never ceased to surprise us with their every new release of electric shavers. The history of Braun electric shaver goes back to the 1950s when the very first electric shaver was introduced by Max Braun. This electric shaver consisted of precision-machined blades operated by a small electric motor. The concept of an electric machine shaving a man's beard or mustache was new at the time – the machine was capable of shaving with the use of any water or shaving soap. This innovation changed the way men shaved, forever.
There are generally two types of electric shaver blades – foil and rotary. Rotary shavers work with cyclic movements, whereas foil shavers work with sideways movements that allow maximum precision and superior control over their rotary counterparts.
This is precisely why Braun focuses on and creates foil-type electric shavers. Most people prefer Braun's products due to their solid quality and the fine engineering. The appearance of Braun electric shavers is also quite inviting as the design of their products has been influenced by the Bauhaus era.
Braun has been a pioneer in introducing some of the most innovative features in their electric shavers. All of their shavers offer a high degree of performance, and to make sure that they do, Braun does not manufacture any low-end electric shavers.
Some of the features that are found in numerous models of Braun electric shavers are as follows.
Braun Technologies & Approach
Expand to See the Details
Intelligent Sonic Technology
This technology induces around 10000 micro vibrations on every stroke in order to help capture more hair. This provides a smooth, thorough and comfortable shave. The Intelligent Sonic Technology is featured in the Series 7 of Braun electric shavers.
Personalization
The Series 7 offers an option between Extra Sensitive, Normal and Intensive modes to ensure the finest performance according to the facial area.
Pivoting Shaving Head
The pivoting shaving head is designed to adapt to facial contours so a more comfortable and smooth shave is done. Both the Series 5 and Series 7 have the pivoting shaving head for maximum comfort.
Flexible Cutting Elements
The cutting elements are designed in a way that they adapt to the skin's contours while cutting short and long hair with each stroke. This feature is integrated into Series 3, Series 5, Series 7 and Series 9 of Braun's shaving arsenal.
Full Washability
While they may be electric shavers, but this does not prevent them from being able to be washed completely and thoroughly; you can wash your Series 3, Series 5 and Series 7 shavers with no worries at all.
Clean & Charge Station
You can perform full maintenance at a touch of a button in all Braun series of electric shavers.
There are numerous other features that distinguish Braun electric shavers from other brands, and the reviews in this article will help you identify them.
The Conclusion
Electric shavers might not be total replacements for old-school razors when it comes to close shaves, but they outdo their elders in speed and convenience, something valued by the modern man.
With the market's high stock of electric razors, a critical outlook is needed to avoid purchasing substandard products that will go straight to the trash bin after messing your face. There are countless ways an electric shaver can fail, but Braun's history is a testimony of their dedication to the industry.
We sincerely hope you can find something you can use in this list of the best Braun electric shavers (on our opinion). But at the very least, you can make an informed decision on the matter!
Do you already use Braun electric shaver or only plan to? What's your choice? Leave your comment below.
---
Other electric shaver brands to consider: Panasonic, Philips Norelco.
The post 5 Best Braun Electric Shavers Review appeared first on Mister Shaver.