Are you stuck for Low Fodmap Lunch ideas?
We've rounded up 25 tasty Low Fodmap lunch recipes that will help keep you on track.
Click the recipe title for the full recipe ingredients and cooking method.
Beef Burgers with BBQ Sauce
A home-made burger for a weekend lunch.
Of course, this could also be a delicious low FODMAP dinner.
Tomato and Leek Frittata
A delicious low FODMAP frittata that's super easy to make.
Egg dishes like this also make for a nutritious low FODMAP breakfast.
Minestrone Soup
Packed full of flavour, making it a perfect lunch on a cool day.
Potato & Egg Salad
This is a super easy, nutritious and delicious lunch option.
Summer beef salad with mustard vinaigrette
A refreshing salad that's best enjoyed in the hot weather.
Carrot & Corn Fritters
Packed full of veggies and can be served hot or cold.
Cheesy, Chicken Fritters
Insanely easy to make and super tasty to eat.
Hawaiian Toastie
The pineapple in this toastie gives it a delicious tropical touch.
Vegan Nourishing Bowl
A bowl of incredible flavors and textures – spicy, sweet and crunchy.
Definitely a dish to try. And if you are vegeterian or vegan you'll also enjoy these recipe ideas.
Chickpea & Quinoa Salad
A plant protein power bowl full of color and nutrition.
Just be very mindful of the amount of chickpeas you use as FODMAPs can stack.
Dill & Chive Salmon Patties
This is a great recipe to not only get in your omega-3 but also calcium without dairy if you are intolerant or choose not have dairy.
Pumpkin Soup
A delicious warming soup to keep you company on a cold winter's day.
Shredded Beef Tacos
Spicy, tangy, crunch, creamy and savory Mexican flavors without the onion.
Tasty Egg Wraps with Garlic Infused Dressing
Packed full of veggies and delicious to eat served warm or cold.
Bacon & Egg Salad
Lunch in a mason jar that's perfect to take to work.

Scrambled Eggs with Smoked Salmon & Cream Cheese
A perfect brunch meal that can be whipped up in just 10 minutes.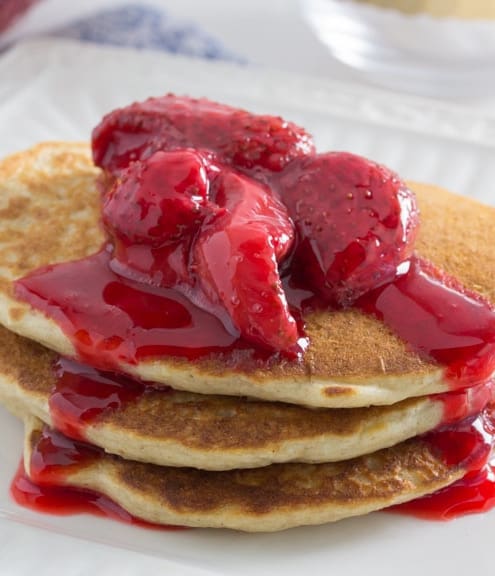 Quinoa Pancakes
Who said you can't have pancakes for lunch?
Pancakes are very versatile and these pancakes are protein-packed, so why not?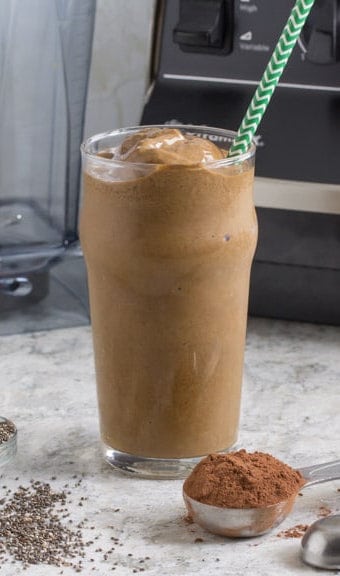 Mocha Banana Smoothie
A really quick smoothie boasting flavors of coffee, chocolate, banana. It's also high in protein to get you through your afternoon.
Warm Salmon & Potato Salad
A delicious quick lunch prepped and cooked in under 30 minutes.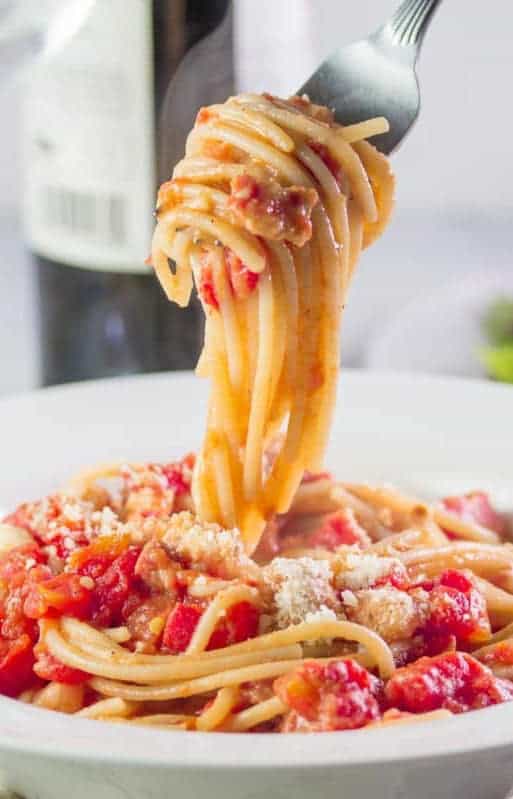 Pasta All'Amatriciana
A classic Italian pasta dish modified to be low FODMAP.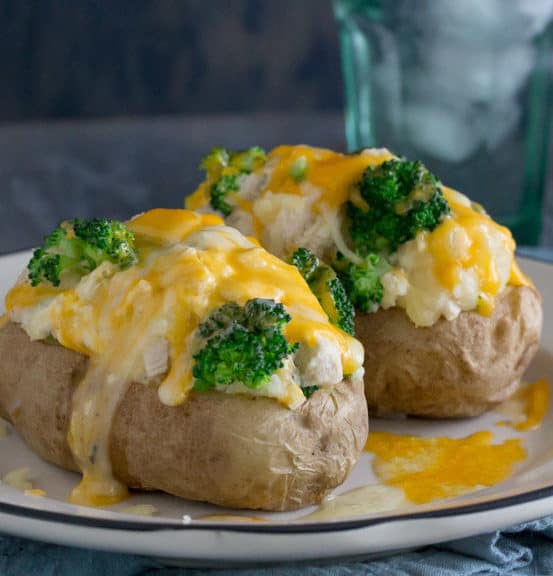 Chicken, Cheese & Broccoli Twice-Baked Stuffed Potatoes
You will feel like you're having something really indulgent when you eat this recipe.
Hearty Kale Sausage Soup
One of the easiest soups you'll make, but one of the tastiest.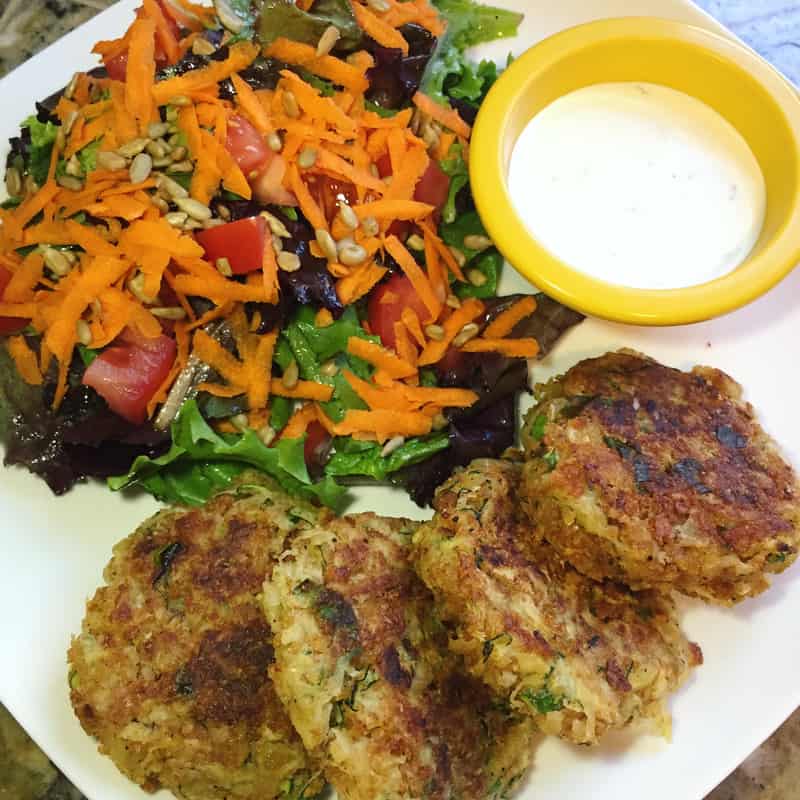 Veggie Fritters with Lime Basil Sauce
If you love zucchini and potatoes, then you'll love these fritters. Serve them with your favorite side salad and you're done.
Creamy Potato & Leek Soup
Coconut cream is used as a substitute for regular cream in this recipe to maintain the rich, creamy flavor of potato and leek soup, but with a twist.
Prawn & Pesto Spaghetti
Use your own basil pesto for this recipe or purchase store bought (but be careful of high FODMAP ingredients like onion, garlic and cashews).
Low FODMAP Lunch Recipes Sorted… What Next?
We have a over 70 low FODMAP snack and dessert options here.
If you're new to eliminating FODMAPs, I strongly recommend you read this guide.
If you are ready to move onto the reintroduction phase, read this guide.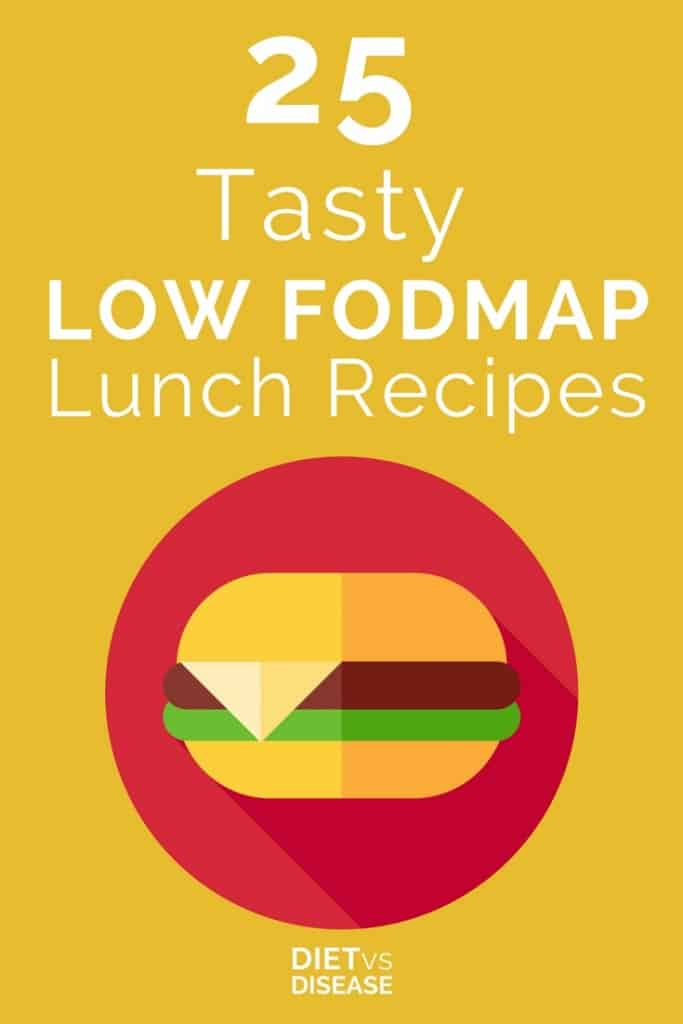 The post 25 Tasty Low Fodmap Lunch Recipes For IBS appeared first on DIET vs DISEASE.