FODMAPs and the Low Fodmap diet was discovered by researchers at Monash University.
Monash have since released a FODMAPs phone app, which many now consider an essential resource.
It contains the most comprehensive database of FODMAP-tested foods available (known as the Food Guide), as well as low FODMAP recipes, certified foods and other features.
This article walks you through how to use the Food Guide in the Monash University FODMAP Diet app. We've also highlighted some buggy features you need to be aware of.
Before You Start – Setting Your Filters
It's a good idea to set the app's filters to the country you live in.
This way, only the products available in your country will appear.
Below are the steps that outline how to set your filters:
Click 'guide' on the bottom menu bar.
Click 'filter' at the top right hand corner of the app
Find 'filter by country' and turn it on by moving the sliding button to the right
Click your country's name
Click done.
In this example, we have selected Australia.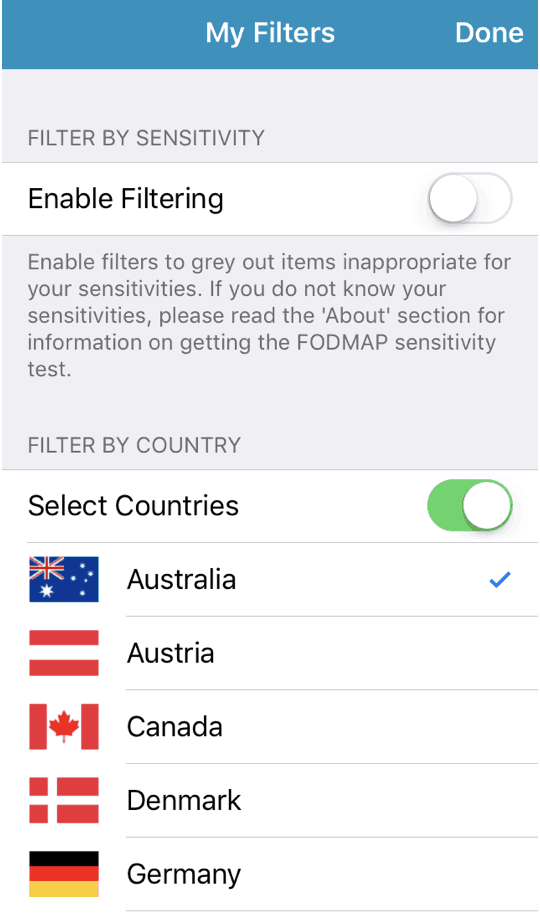 Summary: The first thing you should do is set your filters by country. This way only the foods and products available in your country will appear.
App Feature: The Monash University Food Guide
One of the main features of the Monash University FODMAPs app is the Food Guide.
It's found by clicking on the second tab named 'Guide' on the bottom of the app.
This section of the app is a database of hundreds of foods and products tested for their FODMAP content. It looks like this: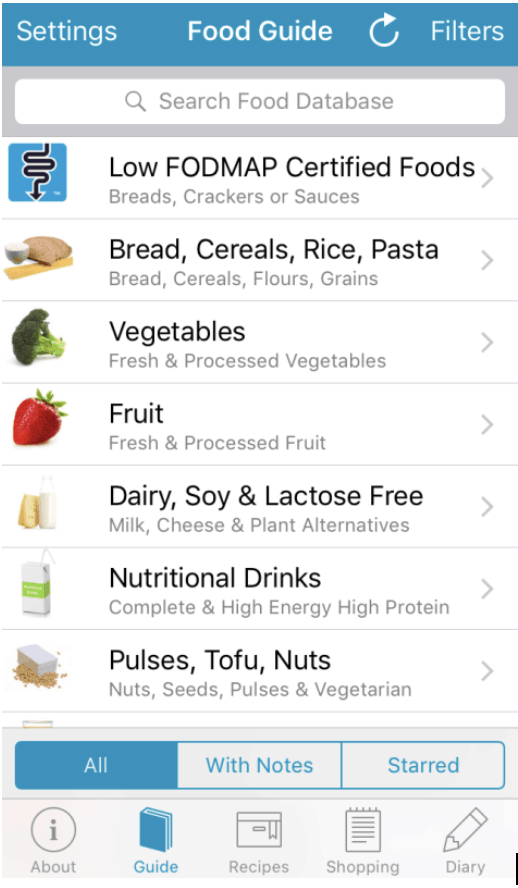 The tested foods and products are categorised into different food groups:
Low FODMAP Certified Foods
Bread, Cereals, Rice, Pasta
Vegetables
Fruit
Dairy, Soy & Lactose Free
Nutritional Drinks
Pulses, Tofu, Nuts
Beverages
Meat, Fish, Eggs
Fats & Oils
Condiments
Snacks, Bars & Cookies
Confectionary & Sugars
You can click into each of the food groups to reveal a list of individual foods.
Here's what the app looks like when you've entered the Vegetables category: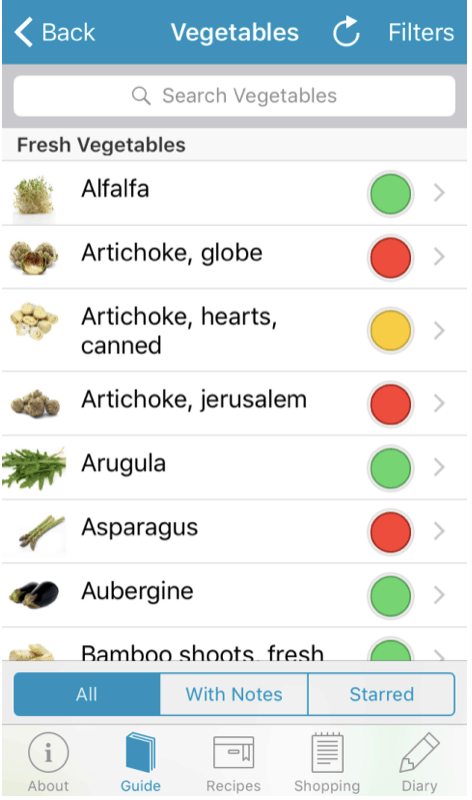 The colored circles next to each food are ratings of how many FODMAPs each contains, known as the 'traffic light system'.
Red = the food is high in FODMAPs, avoid during the initial restrictive (elimination) phase
Amber = the food is moderate in FODMAPs, avoid during the initial restrictive (elimination) phase
Green = the food is low in FODMAPs, include during the initial restrictive (elimination) phase
If you click in to an individual food, the app will give you more information on its appropriate serve size and exact FODMAP content.
The FODMAP subgroups displayed are:
Oligos – this is short for oligosaccharides, and includes both fructans and GOS (also known as galactans)
Fructose – this is the excess fructose subgroup
Polyols – this subgroup includes both sorbitol and mannitol
Lactose – this is the lactose subgroup
Below this is an additional description on the FODMAP content of that food.
Let's take a look at alfalfa as an example:
So what does the app tell us about alfalfa?
One serve of alfalfa is ½ cup or 17 grams
Alfalfa is low in FODMAPs for all sub-groups and is rated as a green food overall
Therefore, one serve of alfalfa (1/2 cup or 17 grams) is a low FODMAP vegetable and can be eaten during the elimination phase
However, note in the text there it says "large serving sizes of alfalfa (230 grams) contain high amounts of excess fructose; intake should be avoided". So that means a very large serving of alfalfa would be high in fructose and therefore high FODMAP.
It's important to know that while the overall FODMAP rating of some foods are red (high FODMAP) or amber (moderate in FODMAPs), a smaller serve of the same food may be green (low FODMAP). Remember, it's the amount of FODMAPs in the food that determines if it's low or high FODMAP. Sometimes a smaller serving of a high FODMAP food can be okay.
Let's take a look at butternut squash as an example: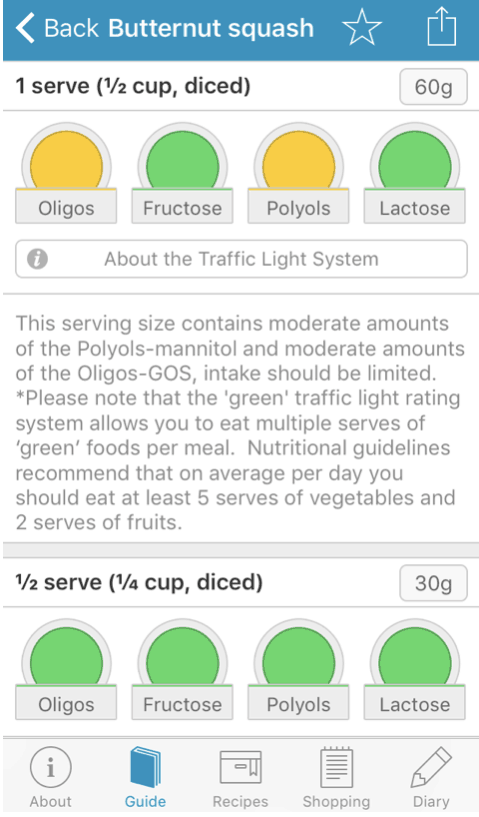 So what does the app tell us about butternut squash?
1 serve of butternut squash is ½ cup or 60 grams
This amount is low FODMAP in fructose and lactose. but moderately high in the Oligosaccharides and Polyols, as shown by the yellow traffic light circles. This means it's not suitable for those in the elimination phase
Reading the text below the traffic light colors, we can see that specifically it's moderately high in GOS (a type of oligosaccharide) and mannitol (a type of polyol)
However, when you scroll down further, ½ serve of butternut squash ( ¼ cup or 30 grams) is low in all FODMAPs (green traffic lights).
So this means you can still enjoy butternut squash if you stick to ¼ cup or 30 gram per serving. In that amount it is classified as low FODMAP.
Lastly, at the top left of the screen is a back button you can click to take you back to the previous screen.
Summary: The Monash University FODMAP app contains a food guide section that lists all tested foods and products. It uses a traffic light system to grade each food based on its FODMAP content. Stick to green traffic light foods if you are on the initial restricted (elimination) phase of the diet.
Monash Food Guide: How To Use The Search Function
The search function in the app is useful if you want to search for particular foods quickly.
However, you will need to be careful with the search function because it can be a bit buggy and inconsistent.
Searching Within A Particular Food Category
If you're in a particular food category – Vegetables for example – you can use the search function at the top of the screen where it says 'search vegetables' to search for tested vegetables.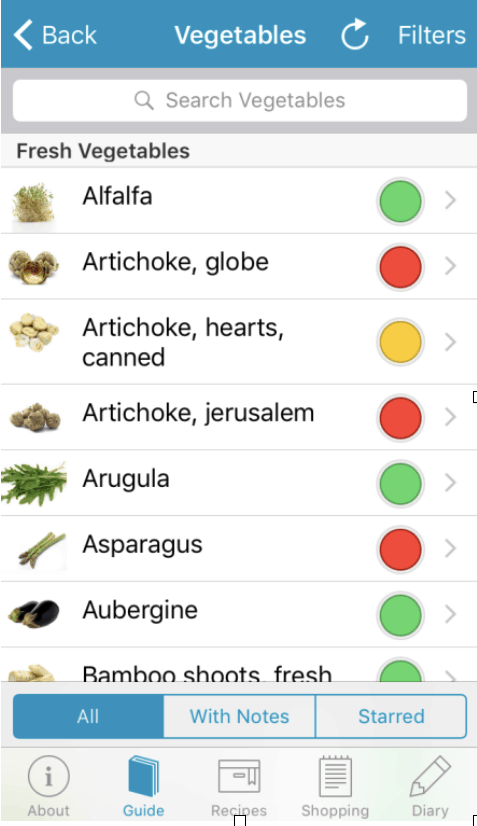 Often you will need to type out the first few letters of the food before the app will find the food you're searching for.
However, this does not always work. In some instances you need to type the entire word in order for the app to find what you are seeking.
Additionally, be mindful of how you spell something or if you use the plural version when you search. For example if you want to see the FODMAP content in strawberries, searching berries will not show them. You would have to type berry or strawberry.
Searching In The Entire Food Database
It's useful to search for foods in the whole food database when you are unsure of which category a food belongs to.
For example, if you are unsure of whether Monash categorizes an avocado as a fruit, vegetable or fat, searching in the whole food database is a good idea.
The search bar for this is located in the home page of the Food Guide section as pictured below.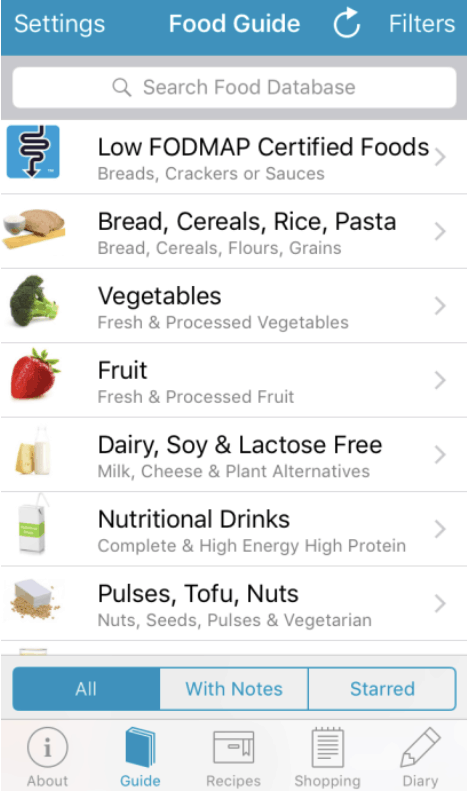 Again, you may need to type out the first few letters of the food or type it out completely before the app will find the food you're searching for.
Lastly, be mindful that certain foods may be called something different than in your country, so searching for an alternative name for the food can be useful if you don't find it.
For example, kent pumpkin can't be found in the app, however it can be found under the alternative name of Japanese pumpkin.
I Can't Find My Food?
If you're sure you've spelt the food correctly and you've tried searching an alternative name with no success, chances are the food hasn't been tested.
Monash University recommends that in this situation you should assume a reasonable chance that you will tolerate that food. When your symptoms are well controlled, try a small quantity, once a day over 2-3 consecutive days. If it doesn't trigger symptoms then it's okay to include in your diet.
Summary: When searching for a food in the Monash University low FODMAP app, you may need to type out the full name of the food and be in the correct food category before the app finds it. If you can't find a particular food, it may be called something else or may not be tested yet.
Low FODMAP Certified Foods
Monash University has a low FODMAP certification program where products can be licensed as Monash University Low FODMAP Diet

certified.
This means that the product has been tested by Monash University and the product is a green light for all FODMAP subgroups in the serving size that the manufacturer has specified.
This certification guarantees a low FODMAP product.
The low FODMAP Certified Foods category can be found on the home page of the Food Guide.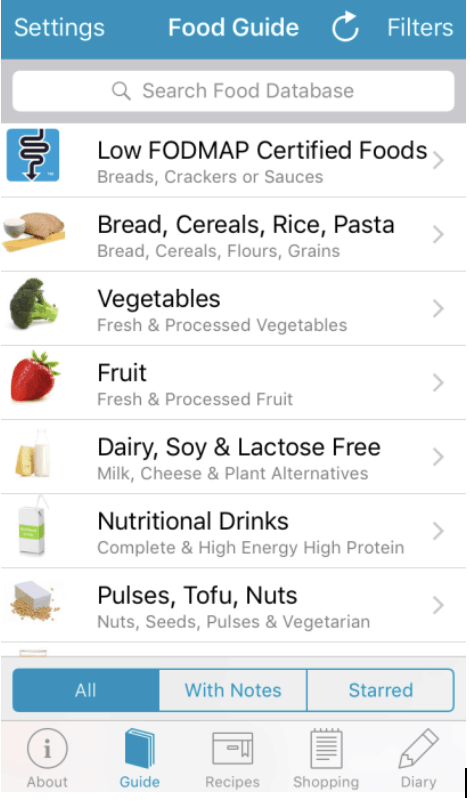 This section lists all of the current certified products to date and includes:
Certified breads
Certified cereal
Certified condiments
Certified nutritional drinks
Certified snacks, biscuits and crackers
When you click into a particular product, it will give you information on the low FODMAP serve size, where to buy it and some other options too. The majority of products are only available in Australia, but the US and UK markets are catching up quickly.
For an example of this section, let's take a look at FODY tomato ketchup: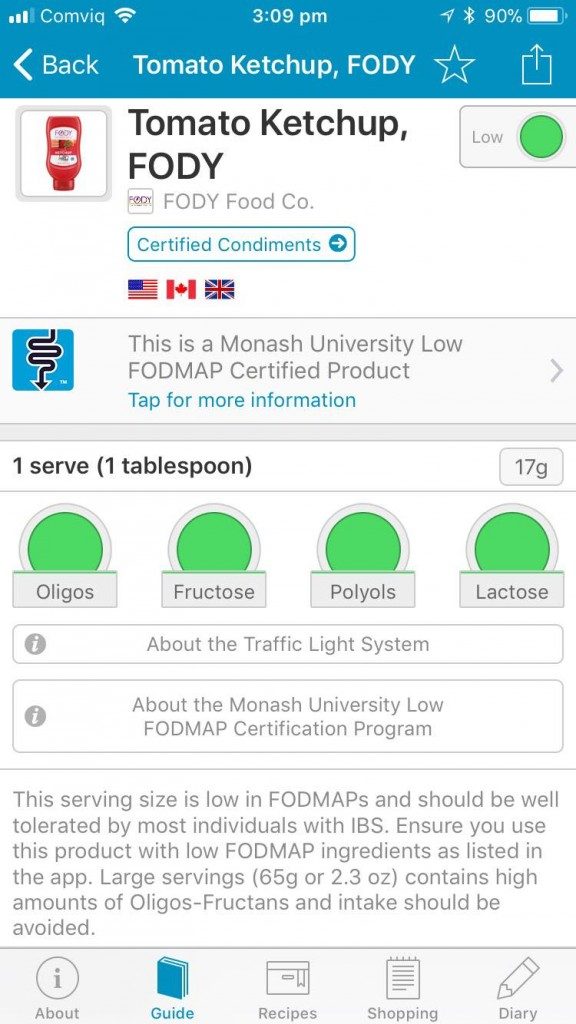 What does the app tell us about this product?
The country flags there indicate it's available for customers in the US, Canada and the UK.
One serve of this product is 1 tablespoon or 17 grams, which is low FODMAP as illustrated by the green lights.
Note however that it says "large servings (65 grams or 2.3 oz) contains high amounts of Oligos-fructans". That means consuming 4 tablespoons (68 grams) in one sitting would be high in fructans and therefore high FODMAP. Always be mindful of your portion sizes.
You can scroll down and click on 'where to buy' for details on where it is available.
For more certified low FODMAP products, see my recommended products page which also contains FODMAP friendly certified foods (an alternate certification to Monash's).
Summary: The app also lists all current Monash certified low FODMAP food products. You can be confident that these products are low FODMAP, however do not exceed the recommended portion sizes listed on the package.
The Monash University FODMAP Diet App Is Essential
The Monash University FODMAP app is an essential resource to successfully navigating the low FODMAP diet.
It's basically the most comprehensive guide to which foods are low and high in FODMAPs, and is updated regularly. It also contains low FODMAP recipes, shopping lists, a food diary and a low FODMAP diet guide.
You can buy it in the iPhone app store here and Android app store here for $8 USD/$10 AUD/£ 6 GBP using your phone or tablet.
If you prefer a full list of low FODMAP foods all in one place, that is printable, I've created one here.
If we missed anything important or you have suggestion please let us know in the comments.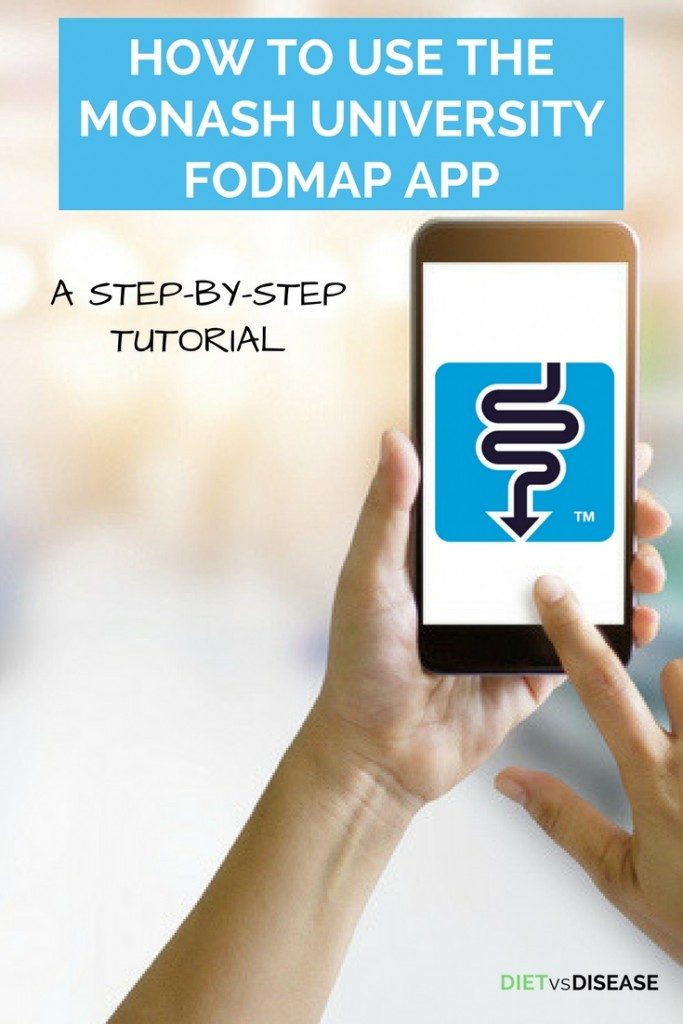 The post How To Use The Monash University FODMAP Diet App: A Step-By-Step Tutorial appeared first on DIET vs DISEASE.