What Software Does Your Medical Practice Really Need?
With an abundance of medical Software now available, choosing the right one for your practice can seem nearly impossible. From billing software to patient portals and electronic health records (EHRs), there are hundreds of options, price points, and features to consider.
Thankfully, the team over at Software Advice, a leading software and technology research company, is aware of the health IT investment challenges that many small practices face — like restrictive budgets and limited IT support staff. They have been busy collecting and analyzing data on this topic and have pulled it all together in their Medical Software Needs Cycle Guide. The guide details the health IT that is worth investing in, broken down into three phases based on the life cycle of the practice — those just starting out, those growing their practice, and those seeking optimization.
Key Insights
Practices just starting out should focus on patient scheduling, EHRs, and billing software.
Practices in the growth phase should invest in tablet integration as well as patient portal and telemedicine platforms.
Practices seeking optimization should look for software that supports direct messaging, speech recognition, and patient relationship management.
NEEDS CYCLE FOR SMALL MEDICAL PRACTICES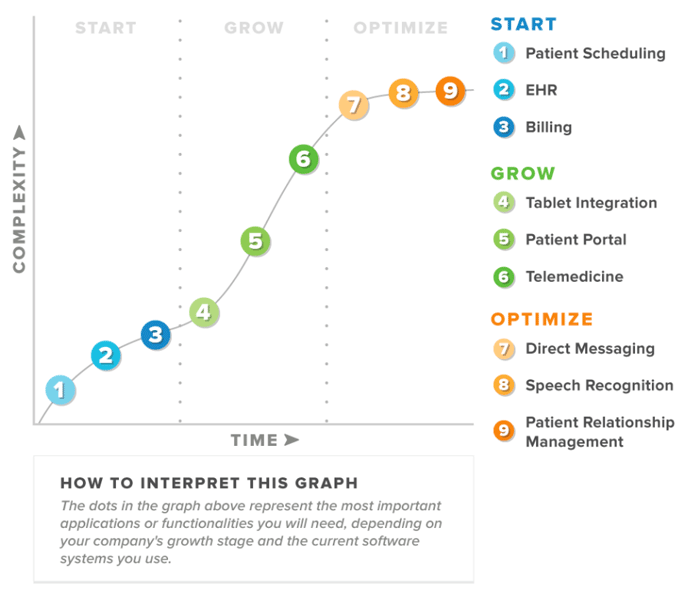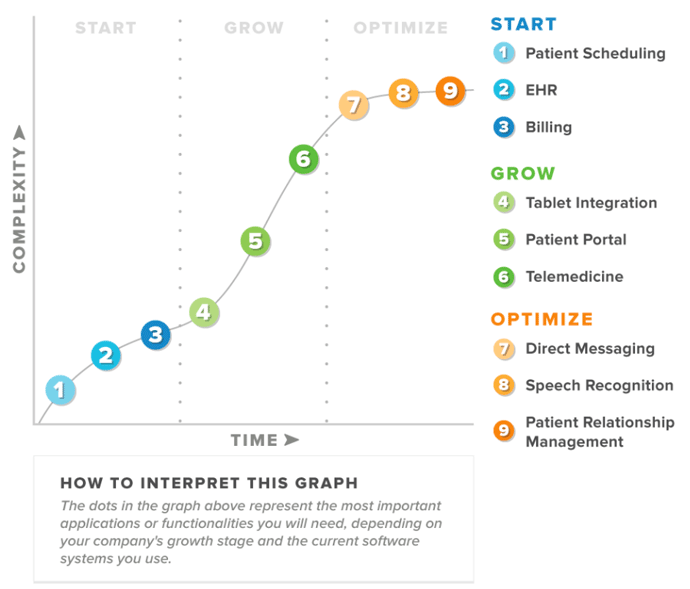 Phase 1: Starting Out
This initial phase of the guide identifies the software needs of small practices who are just opening and need to establish basic day-to-day functionality. The focus in on patient scheduling, EHRs, and billing software.
Patient Scheduling
Patient scheduling tops the list for newly opened practices because handwritten appointment logs are virtually obsolete and dedicated patient scheduling software allows you to capture data above and beyond patient name and appointment time.
Ninety-one percent of solo physicians in the market for software are seeking a patient scheduling system.
EHRs
EHRs are — for all intents and purposes — a mandatory investment for practices.
In addition to the financial incentives introduced under the HITECH Act, a fully-functioning EHR can improve access to patient data and coordination of care.
Of the solo physicians in the market for software, 80 percent are seeking an EHR.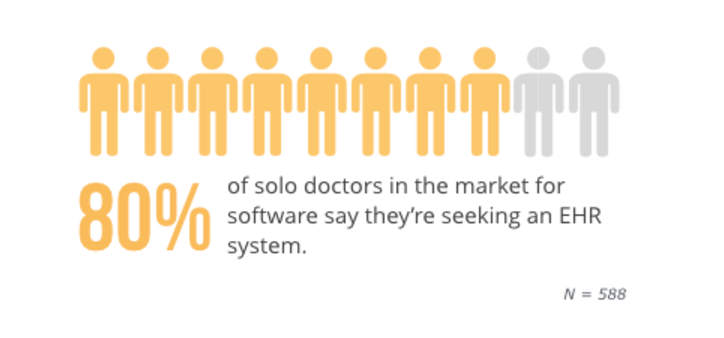 Billing
It's critical that new practices have billing software in place in order to get revenues flowing right away.
As an alternative, practices who choose to outsource billing do not need to invest in billing software.
Seventy-six percent of solo physicians in the market for software are researching billing systems.
Phase 2: Growth
This phase is ideal for practices who have established their basic systems but are now seeking ways to save time and money and spur practice growth. The focus here is on tablet integration as well as patient portal and telemedicine.
Tablet Integration
Physicians are on the go and tablets mean that patient records or medical research can be accessed without being tied to a desktop.
Opting for a tablet instead of a desktop can save up to six minutes per patient.
To remain HIPAA-compliant, encryption technology is a must.
Patient Portal
Patient portals create a more seamless patient experience by providing options such as secure messaging as well as online bill pay and appointment scheduling.
Fewer incoming phone calls means that staff can refocus their energies on more pertinent tasks.
MOST REQUESTED PATIENT PORTAL FEATURES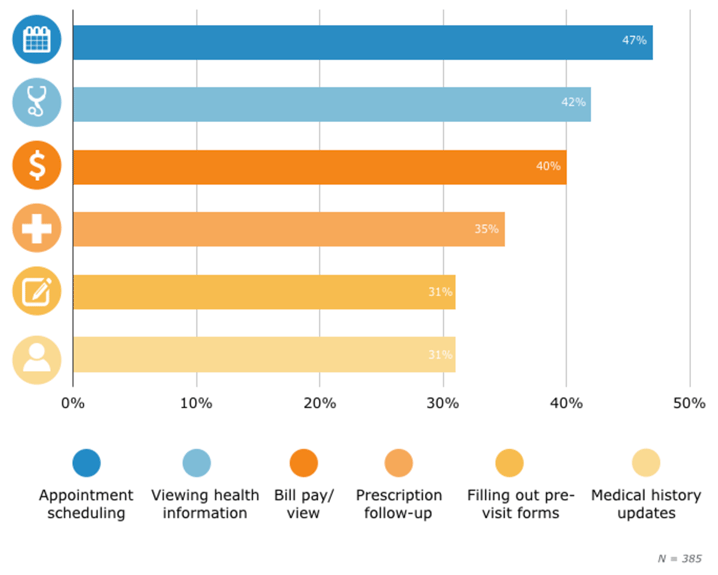 Telemedicine
Although telemedicine is still a relatively new service, physicians are expected to begin investing in it more heavily over the new five years, growing the market from $18.2 billion in 2016 to $38 billion by 2022.
Video consultations can simultaneously expand a physician's patient panel while also delivering cost-saving care for non-emergency conditions like cold and flu symptoms.
More than 75 percent of patients are at least moderately interested in telemedicine services.
Phase 3: Optimization
The final phase is for well-established practices who are interested in using technology to optimize their workflows and maintain patient relationships. The software needs should focus on direct messaging, speech recognition, and relationship management.
Direct Messaging
Direct messaging allows physicians to share information with patients and colleagues in a timely manner.
It offers convenience and cost savings for practices. And since it's designed with layers of encryption and authentication, security worries are minimized
Speech Recognition
Speech recognition software can save practices both time and money on dictation and transcription expenses.
When the software is integrated with a practice's EHR, physicians are able to dictate directly into the patient's medical record.
Many software programs provide a mobile app, allowing physicians to document clinical notes from virtually anywhere and potentially decreasing feelings of burnout as well.
TOP CAUSES OF PHYSICIAN BURNOUT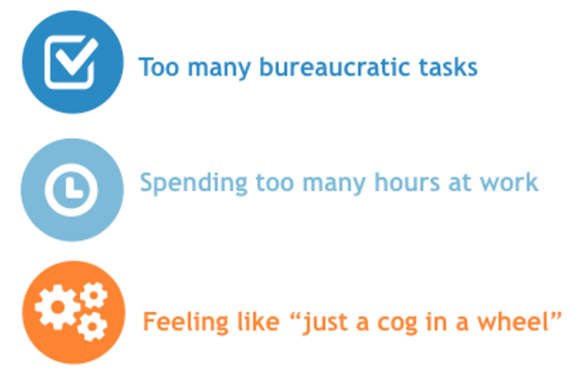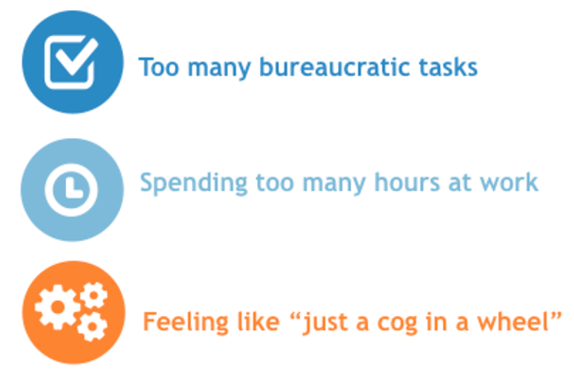 Patient Relationship Management
Physicians aim to not only keep patients healthy but also happy and engaged.
Relationship management software helps practices retain and attract patients by disseminating information via newsletters, gauging patient satisfaction or interest in new services via surveys, and managing the practice's social media presence.
More Tools and Downloads
For practices who are still struggling with where to invest their health IT dollars, Software Advice has created a free questionnaire designed to identify the software products that meet your needs and budget.
They also have tons of additional software purchasing tips as well as free resources and guides available for download. Be sure to check those out when you head on over to their site to read the complete Medical Software Needs Cycle Guide.
What other software should small practices consider investing in? Please tell me in the comments below.
--- This post Medical Software Must-Haves Based on Practice Life Cycle was written by Manny Oliverez and first appeared on Capture Billing. Capture Billing is a medical billing company helping medical practices get their insurance claims paid faster, easier and with less stress allowing doctors to focus on their patients.