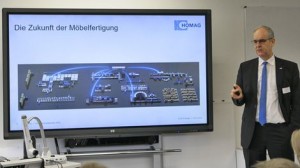 The Economic Promotion Northern Black Forest invited on January 17 and 18, 2018 together with the University of Pforzheim to the Innovation Symposium. "Holz-Industrie 4.0″ was the topic that these days in the halls of the university campus turned.
The network RegioHOLZ of Wirtschaftsförderung Nordschwarzwald stands for the networking of the wood and furniture Industry with research and development institutions. The focus is on application-oriented solutions for specific problems in the industry. Under the heading "Wood Industry 4.0″, topics such as the "Digital Transformation", "Networked Manufacturing", "Resource Efficiency Today and in the Future" and "Skilled Workers" were discussed. The aim of the event was to bring together employees from the woodworking and furniture industry with representatives from business and science in order to facilitate the exchange of information on current hot topics.
From the point of view of the machine manufacturer HOMAG, Ernst Esslinger (Director of Methods / Tools Systems) presented HOMAG's solutions for the entire value chain in the furniture industry. These solutions are broad and range from tools for sales support to data preparation, comprehensive manufacturing control and all the necessary machine technologies to service. Since the LIGNA 2017, the tapio ecosystem, the open and neutral platform for the wood industry, has also been an integral part of the "Wood Industry 4.0″.
The presentation by Esslinger was supplemented by a presentation by Peter Bitzer, the specialist for Industry 4.0 at the furniture manufacturer erfi Ernst Fischer GmbH + Co.KG from Freudenstadt. Bitzer described his real work experience during the implementation of an Industrie 4.0 concept at erfi in the last two years. For Bitzer, it proved to be very advantageous that he was able to obtain the entire project from machines and production management software from a single source. The entire project could be implemented in a very short time and he was not confronted with the connection of the individual interfaces. Thus, he was able to fully concentrate on his task of creating the data for the new production.
Obviously, the topics met exactly the interest of the participants – as shown by the many questions and the lively discussion afterwards.
The post HOMAG specified "Wood Industry 4.0″ at Innovation Symposium 2018 appeared first on WoodAndPanel.com.