Complex Production plants and machines are the basis for economical production. They can significantly increase productivity, optimize material flows, save working time and energy resources. The standstill of a production plant, on the other hand, costs time and money: additional costs for replacement productions, such as Sunday and holiday surcharges, penalty for late deliveries, and not forgetting the costs of image loss, which often also affects the follow-up business.
However, downtime can not only result from material damage on the machines or their faulty operation, but also from their permanent manual new and re-programming – several hundred hours of unused machine time are not uncommon. A consistent and process-oriented connection of the machines to the production software of the company can be a remedy for this. 2020 Insight, the manufacturing software solution from the technology company 2020, integrates the existing machines with the "machine integration" module into the entire production process – be it CNC machines or other processing machines. The integrated CAM module automatically generates CNC descriptions of the production parts, which are based on the respective customer orders. The 2020 universal CNC postprocessor generates the necessary CNC programs for the selected machines real-time during the production process. This means that several machines from different manufacturers and technologies can be programmed, coordinated and controlled from within one application at the same time.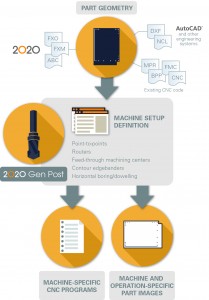 The automatic data generation also allows to change order data up to the last possible time and make optimum use of current capacities in production, which in turn includes a cost reduction. Furthermore, with 2020 Insight, it is also possible to automate the data processing of possible cutting optimization programs, such as Ardis. In the order process, this function may be used for the analysis of the quantity determination for purchasing or as a calculation basis.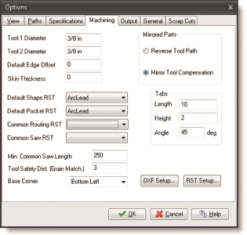 In order to meet the growing demand for customized products, the software solution automatically generates all CNC codes required to produce both standard and customized products automatically. For this purpose, the integrated CAD-CAM mod-ule can be used directly in the order process in order to imple-ment the customer's wishes. The modified design automatically generates the bill of material, the individual production drawings and all necessary CNC descriptions. In addition, the necessary work plans are also adapted to these changes. The manual effort in the entire operating sequence, which is normally associated with a special design, is thereby significantly reduced and the quality of the result will greatly improve.

Machine downtimes due to gaps in the supply of the machine with the necessary CNC data are thus avoidable. By eliminating manual programming, employees can use the acquired time more productively. In addition, the downtimes of expensive machines are reduced and the quality of the machine work is increasing as errors based on manual data entries are avoided.
The post 2020 Insight Optimizes Production Processes appeared first on WoodAndPanel.com.