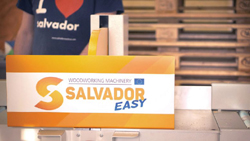 Eighteen months of success for Salvamac, a company founded in 2016 for the production of semi-automatic and manual cross-cutting saws, quality entry-level solutions that require low investment, but make a substantial contribution to a faster, safer and more efficient production. The promises made at the beginning of this story have therefore been maintained: "solid, simple, safe" machines (the "three S's" that distinguish the "Salvador Easy" catalogue), at a fair price and with excellent productivity.


"It has been an extremely positive season, which has seen us achieve and exceed our goals in less time than we had assumed", says Christian Salvador, the company's majority shareholder. "Our models, the "Classic 40", "Classic 50" and "Classic 60", equipped with blades ranging from 400 up to 600 mm, have received a great deal of attention in all those markets that want to make each phase of the processing cycle faster and more efficient, starting with the cutting. A first contact, if we want to define it as such, that, we are confident, will pave the way for our most efficient and advanced machines in terms of automation". Christian added further.

A path destined to be even richer and more complete in the near future, because Salvamac is already thinking about new systems and technologies that can define aggregates and additional elements that significantly enhance the performance of even the most "simple" machines: intelligent loading and unloading systems, automations that allow even small companies or advanced craftsmen to reason and work with the same principles of a large company.
Always starting from an agile, lean company, where the main idea is to channel all energies and expertise towards the definition of real "solutions" that arise from the establishment of proper relationships between suppliers (most of which are in Italy) and the research and development of new services.


Salvamac's philosophy is well-defined: to produce in a country that still offers some advantages, but where, above all, there are excellent technical skills and competences, and where the demand for wood-processing technologies is always sustained. A true platform that must and wants to be highly innovative, which considers the machines in the catalogue as a summary of the users' questions – devices conceived to meet a need, proposed not as simple "machines", but as the focal point of a relationship built on reliability, sharing and services.
The post Salvamac witnesses a Successful Journey of eighteen months appeared first on WoodAndPanel.com.