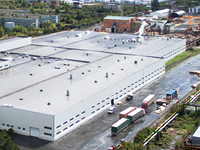 SVEZA Group has signed an agreement that sets forth the basic terms and conditions for acquisition of 100% of the Tyumen Plywood Plant Group with the current owner and founder of the enterprise, Almira Karimova.
Therefore, SVEZA has also filed a request for approval of the deal with the Federal Anti-Monopoly Service of Russia (FAS). If FAS approves the deal, the acquisition of the Tyumen Plywood Plant will become a part of the SVEZA Group's strategic plan to expand the portfolio of assets with high growth potential and to increase the share of Russian products in the global woodworking industry.
The Tyumen Plywood Plant produces approximately 90,000 m³ of plywood per year. In the coming years, it is planned to increase production to 120,000 m³ per year. The plant specializes in large-sized birch plywood. A number of Russian and foreign companies dealing with construction and other industrial customers in the fields of engineering, aviation and shipbuilding, as well as suppliers of building materials are among the clients of the plant.
"The Tyumen Plywood Plant is the most advanced factory, complete with equipment from leading international manufacturers. The personal efforts of Almira Karimova and the experienced personnel helped the plant establish a high level of production culture, excellent working conditions for the employees and the necessary infrastructure. If the deal is closed, SVEZA Group plans to smoothly integrate the company into its holding, while preserving and developing best practices and personnel, and strengthening cooperation with the current customers and suppliers of the company", said Anatoly Frishman, the general director of SVEZA Group.
The post Sveza Group to obtain Tyumen Plywood Plant appeared first on WoodAndPanel.com.