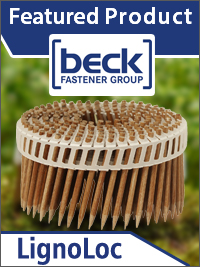 The Beck Fastener Group introduced new LignoLoc at LIGNA 2017, the first nailgun-compatible wooden nails for innovative applications in industrial production and eco-friendly timber construction.
The revolutionary LignoLoc wooden nails are made of domestic beechwood and have a tensile strength of 250 Newtons per square millimeter. Thanks to their impressive mechanical properties, the wooden nails can be fired into solid construction timber using the FASCO LignoLoc pneumatic nailer to create a permanent joint – and all without having to pre-drill the wood.
When compared to fasteners made of aluminum or steel, the wooden nails' most impressive feature is that they don't create thermal bridges or leave traces of corrosion in the wood. The pioneering LignoLoc system is patent pending and is due to be launched onto the market in the second half of 2017.
The post LignoLoc from BECK Fastener Group appeared first on WoodAndPanel.com.