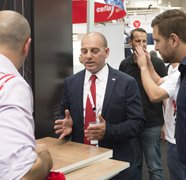 The Ligna 2017 Exhibition was held in Hanover from May 22 to 26 and Cefla Finishing was there with a pavilion of 1,400 m2 and countless technological innovations, greatly admired by the many visitors. It was a fantastic edition, exceeding expectations, reflecting a growing market.
"The reason for our success," commented Cefla Finishing Managing Director Alberto Maestri, "lies in the many innovative features we presented in all the technological sectors where we operate, and we also engaged in effective marketing in the run-up to the event, creating the right expectations, which we were able to confirm in real terms during the show itself." Alberto concluded.
The J-Print 3D, the innovative system for creating 3D effects synchronised with digital printing, was particularly successful. The new range of Omnidry ovens and the various Industry 4.0 applications also proved very popular.

The post Cefla Finishing Witnesses a successful LIGNA appeared first on WoodAndPanel.com.