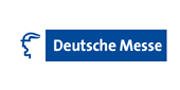 "We have been very successful co-locating our HANNOVER Messe brands with IMTS in Chicago. Our partnership with CMTS gives us a good foothold in Canada and with FABTECH we now have a strong annual presence in the U.S.," says Marc Siemering, senior vice president of HANNOVER MESSE. "Our topics broaden the appeal of these two fantastic events and will attract even more exhibitors and visitors to both." Marc added further.
Organized by SME, CMTS showcases machine tools and tooling, metalworking, and advanced manufacturing. The biennial event takes place in close proximity to Toronto at The International Centre in Mississauga, Ontario, and hosts more than 700 exhibiting companies and 9,000 visitors. Hannover Fairs Canada, Deutsche Messe's subsidiary in Canada, will organize the HANNOVER MESSE events at CMTS.
FABTECH is North America's largest event for metal forming, fabricating, welding and finishing. FABTECH is co-organized by The Fabricators & Manufacturers Association, Int'l (FMA), SME, the Precision Metalforming Association (PMA), Chemical Coaters Association International (CCAI), and the American Welding Society (AWS). In 2017, FABTECH will host more than 1,700 exhibiting companies and 40,000 visitors. Hannover Fairs USA, Inc., Deutsche Messe's U.S. subsidiary, is responsible for the FABTECH partnership.
The post Deutsche Messe collaborates with CMTS and FABTECH appeared first on WoodAndPanel.com.