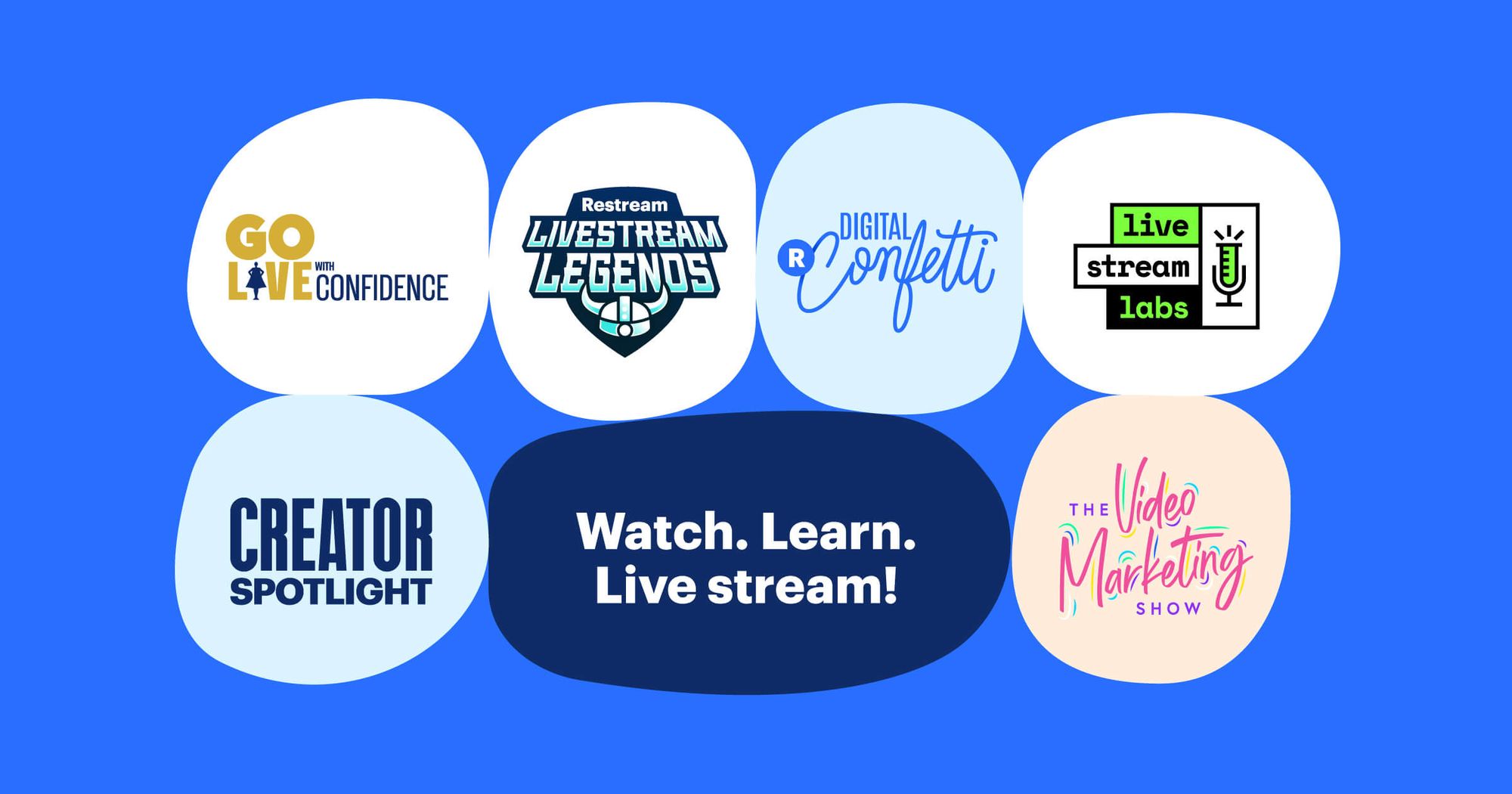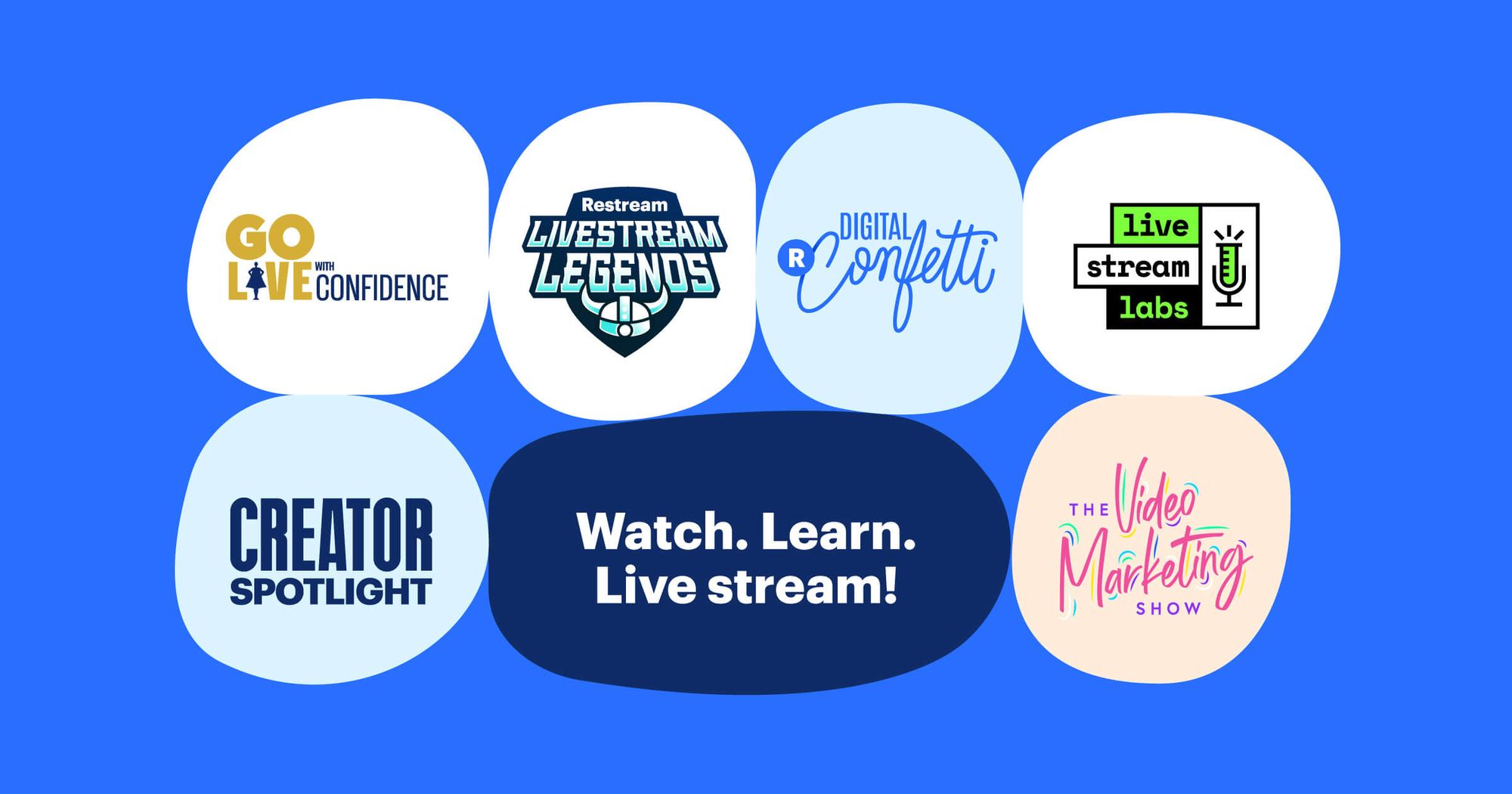 Want insider tips and tricks on live streaming? Whatever your goal is — getting more subscribers, deep-diving into live Streaming data, improving your confidence on camera, or upping your video marketing game — we have a lineup of live shows to help you out.
Hosted by a phenomenal line-up of influencers in the live streaming industry, our hosts explore new topics and invite new guests. Watch live or catch the replays on your platform of choice — Facebook, Youtube, and LinkedIn.
Live Stream Labs with Scott Ayres
🗓 Mondays at 8 AM PT | 11 AM ET on YouTube and Facebook
Is there a science behind live streaming? You bet! Uncover the secrets of live streaming data with Scott Ayres, the Content Scientist from the Social Medial Lab powered by Agorapulse. On his show, Live Stream Labs, he talks all about data related to live streaming.
---
Stream Like You Mean It with Owen Video
🗓 Mondays at 12 PM PT | 3 PM on YouTube and Facebook
Stream Like You Mean It is hosted by Owen Video, YouTube strategy coach and founder of The Video Marketing School. Tune in and learn how to get more views, get more subscribers, and make more money with YouTube videos.
---
Go Live With Confidence with Ian Anderson Gray
🗓 Tuesday at 9 AM PT | 12 PM ET on YouTube, Facebook, and LinkedIn
Does getting in front of the camera make you anxious? Don't think you have the confidence to go live? Learn to overcome those obstacles with Go Live with Confidence, a weekly live show hosted by Ian Anderson Gray. Ian is a live streaming expert who helps entrepreneurs level up their impact, authority, and profits through the power of Confident Live Video.
---
Creator Spotlight with Anya Razina
🗓 Every other Wednesday at 8 AM PT | 11 AM ET on YouTube, Facebook, and LinkedIn
Ayna Razina, head of Influencer Relations at Restream, interviews people making epic things happen with live video. In each episode, content creators from entrepreneurs to musicians to political campaigners share insights on building their live video marketing strategy. Tune in for practical advice, use cases, and hacks that will make your live video a success!
---
Live Stream with Restream — Product Demo and Q&A
🗓 Wednesdays at 10 AM PT | 1 PM ET on YouTube, Facebook, and LinkedIn
Join the Restream Team for a live product demo and the newest features coming to Studio. Get your questions ready — we'll answer in real-time.
---
Livestream Legends with Travis Lachner
🗓 Thursdays at 11 AM PT | 2 PM ET on YouTube, Facebook, and LinkedIn
Learn how to craft an epic live stream at any level of experience with Livestream Legends. Travis Lachner, a former athlete and music producer turned creative entrepreneur, helps high-performers level-up with media-based marketing, lead gen, and authority acceleration.
---
The Video Marketing Show with Amanda Robinson
🗓 Thursday at 1 PM PT | 4 PM ET on YouTube and Facebook
Each week on The Video Marketing Show, Amanda Robinson shares behind-the-scenes ad strategies that maximize your video marketing efforts. Amanda is widely-recognized in the digital marketing industry for her knowledge, training, skills, and coaching as a Facebook Ads expert with her Swift Kick In the Ads Membership & Facebook Ads Training Bootcamp.
---
Digital Confetti with Stephanie Liu
🗓 Every other Friday at 12 PM PT | 3 PM ET on YouTube, Facebook, and LinkedIn
Cue the confetti! Twice a month, Stephanie Liu shows you how to repurpose your live videos into GIFs, eBooks, and more and streamline your video strategy. Stephanie is the founder of Captivate on Command and host of Lights, Camera, Live™, which helps brands succeed with live video.
Let's wrap up
Why should you watch live shows? They're interactive. When you tune into one of our creators' live streams, you should participate in the live chat, leave comments, and ask questions. Live streamers love engaging with viewers and who knows — maybe their next show will cover a topic you asked about!
If you love live streaming as much as we do, and you want to learn as much as you can about it, then our live shows are a great place to start.