The much-awaited Pune Metro is a mass rapid transit system that will serve the growing city of Pune and its industrial twin, Pimpri-Chinchwad. The system comprises of three lines covering a distance of 55 km. The rapid urbanization of Pune since 2000, has put heavy stress on the infrastructure of the city's existing resources. The first line will extend from Pimpri-Chinchwad – Swargate, the second line will run from Vanaz – Ramwadi and the final one will run from Hinjawadi – Civil Court. The metro runs above ground and underground in sections. The project is expected to be completed by 2021. The MRTS is a high-capacity, environment friendly and energy efficient system that doesn't disrupt the road transport system, leaving enough room for cars and buses to ply either way.
The Metro Rail System has proven to be most efficient in terms of energy consumption, space occupancy and numbers transported. The essential advantages of implementing a mass rapid transport system are
Congestion easing – The stress on the road due to vehicular movement is decreased
Ease of transport to and from outlying regions – Time saving for commuters who need to reach work locations that are distance from their homes
Air conditioning – Comfortable mode of transport as opposed to road transport options
Safe transport – Safest mode of transport for mass transits
Speed – The speed of the metro can save 20-30 minutes of transport time each way for commuters travelling from the furthest point. The frequency of the transport is also a big advantage to commuters
Accessibility – The 3 lines when enhanced with feeders increases accessibility
Fuel cost savings – The annual saving on account of reduced fuel consumption will be close to about Rs 200 crore as per expert estimation
Reduction in emission of greenhouse gases – The increasing use of the Metro will result in prevention of emission of greenhouse gases such as carbon dioxide and nitrogen oxide.
Number of Road accidents – There will be significant decline in road accidents as demonstrated in Delhi after the implementation of the Metro
The demand for the Pune Metro project is almost guaranteed as an overwhelming majority of commuters in the city use public transport systems. The project will provide an affordable and faster urban transportation option. It is universally agreed that a robust public transportation system will play a major role in decongestion of roads, minimizing pollution, and making mobility cheaper and faster across various sectors in society. The Metro is aimed to increase the mobility of the people of Pune. Pune has a growing population of urban workers and students. They are all looking for a solution.
The first step for increasing mobility is underway but it success depends on a lot of other developments happening simultaneously such as last mile connectivity, feeder lines and amenities at stations.
Pune Metro Route Map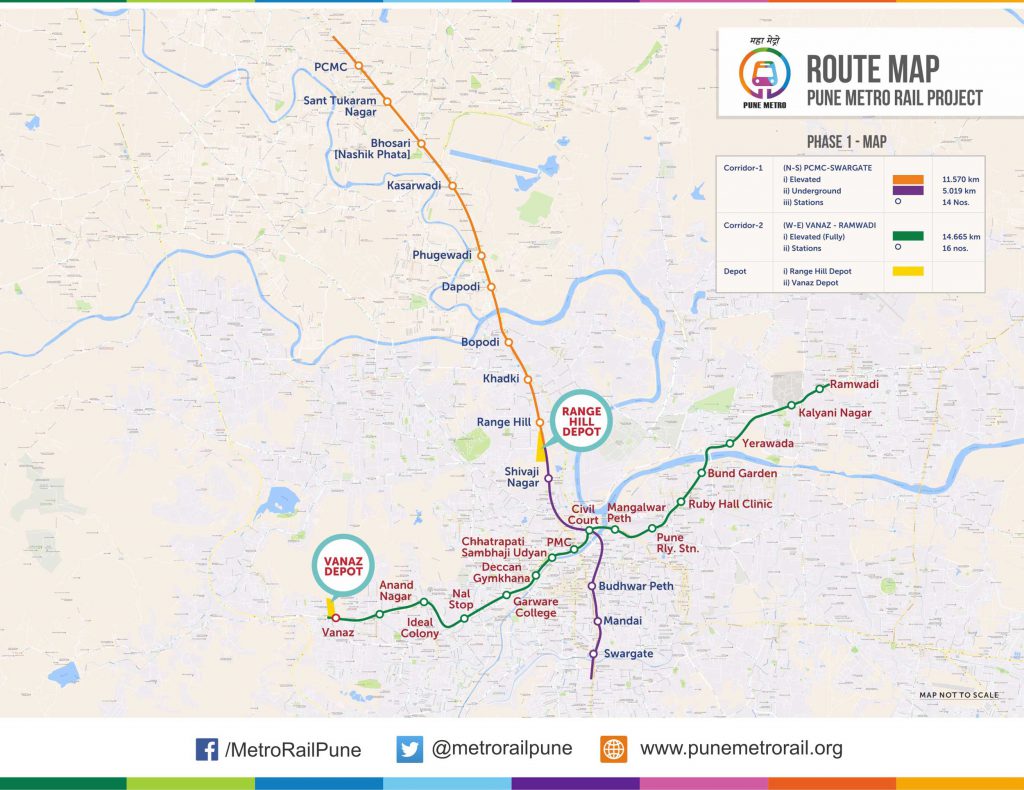 Network and Details
Line
Terminals
Implemented by
Operator
Length (km)
No. of stations
Opening date
Line 1
PCMC
Swargate
MahaMetro
MahaMetro
16.59
14
2021
Line 2
Vanaz
Ramwadi
14.66
16
2021
Line 3
Civil Court (Shivajinagar)
Hinjewadi
PMRDA
TBD
23.33
23
TBD
Month wise Metro construction status is updated on Pune Metro Official Website and can be checked at http://www.punemetrorail.org/projectupdate.aspx