The real estate sector is one of the most globally recognised sectors. In India, real estate is the second largest employer after agriculture and is slated to grow at 30 per cent over the next decade.
It is expected that this sector will incur more non-resident Indian (NRI) investments in both the short term and the long term. Bengaluru is expected to be the most favoured property investment destination for NRIs, followed by Ahmedabad, Pune, Chennai, Goa, Delhi and Dehradun.
India's rank in the Global House Price Index has jumped 13* spots to reach the ninth position among 55 international markets, on the back of increasing prices in mainstream residential sector.
Market Size
The Indian real estate market is expected to touch US$ 180 billion by 2020. The housing sector alone contributes 5-6 per cent to the country's Gross Domestic Product (GDP).
In the period FY2008-2020, the market size of this sector is expected to increase at a Compound Annual Growth Rate (CAGR) of 11.2 per cent. Retail, hospitality and commercial real estate are also growing significantly, providing the much-needed infrastructure for India's growing needs.
A total of 2,17,900 new houses in six Indian states were sanctioned by the Ministry of Housing and Urban Affairs, Government of India under the Pradhan Mantri Awas Yojana (Urban) (PMAY) to push affordable housing in the urban areas of the country.
Bangalore:
Bangalore is one of the promising markets for the investors because of the infrastructural development happening in full swing one of the major contribution after the IT industry is the Metro.
Bangalore metro has contributed towards the growth of Real estate indicating progressive impact on micro markets near metro lanes. Connecting not just the major locations in Bangalore city but also the IT-Parks, Namma metro is the second longest operational metro network after Delhi metro, easing people in hassle free and time saving commute; this is drawing the major attention and interest of the customers.
The property prices have increased around a minimum of 12% up to 20% compared to last few years expected to grow even up to 30% by the time phase 2 is completed, the major changes happening in East, north and south Bangalore.
Namma Metro Development and the properties in and around the Metro Corridor: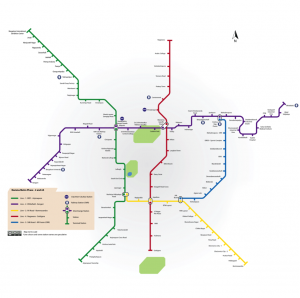 The development of Bangalore metro is happening in phases, as of now Phase 1 is operational that is Purple line: Baiyappanahalli to Mysore road. Below is a list of projects that are close to Metro stations across different lines and have either seen appreciation or are expected to yield good returns for investors.
Brigade Panaroma
Provident Sunworth
Provident Rays of dawn
VBHC Palm haven 1 & 2
Prestige Temple bells
Salarpuria Divinity
Salarpuria Melody
Pride Enchanta
Salarpuria Anugraha
Purva Sunflower
Purva 270
Green line: Nagasandra to Kanakapura Road.
Total environment- The Magic Faraway tree
Sobha Park & Plaza
Godrej Eternity
Sobha Forest view
Rohan Akriti
Brigade Omega
Brigade 7 gardens
Mantri Serenity
Prestige Falcon city
HM Indigo
Prestige Lakeridge
Century central
Shriram Southern crest
Prestige Brooklyn heights
Sobha Indraprastha
Sobha Elite
Sobha Garrison
Sobha Ruby
Sobha Emarald
Phase 2 includes the extension of the two Phase 1 corridors, as well as the construction of two new lines. The south-end of the Green Line will be extended from Yelachenahalli to Anjanapura Township along the Kanakapura Road and the north-end from Hesarghatta Cross to Bangalore International Exhibition Center (BIEC) on Tumkur Road (NH-4). The east-end of the Purple Line will be extended from Baiyappanahalli to Whitefield and the west-end from Mysore Road to Kengeri.
R V Road – Bommasandra line will be constructed under Phase 2. The second new line is Gottigere – Nagawara line.
Blue Line: Silk Board to KR Puram:
Raheja Pebble Way
LGCL Luxuriate
DNR Reflection
Many Sobha properties in Bellandur
Prestige Tech Vista
Vaswani Reserve
Rohan Iksha
Prestige Ivy Terrace, Sunny Side, Jade Pavilion, Silver Sun, Summer Field
Assetz East Point
Adarsh Palm Retreat
Goyal Orchird Lakeview
Durga Rainbow
Durga Petals
UKN Interlaken
NCC Ivory Heights
DNR Casablanca
Purple Line ext: Biayappanahalli to Whitefield:
Purva Rivera
Pura Fountain Square
Rohan Vasantha
UKN Esperenza
Vaswani Brentwood
Gopalan Habitat Splendor
Brigade Lakefront
Divyashree ROW
Godrej AIR
Shriram Gardenia
Gopalan Grandeur
Ozone Promenade
Godrej United
Brigade Metropolis
Prestige Shantiniketan
Vaswani Exquisite
DSR Lotus
Prestige White Meadows
Prestige Park View
Prestige Boulevard
DNR Atmosphere
Prestige Laughing Waters
Brigade Cosmopolis
Goyal Orchird Whitefield
UKN Belvista
Alembic Urban Forest
Sobha Habitech
Golden Gate Blossom
Umiya Woods
Assetz Marq
Sterling Villa Grande
Sobha Avenues
Red Line: Gottigere to Nagawara
Purva Panorama
Valmark Orchard square
Ajmera Green Acres
Prestige Notting hill
Nitesh Hyde park
Valmark Apas
Valmark City ville
Prestige song of south
Mantri Pinnacle
Mantri Woodlands
Adarsh Rhythm
Mantri Tranquil
Sobha Magnolia
Blue jay Aristos
Sobha Grandeur
SNN Clermont
G Corp The ICON
Sobha Chrysanthemum
Mantri Lithos
Mantri Energia
Karle Town
Assetz Here & Now
Arvind Sporcia
Vasathe Avanthe
Monarch Serenity
Sobha City (4kms from Jakkur Metro n 6km from Nagwara metro)
Bhartiya City (5kms approx from Kogilu or Jakkur Metro)
Brigade Northridge
Godrej Woodsman
Godrej Platinum
Brigade Caladium
RMZ Latitude
Century Ethos
L&T Raintree
Sobha Pristine
Sobha Moonstone
Sobha Palm Court
Century Breeze
Legacy Cirocco
Yellow Line: R V Road to Bommasandra
Adarsh Garden Apartment
Peninsula Heights
Mahaveer Oberon
Mantri Elegance
Sobha Magnolia
Sobha Grandeur (This will be covered in other line as well)
Prestige St. John's Wood (2.1kms approx)
Brigade Lakeview Apartment (2.3kms approx)
Raheja Pebble Bay
LGCL Luxuriate
Prestige Pine Wood (around 2.4kms)
SNN Raj Grandeur
Keerthi Residency (Around 2.3kms)
Salarpuria Sattva Serenity
Salarpuria Sattva Greenage
Purvankara Westend
Salarpuria Sattva Cadenza
Total environment Greensleeves
Bren Trillium
Salarpuria Symphony
Prestige Casabella (2.7kms approx)
Godrej E-City
SNN Raj Greenbay (2.3kms approx)
Shriram Summit
Gopalan Gardenia
MJR Clique (2.4kms approx)
Property Appreciation around Metro Stations
Land values are inversely related to the distance of land parcels from the metro station. Ordinarily, land values decrease along with the distance from Metro stations. Technically, a Metro exerts an influence buffer of up to 1 km radius, with the maximum influence being within 500 meters. Typically in a city, the market value of properties will increase by more than 50% over the prevalent values after the launch of metro rail, depending upon the location, land use, and the micro-market's overall potential.
The fully operational 18-km line has kicked up realty prices along its route.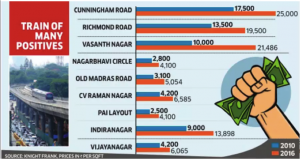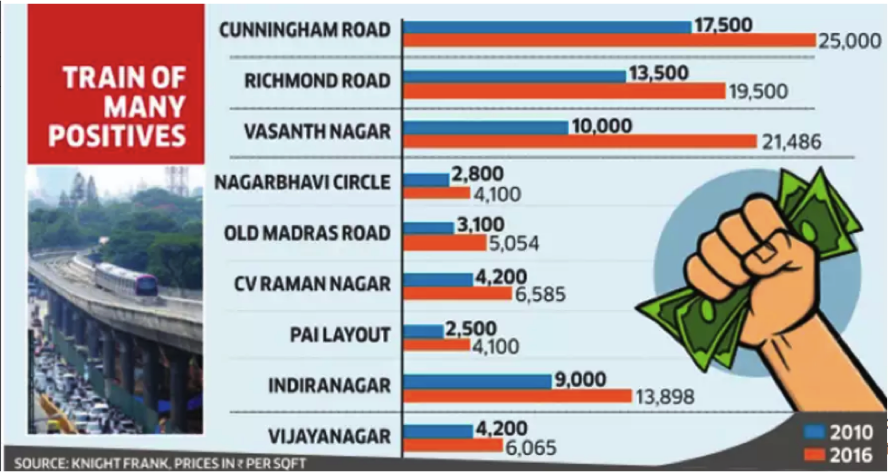 Most areas along Kanakapura Road, including Basavanagudi, Banashankari, J.P. Nagar, Jaraganahalli, Yelachenahalli and pockets of Vasanthapura, Uttarahalli and ISRO Layout are already seeing 10 per cent increase in rentals. In ISRO Layout, a three-bedroom unit saw a steep rise in rent to Rs. 30,000, said to be a 20 per cent higher compared to the last quarter. Near Nayandahalli, residential localities such as Binny Layout, Attiguppe, Bapuji Layout, and Deepanjalinagar are also seeing increased rentals. Property rates too are expected to increase by 10 per cent in the next three months
According to a global market research report by Eric Pels & Piet Rietveld, Railway station proximity is addressed from two spatial considerations: a local station effect measuring the effect for properties with in 1/4 mile range and a global station effect measuring the effect of coming 250 m closer to the station. We find that the effect of railway stations on commercial property value mainly takes place at short distances. Commercial properties within 1/4 mile rang are 12.2% more expensive than residential properties. Where the price gap between the railway station zone and the rest is about 4.2% for the average residence, it is about 16.4% for the average commercial property. At longer distances the effect on residential property values dominate. We find that for every 250 m a residence is located closer to a station its price is 2.3% higher than commercial properties. Commuter railway stations have a consistently higher positive impact on the property value compared to light and heavy railway/Metro stations. The inclusion of other accessibility variables (such as highways) in the models reduces the level of reported railway station impact.
References
Metro Rail – An Unmatched Real Estate Catalyst
Realty prices go north along metro corridor in Bengaluru
Metro pushes property rental values north
Green signal for higher realty prices?
The Impact of Railway Stations on Residential and Commercial Property Value: A Meta-analysis