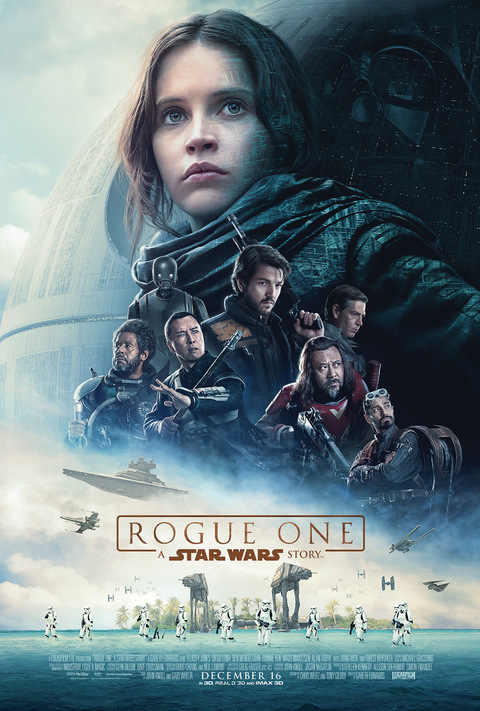 Rouge One is sure to become cannon to the Star Wars series that we know and love. Getting that bit out of the way I can jump right into the movie.
There is action right out of the gate. You see Imperial Forces landing on a planet outside of a small farm. You instantly get the feeling of Luke on Tatooine. The one thing that you need to know about this movie is that it is an "between" movie. So you have Episode 1 The Phantom Menace, Episode 2 The Attack of the Clones, Episode 3 Revenge of the Sith, The Clone Wars, and then Rouge One. Then there is Episode 4 A New Hope, Episode 5 The Empire Strikes Back , Episode 6 Return of the Jedi, and Episode 7 The Force Awakens.
You will see a few glimpses of old favorites such as C3PO, R2D2, Princess Leia, Darth Vader, General Ackbar, and a few others that make a quick appearance. You really dont see most of them until the end of the movie.
This movie is seriously action packed though. It leaves you on the edge of your seat, while developing backstory as well as filling in blanks. This movie is about how the Rebel Rebellion got the plans to the Death Star that are later used by Luke to blow it up. If you are expecting to see any of the characters from this movie in future movies, out side of Leia, Vader, Ackbar, C3PO, and R2D2, I have a spoiler for you, they all die at the end of the movie. It was Jyn's sacrifice and the sacrifice fo the whole Rouge One force that made it possible for the Rebellion to destroy the Death Star.
Im not going to give you a play by play like I normally would. All that I do have to say is go see it and dont see it in anything but 3D it is so worth the extra few dollars to see it that way.