Esta semana hemos llevado a cabo un ejercicio de análisis y recopilación de información para ofreceros una exclusiva selección de lo que a nuestro parecer son las mejores webs, directorios y blogs sobre project management, tanto a nivel nacional como internacional.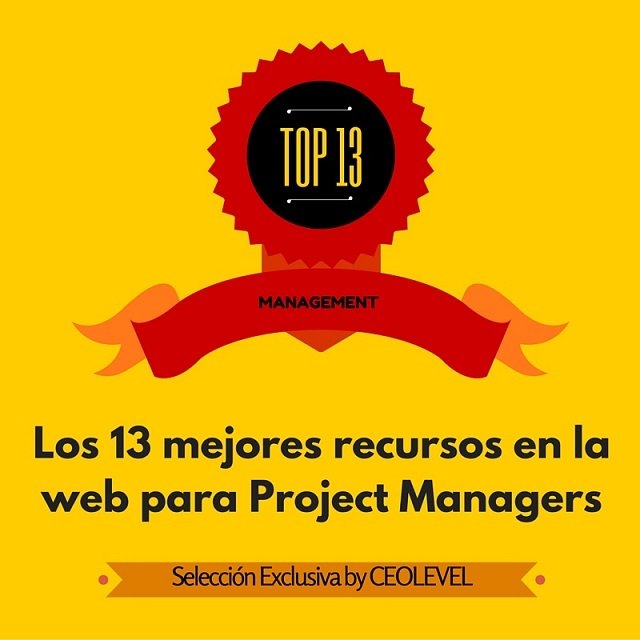 La clasificación está dividida en 2 secciones, recursos internacionales (en inglés) y recursos nacionales (en español). Espero que su lectura os sea de interés y os ayude a ampliar vuestros conocimientos en el área.
Recursos Internacionales (Inglés):
1) Herding Cats Blog de Glen B. Alleman (@galleman) experto en gestión de proyectos con más de 25 años de experiencia en el sector.
Especialista en rendimiento, es autor del libro: Performance-Based Project Management: Increasing the Probability of Project Success 2)
2) A Girl's Guide To Project Management Blog de Elizabeth Harrin (@pm4girls), experta project manager con foco en el sector financiero.
Su blog tiene todo tipo de contenidos actuales que nos ayudarán a mejorar nuestras competencias en el área, autora de los libros: Social Media for Managers y Customer-Centric Project Management and Shortcuts To Success: Project Management in the Real World
3) Quantmleap Blog de Shim Marom (@shim_marom), project manager con amplia experiencia que aporta un punto de vista diferente y métodos poco convencionales para ayudarnos a resolver problemas que nos encontremos día a día como project managers.
4) Bertrand Duperrin Notepad (@bduperrin), El blog de Bertrand Duperrin no trata específicamente de project management pero si de como la tecnología y las herramientas sociales nos van a ayudar en la gestión.
Ha trabajado durante años para empresas como BNP Paribas, Alcaltel-Lucent, Geodis, Finaref, AXA, Renault.. y ha impartido conferencias en multitud de eventos.
5) The Tao of Project Management Blog de John Carroll autor de "The way of the project manager" , experto project manager con muchos años de experiencia, ya retirado en el sur de Inglaterra pero continua escribiendo.
Tanto su blog como sus libros reflejan su visión y la gestión de proyectos unida a las teorías del filosofo chino Lao Tzu.
6) Guerrilla Project Management Blog de Samad Aidane (@samadaidane), incluye técnicas y lecciones no solo de gestión de proyectos pero también de liderazgo, gestión del cambio, neurociencia, todo ello aplicado a resolver los problemas clásicos de la gestión.
7 ) Fear no Project Blog de Bruce McGraw (@FearNoProject), el objetivo de su blog es compartir experiencias, best practices y soluciones para la gestión de proyectos con foco en la gestión organizacional.
Recursos Nacionales (Español):
8) CEOLEVEL, Blog de Alejandro Pérez (@ceolevel) es el blog que estáis leyendo en estos momentos ( y espero que disfrutando :))
Aquí publico artículos semanalmente relacionados con la gestión de proyectos, liderazgo, técnicas de negociación e información de interés para aquellos que deseen certificarse como PMP- Project Management Professional.
9) Salinero Pampliega Blog de Carlos J. Pampliega (@cjpampliega) arquitecto y project manager certificado PMP, forma parte del Board of Directors del PMI Madrid.
Su blog se actualiza periódicamente con información de alto interés para project managers con especial foco en el sector de la construcción.
10) De proyecto en proyecto Blog de Alejandro Acosta (@aleco44) Tal y como nos indica él mismo en su blog, este fue creado para tratar de dar respuesta a las innumerables dudas que se nos presentan a la hora de formular, gestionar o evaluar un proyecto.
Actualizado periódicamente y con artículos de gran interés.
11) Hands-On Project Management Blog de Joan Barceló (@joan_barcelo) En este blog encontraréis experiencias personales de Project Management combinadas con Innovación, Tecnologías de la Información y Docencia.
12) Ideas de un Project Manager Blog de José Julio López, En este blog encontrareis ideas para Project Management, PMP, PMO, ITIL, Business Intelligence, Big Data, CRM y más.
13) El Miracielos Blog de Ángel Gavín (@angelgavin), físico y matemático reconvertido a ingeniero y consultor, ha trabajado como Project Manager y Product Manager para importantes empresas naciones e internacionales, en su blog nos aporta su visión sobre innovación, gestión y estrategia.
___
Hasta aquí la recopilación de recursos para ayudaros a mejorar vuestros conocimientos y competencias en el área.
Espero que os haya parecido interesante la recopilación y disfrutéis de su lectura.
Alejandro Pérez, PMP
La entrada Los 13 mejores recursos en la web para Project Managers aparece primero en CEOLEVEL.