Here is our latest collection of uplifting quotes about having fun, to remind us that life is to be enjoyed fully! No excuses!
When you think about fun, what comes to mind?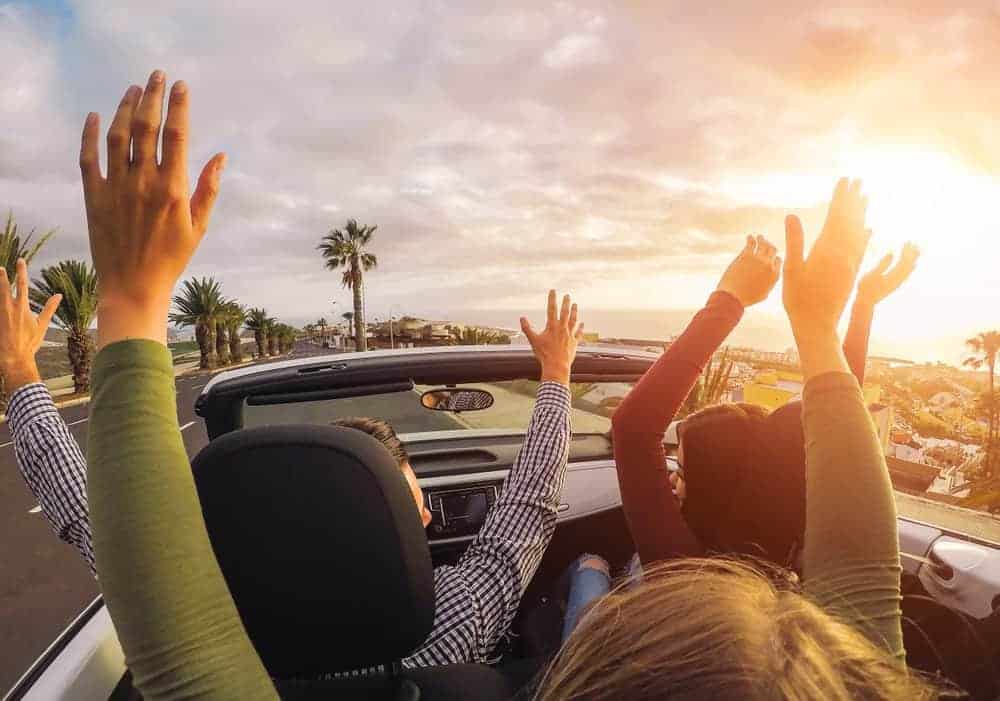 Do you think about carefree kids and adventurous people?
How much fun have you had recently?
It seems that the older we get the less fun we have, and that's just not fair.
Not to sound like a brat, but why do we assume that we get too old to have fun?
Why do we think that life is too serious, well scheduled and prioritized to have some fun?
Personally, I think having fun makes life more enjoyable for you and the people you're close to.
Fun creates enthusiasm and energy.
\And enthusiasm is the cornerstone of great leadership; personal or in an organization.
Here are some of our favorite quotes about having fun with your life. Enjoy!
Quotes About Having Fun and Loving Your Life
1.) "Life is either a daring adventure or nothing at all." ― Helen Keller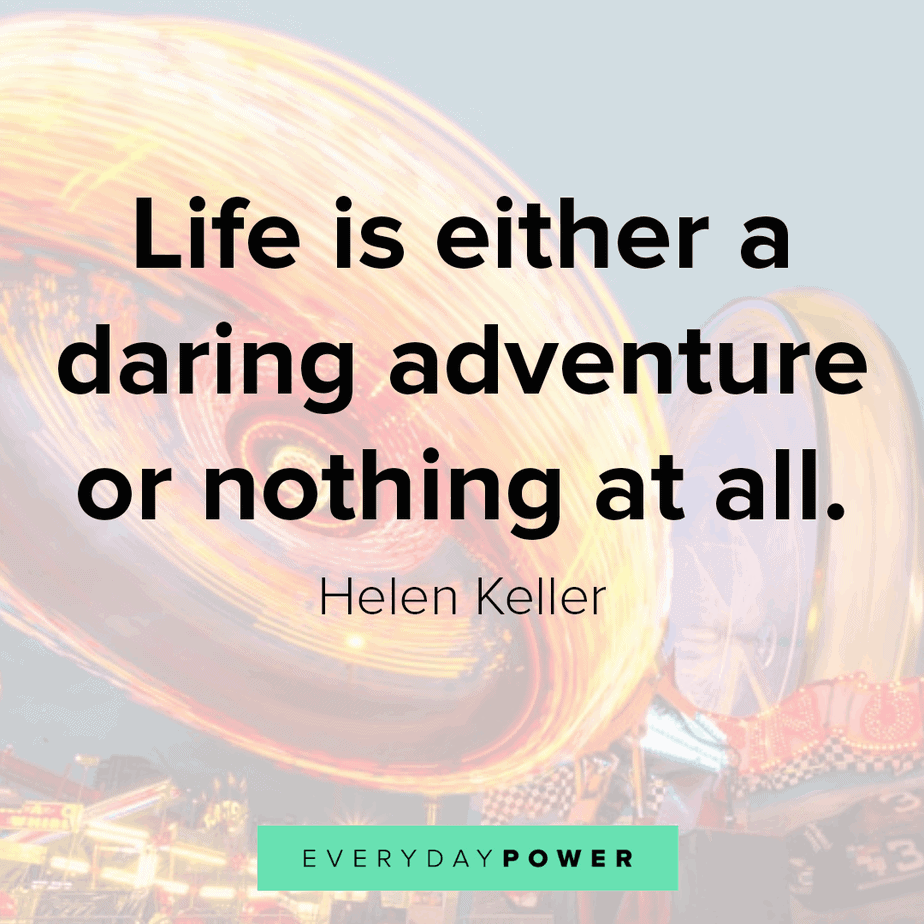 2.) "I have learned that you can go anywhere you want to go and do anything you want to do and buy all the things that you want to buy and meet all the people that you want to meet and learn all the things that you desire to learn and if you do all these things but are not madly in love: you have still not begun to live." ― C. JoyBell
3.) "Even though you're growing up, you should never stop having fun." – Nina Dobrev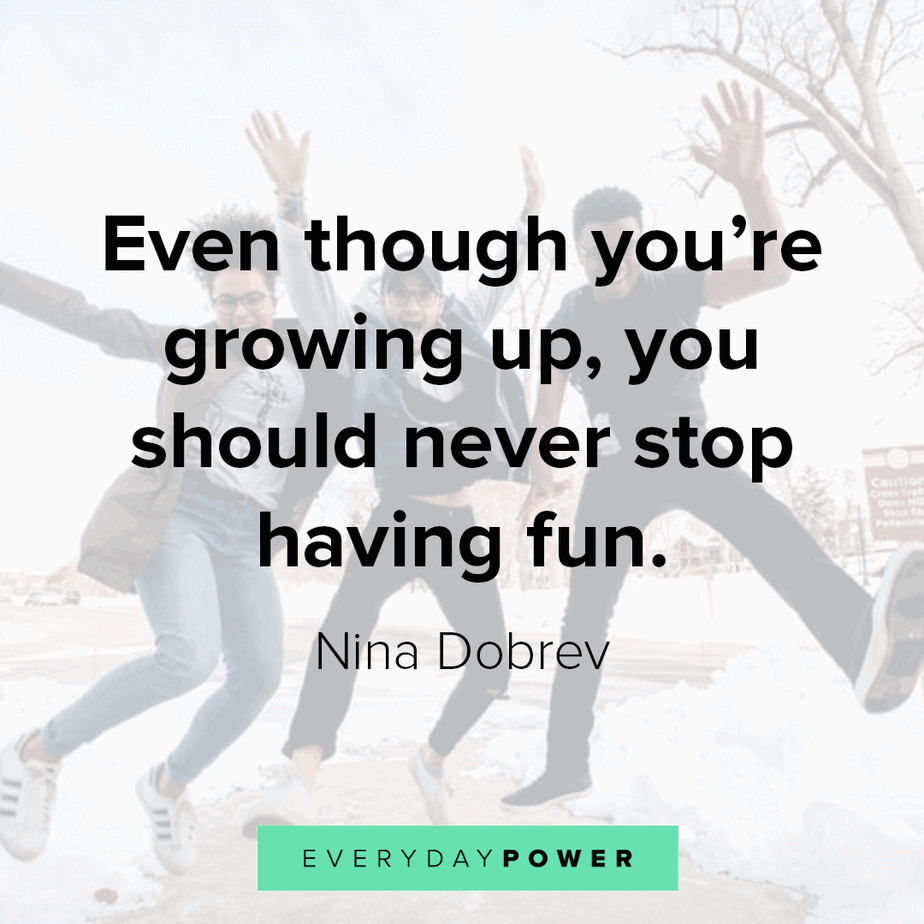 4.) "There's no fear when you're having fun." – Will Thomas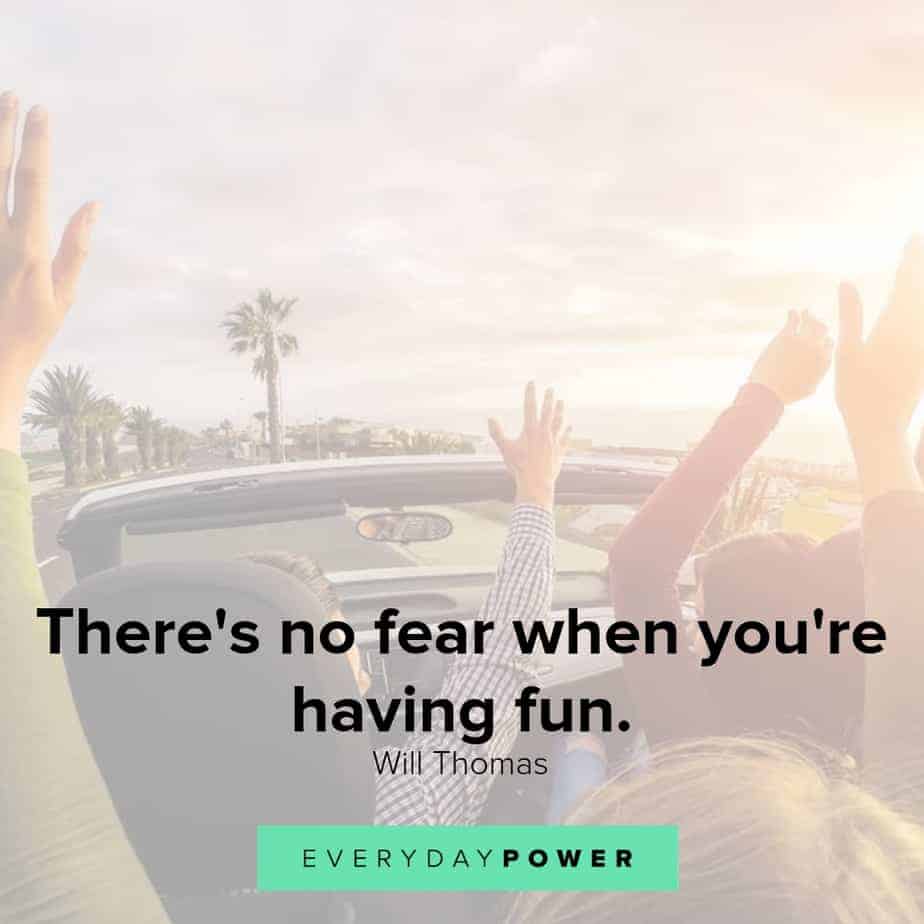 5.) "I am going to keep having fun every day I have left, because there is no other way of life. You just have to decide whether you are a Tigger or an Eeyore." – Randy Pausch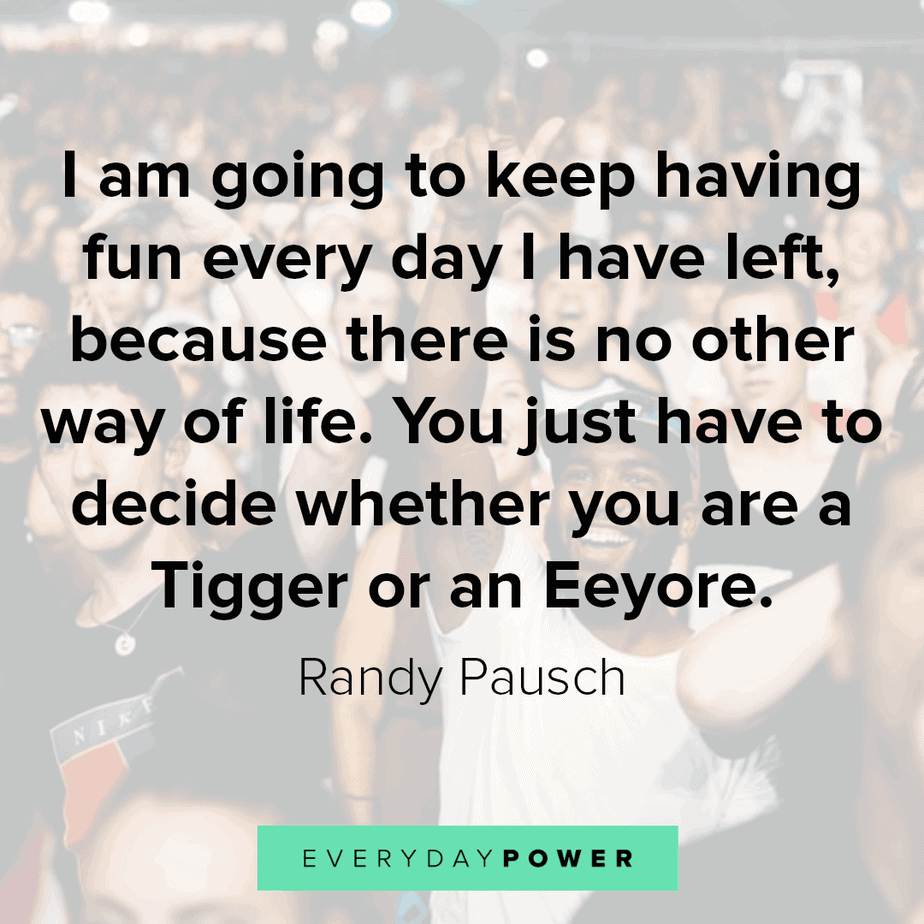 6.) "We're so busy watching out for what's just ahead of us that we don't take time to enjoy where we are." ― Bill Watterson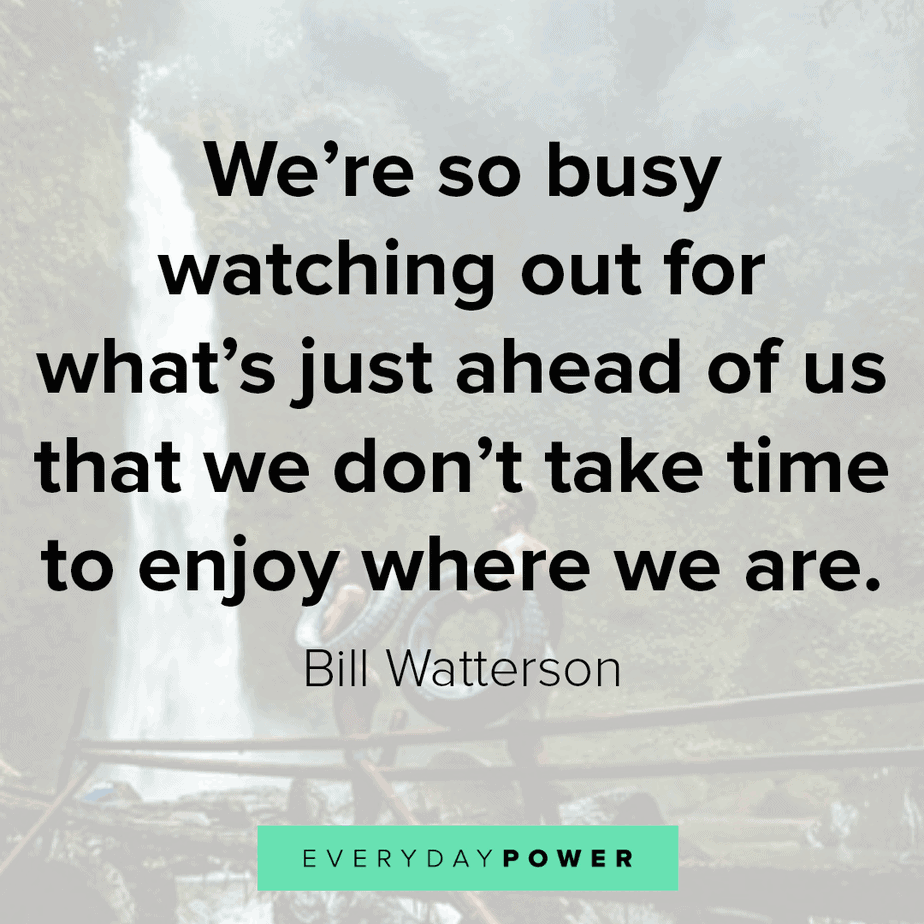 7.) "Do anything, but let it produce joy." ― Walt Whitman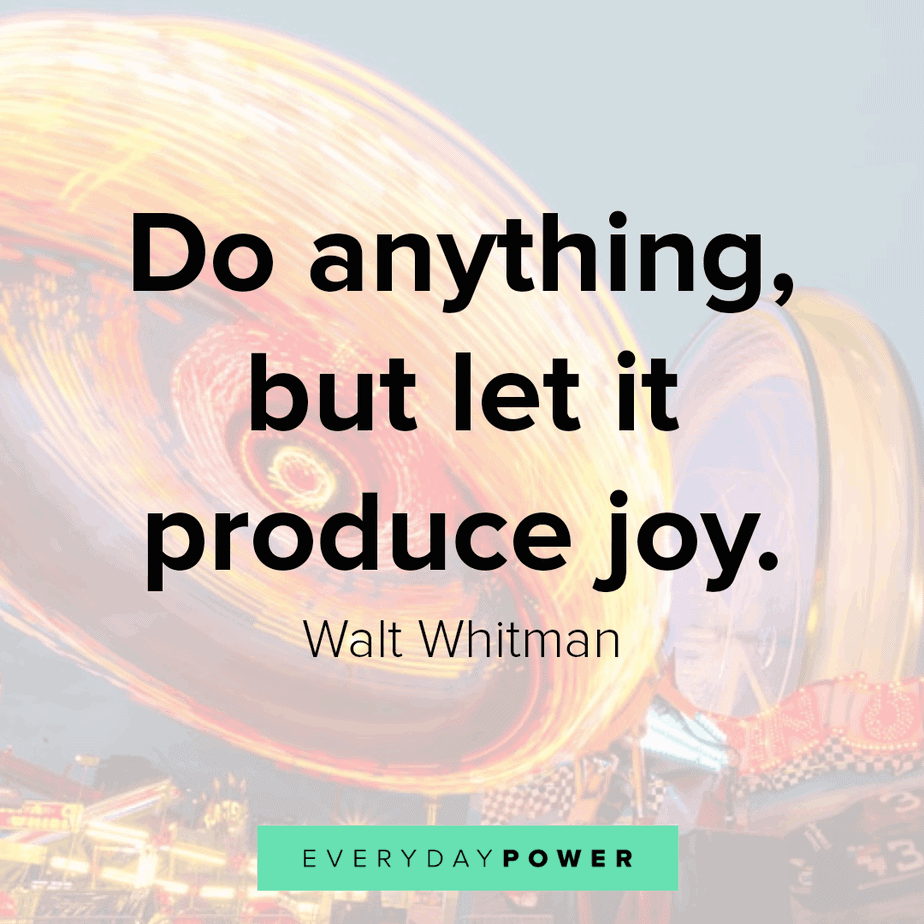 8.) "The life you have left is a gift. Cherish it. Enjoy it now, to the fullest. Do what matters, now." ― Leo Babauta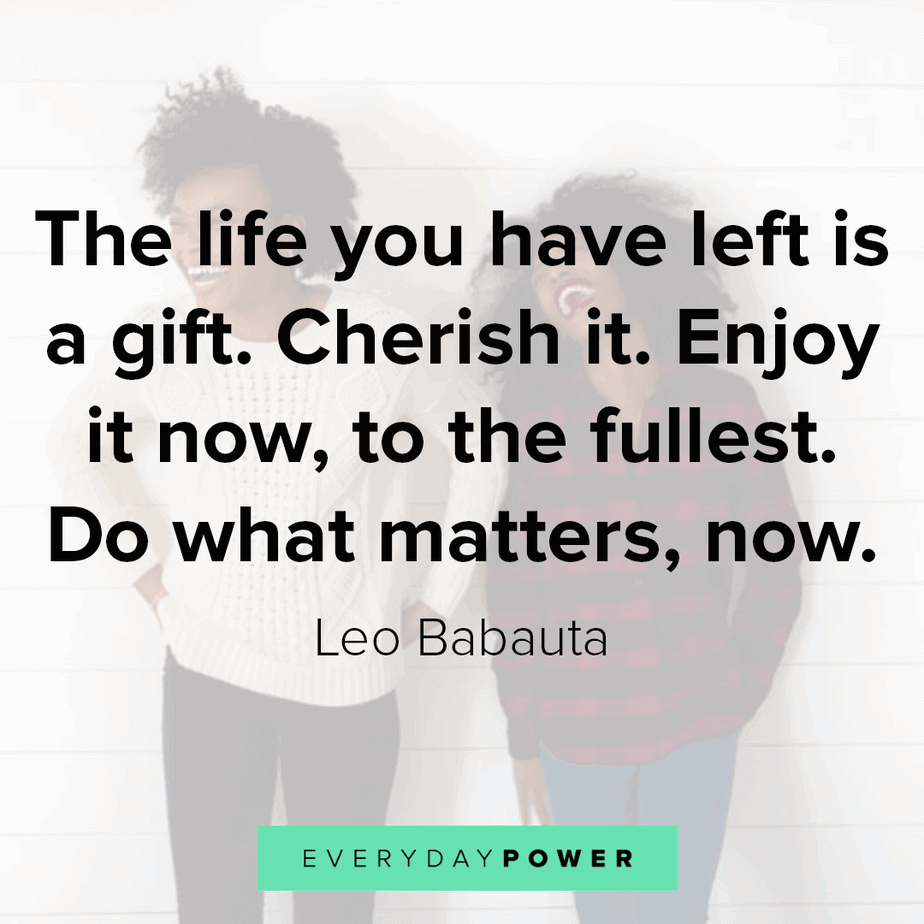 9.) "Everyone wants to live on top of the mountain, but all the happiness and growth occurs while you're climbing it." ― Andy Rooney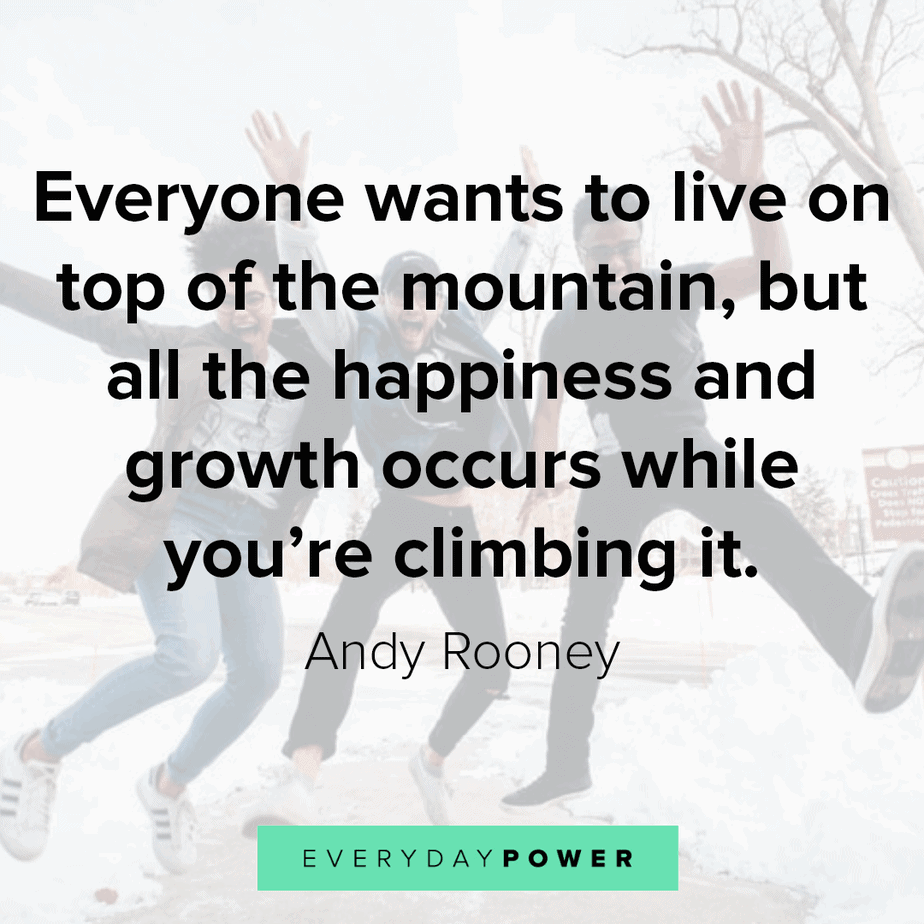 10.) "Enjoy life. There's plenty of time to be dead." ― Hans Christian Andersen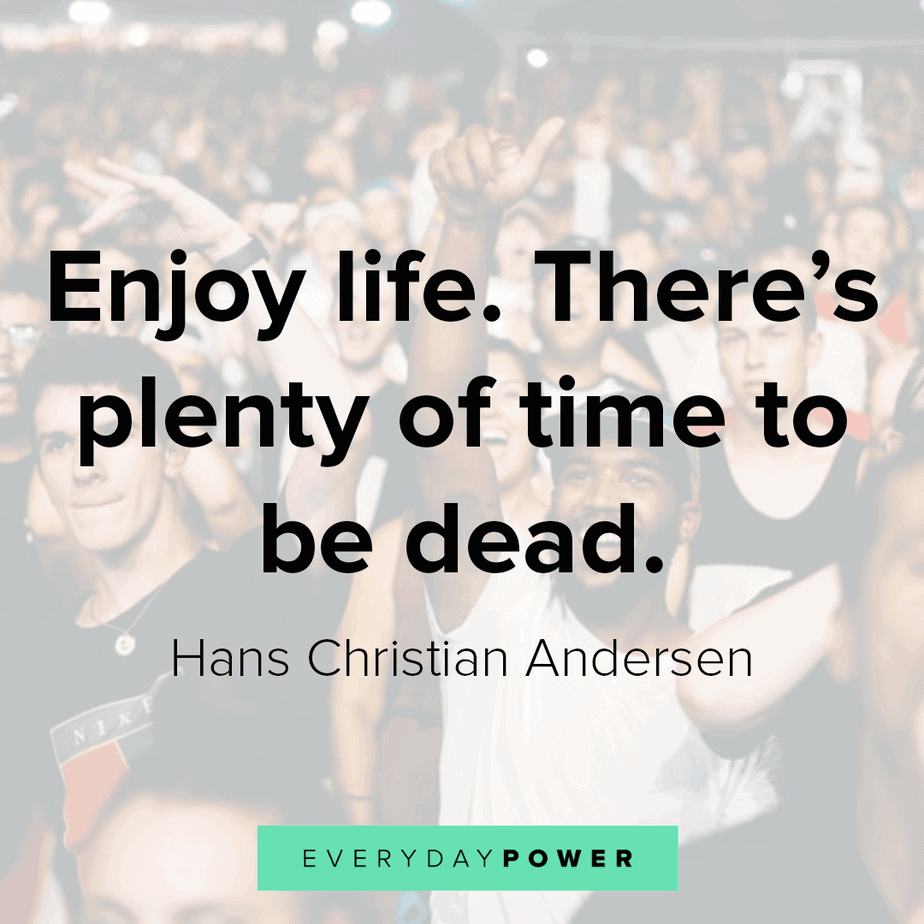 Quotes about having fun with friends
11.) "Sometimes having fun with your best friend is all the therapy you need." – Author Unknown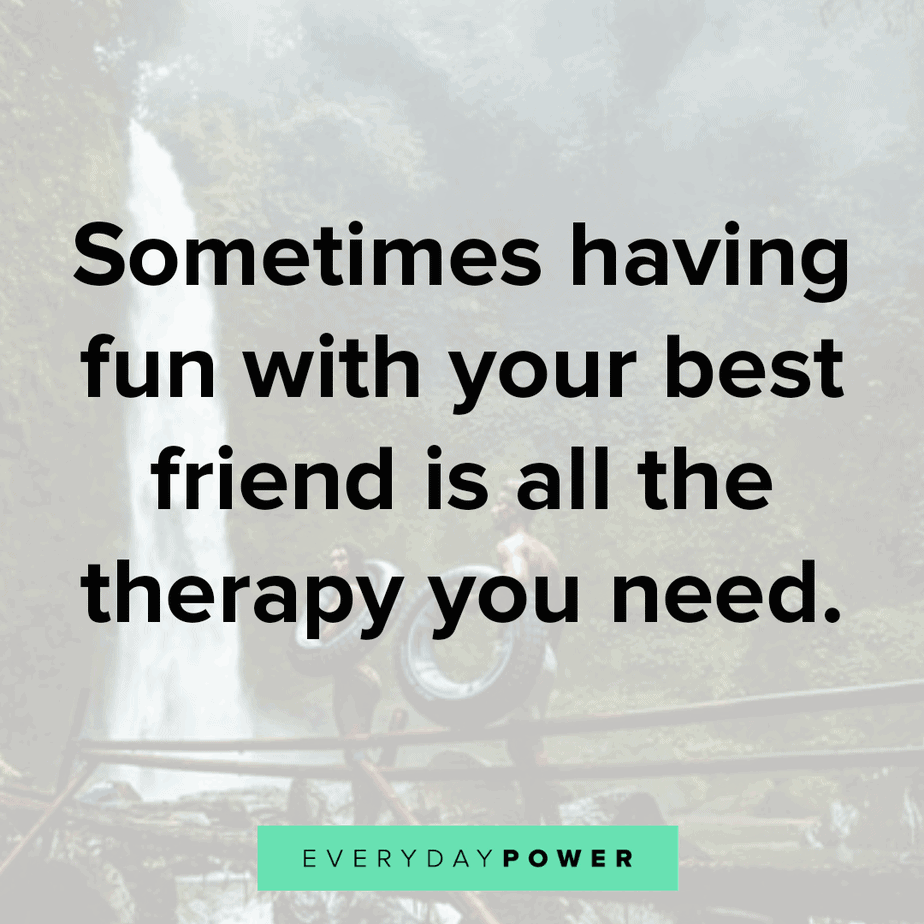 12.) "I like to think I'm a pretty good friend. I love having a good time, and I enjoy being able to share those good times with others." – Jacob Batalon
13.) "When fun gets deep enough, it can heal the world." – the Oaqui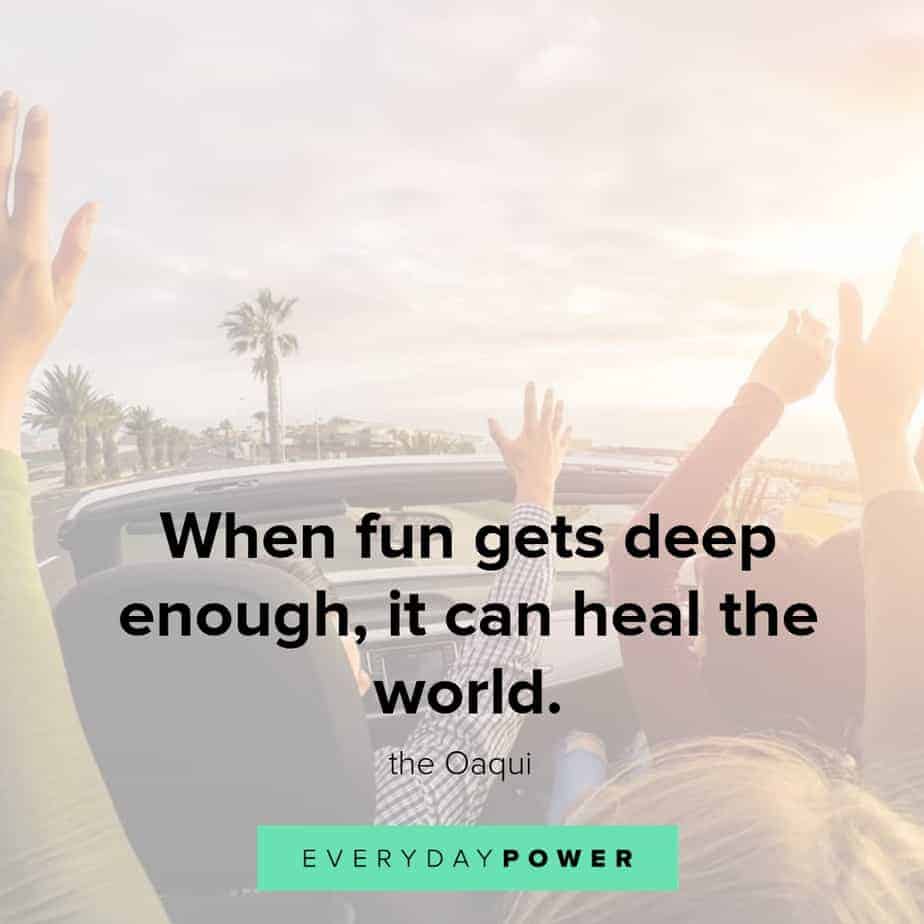 14.) "Choosing to have a good time with your friends instead of a good time with other people is one of the best decisions you can make. Friends are awesome and they will always be there for you no matter what." – Author Unknown
15.) "It's more fun when you're not the only one having it." – the Oaqui
16.) "There are going to be good times and bad times, but lighten up." – Chris Pine
17.) "But every memory of friendship shared, even for a short time, is a treasure, like sunshine and warmth in our lives, like a cool breeze on a humid day, like a shower of rain refreshing the earth." – Author Unknown
18.) "The Four Levels of Comedy: Make your friends laugh, Make strangers laugh, Get paid to make strangers laugh, and Make people talk like you because it's so much fun." – Jerry Seinfeld
19.) "The most important thing is to enjoy your life – to be happy – it's all that matters." – Audrey Hepburn
20.) "The best way to pay for a lovely moment is to enjoy it." – Richard Bach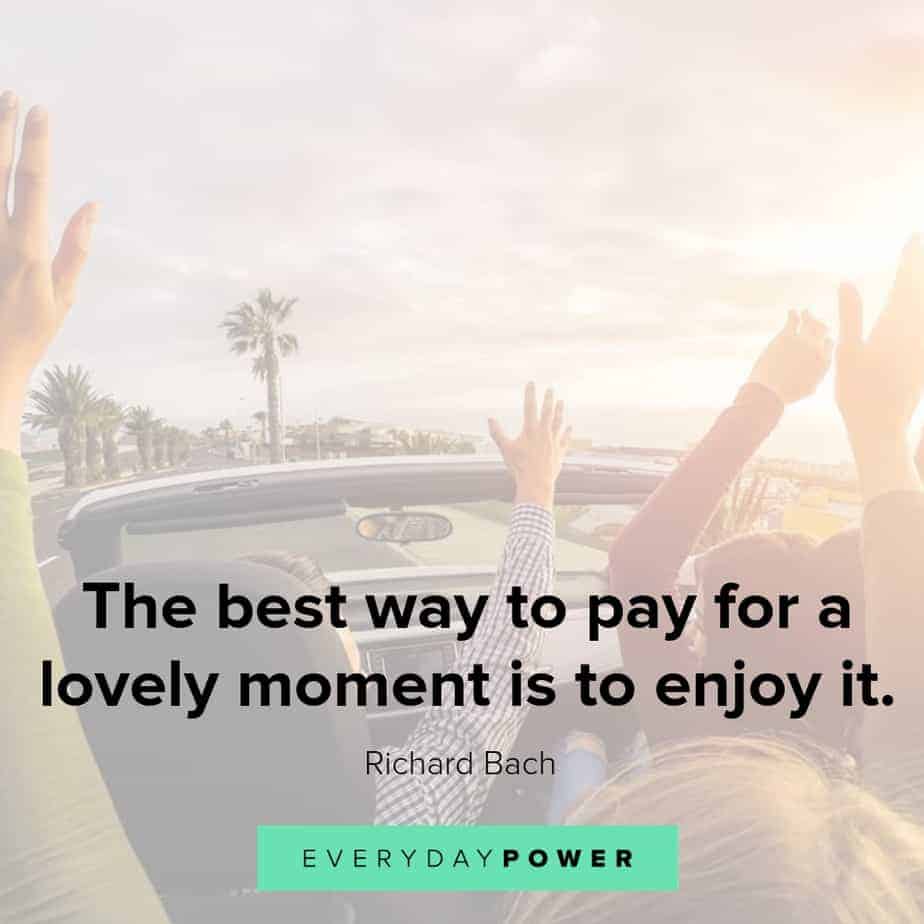 More Quotes about having fun
21.) "Life is all about having a good time." – Miley Cyrus
22.) "If you're not having a good time, find something else that gives you some joy in life." – Penny Marshall
23.) "Life is too short to not go on that spontaneous road trip." – Author Unknown
24.) "Today was good. Today was fun. Tomorrow is another one." – Dr. Seuss
25.) "If it's not fun, you're not doing it right." – Bob Basso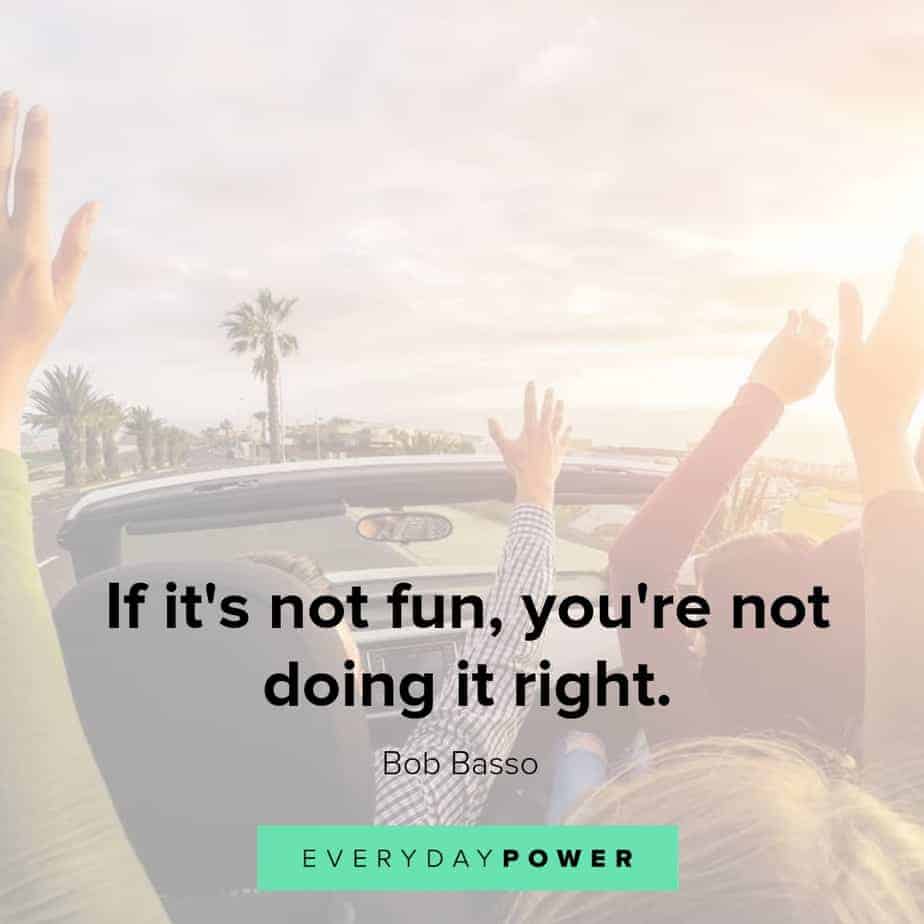 26.) "Worrying won't stop bad stuff from happening; it just stops you from enjoying the good." – Unknown
27.) "It is not how much we have, but how much we enjoy, that makes happiness." – Charles Spurgeon
28.) "We don't stop playing because we grow old; we grow old because we stop playing." – George Bernard Shaw
29.) "The opposite of play is not work. It's depression." – Brian Sutton-Smith
30.) "The decision to make the present moment a friend is the end of the ego." – Eckhart Tolle
31.) "Winning is only half of it. Having fun is the other half."- Bum Phillips
32.) "Live and work but do not forget to play, to have fun in life and really enjoy it." – Eileen Caddy
33.) "Fun is one of the most important – and underrated – ingredients in any successful venture. If you're not having fun, then it's probably time to call it quits and try something else." – Richard Branson
34.) "My philosophy is: If you can't have fun, there's no sense in doing it." –Paul Walker
35.) "Nothing else matters except that I have fun, and I'm still having fun." – Quvenzhane Wallis
Quotes about having fun and enjoying your life
36.) "When you start recognizing that you're having fun, life can be delightful." – Jane Birkin
37.) "As long as you're having fun and still doing stuff, it doesn't matter what other people think." – Nick Carter
38.) "Just keep taking chances and having fun." – Garth Brooks
39.) "As long as I'm having fun, I'm not quitting." – Sue Johanson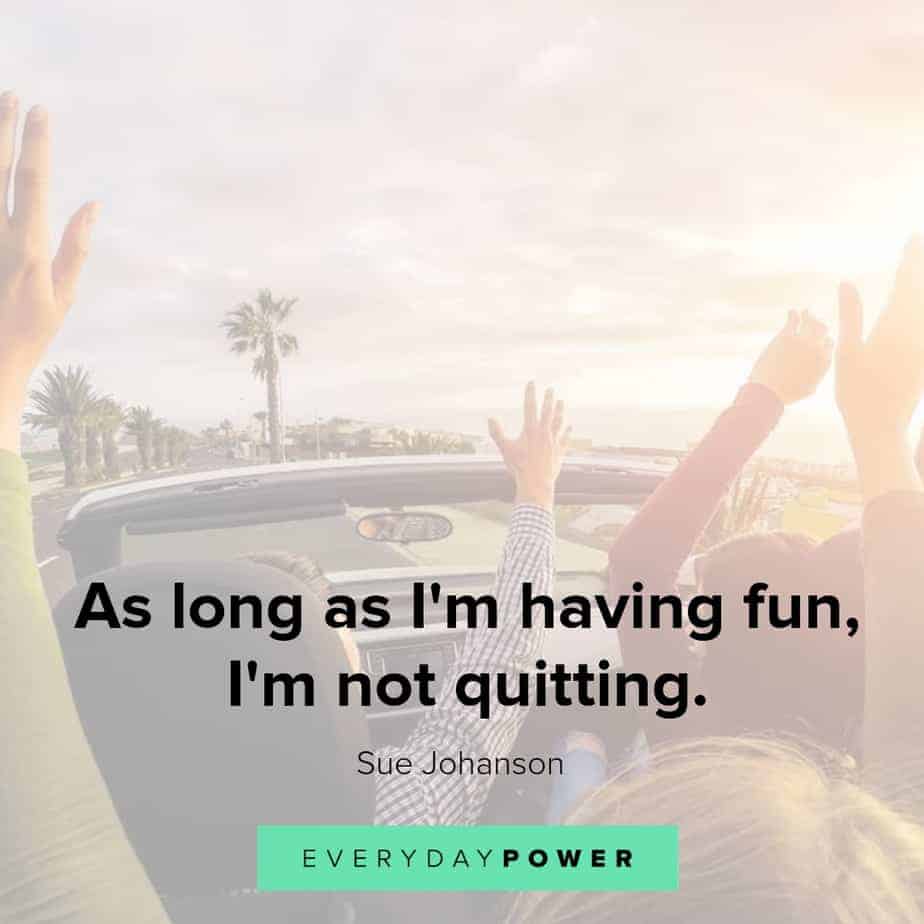 40.) "At the end of the day, if I can say I had fun, it was a good day." – Simone Biles
41.) "I think I'll work all my life. When you're having fun, why stop having fun?" – Helen Thomas
42.) "Make a commitment to having fun. See your best friends and make time for your hobbies and passions." – Robert Holden
43.) "There is never enough time to enjoy what you love." ― Joyce Rachelle
44.) "While fun is desirable, regret is quite the opposite." ― Richelle E. Goodrich
45.) "Having fun is a choice. There is enough fun for each of us. Choosing to have fun depends on you only." – unknown
46.) "You must have discipline to have fun." – Julia Child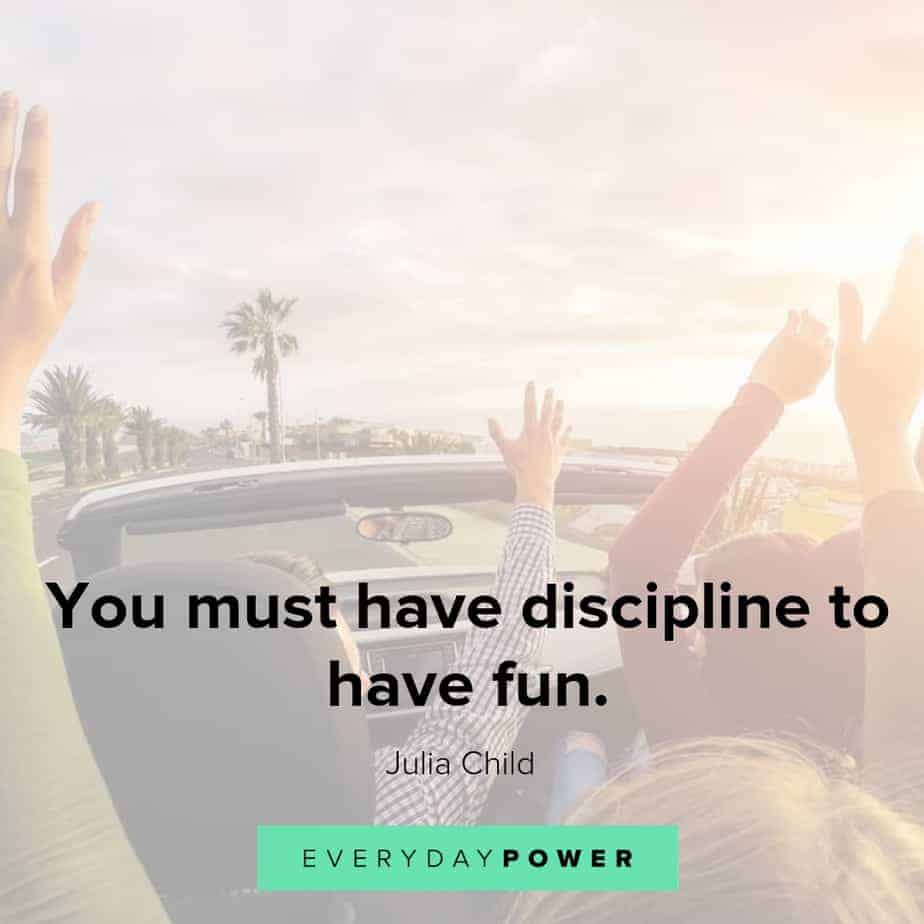 47.) "If you're playing at something and having fun, you don't stop to wonder why." ― Marty Rubin
48.) "If you want to succeed in anything you do, you have to find some fun in it." – unknown
49.) "Find ecstasy in life; the mere sense of living is joy enough." – Emily Dickinson
50.) "No man is a failure who is enjoying life." – William Feather
Did you enjoy these quotes about having fun?
In our hectic, modern world, many of us focus so heavily on work and commitments that we hardly find time to have fun and enjoy life fully.
But remember, having fun and finding ways to smile and laugh more makes life more enjoyable for you and the people around you. So hopefully, these quotes about having fun have motivated you to find time to lighten up and enjoy your life
Which uplifting quote about having fun was your favorite? Do you have any other having fun quotes to share with us? Tell us in the comment section below.
The post 50 Quotes About Having Fun And Enjoying Your Life appeared first on Everyday Power.