The proper identification and acceptance of all sales are an important element of internal control for a company's income statement. It represents the primary source of most companies operational cash flow and therefore needs to be protected, managed and monitored using financial internal controls. The following Accounting Revenue Cycle Procedures should be utilized to account for and recognize all sales income of the company.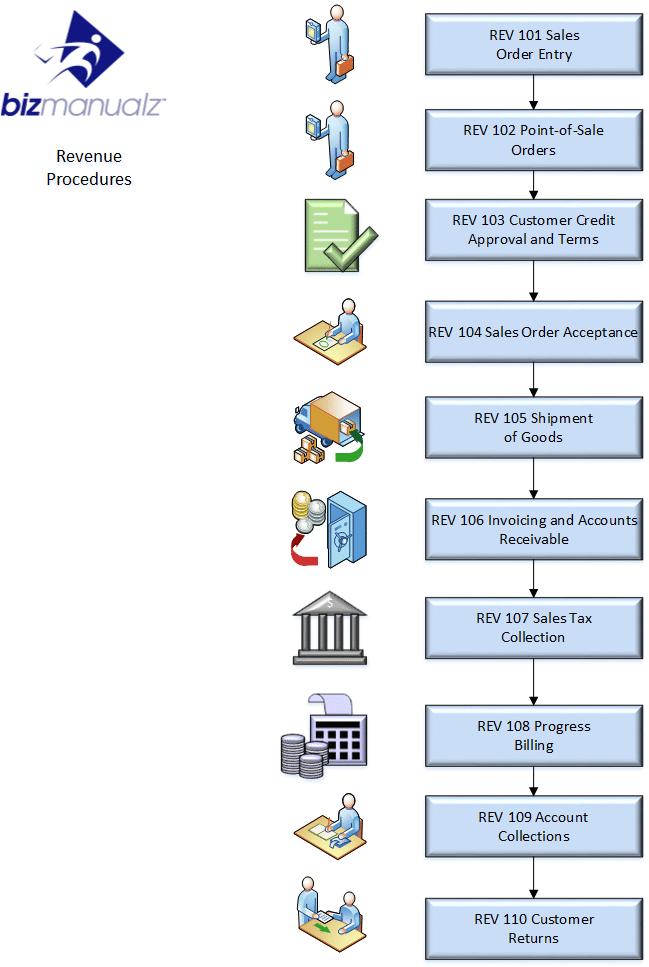 Revenue Cycle Procedures
The revenue cycle starts when you begin taking the order and is not complete until your company receives payment AND pass the point of no returns. Use these sample accounting Revenue Cycle Procedures to ensure efficiency and success in your accounting department.
REV101 Sales Order Entry Procedure
The first accounting revenue cycle procedure you should utilize deals with your sales order. All customer orders will be processed in an efficient and organized manner to ensure accurate and prompt shipments. The company should summarize the preparation of documents, paperwork flow, and responsibilities by individuals and departments for obtaining a sales order from a customer through shipping and billing the customer.
Each individual involved in the sales order process should take the responsibility to determine that all required and necessary activities and documents are properly completed. This applies to all individuals and departments involved in consummation of the sales process, specifically including Sales, Customer Service, Credit, Manufacturing and Billing.
REV102 Point-Of-Sale Orders Procedure
The Company should provide POS Point-Of-Sales procedures for ensuring that all sales are proper and collectible and the effect on inventory and cash is posted correctly. There should be proper transaction controls over sales and proper reviews and authorizations by the store manager. This applies to all cashiers and cash handlers.
REV103 Customer Credit Approval and Terms Procedure
To reduce potential collection problems, new customer accounts or credit limit increases will be properly evaluated and approved prior to extending credit. The company should outline the activities and responsibilities involved in obtaining credit approval for a potential customer before sales orders are consummated. These credit procedures are to be followed for all credit approvals requested by the Sales or Customer Service Departments for customers interested in open account, lease or rental financing.
REV104 Sales Order Acceptance Procedure
To ensure the highest customer services levels and reduce potential order problems, sales orders will be properly evaluated and approved prior to entry into the accounting system and fulfillment by the company. The company should outline the activities and responsibilities involved in verifying the acceptability of all sales orders received before they are consummated. This applies all sales orders taken by the Sales or Customer Service Departments.
Sale!

Quickview

' + '
' ); }
9-Manual CEO Company Policies Procedures Bundle | Save 45%
$

2,995.00
Sale!
Quickview
' + '
' ); }
5-Manual CFO Internal Control Procedures Bundle| Save 35%
$

1,995.00
Sale!
Quickview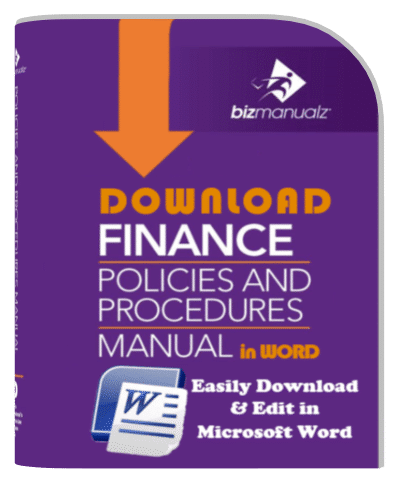 ' + '
' ); }
Finance Policies Procedures Manual | ABR42M
$

595.00
Quickview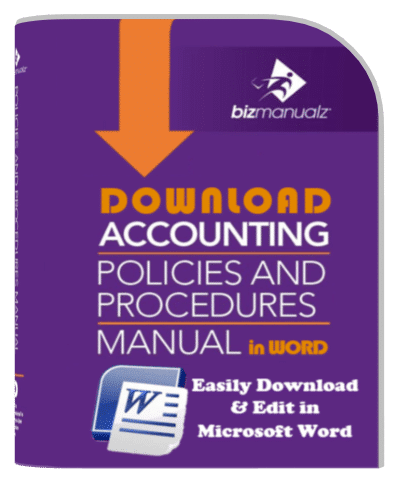 ' + '