We are now in our 5th week of our alphabet dates! The first few weeks it was a little difficult to come up with new and creative ideas each week. But now, we seem to keep coming up with ideas we're excited about! (We still have 21 weeks left, so we'll see if I am still saying that on week 26!)
For the letter E, we had a three-part date: an "Escape Room," "Eating" at Phillips Seafood, and the "Eastern Shore."
Escape Room
Em and I have been hearing so many people talk about how awesome escape rooms are, so we decided to check it out for ourselves. Basically, an escape room is where you are locked in a room and have to solve certain clues in order to "escape" from the room. Em and I weren't too confident in our own ability, so we invited some friends from church (who are a lot smarter than we are!) to Room Escape DC.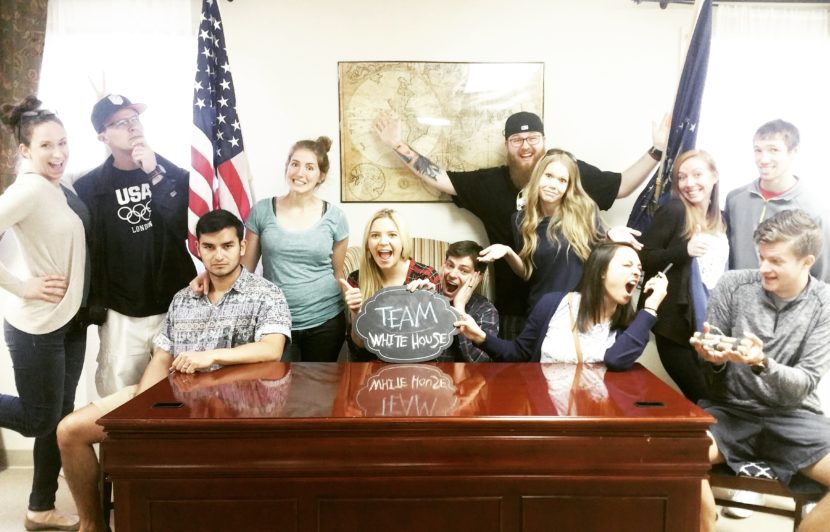 Being around the DC area, our escape room was called "Save the White House." When we arrived, we were shown a video that explained that we were trapped in the Oval Office and had to locate a bomb that was hidden somewhere in the room and find a way to extract that bomb from the White House.
Before we went into the room, I was pretty confident that we would be able to not only escape out of the room in time (there's a 60 minute time cap), but also beat the record of 30 minutes! But soon after we started, I quickly changed my mind – it was challenging for sure. We were given three clues that we could use any time during the 60 minutes, but we had to choose carefully what we used them on. There were locks everywhere and it seemed like everything in the room could be a potential clue.
At about the 20 minute mark, we found out that there was more than one room filled with clues! That meant that there were way more places that the bomb could potentially be hidden. Thankfully we have smart friends. The majority of the time I was just saying "good idea" and "so that's what that was for?" What I was really best at was just repeating other people's ideas. Like if Em would say "maybe we should check in the closet" I would follow up with my own brilliant idea by saying "maybe we should check in the closet!" You know, just in case other people didn't hear her the first time. :)
We exhausted all three clues and it came down to the final 10 minutes before we found the bomb and were able to escape! But we did it!!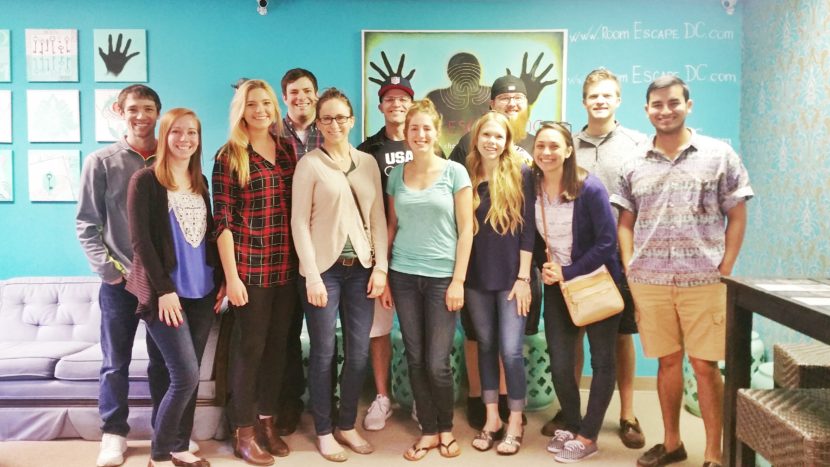 I was a little skeptical at first about how being locked in a room for an hour could actually be fun, but after our experience I would definitely say that it is something that everyone should try! Room Escape DC did a great job of making it an awesome experience!.The room was a lot of fun and really challenging! We found out that only about 35% of the groups are able to successfully escape! The escape room was the perfect group activity; we really had a lot of fun working together and solving each clue! Room Escape DC has a bunch of different rooms and scenarios like "Dr. Panic," which you not only have to escape the room but do so while being scared! Two other ones that sounded really challenging were the Dating Room (just two people!) and Jail Bus. The second one is on an actual bus, so they take it around to various locations – pretty cool.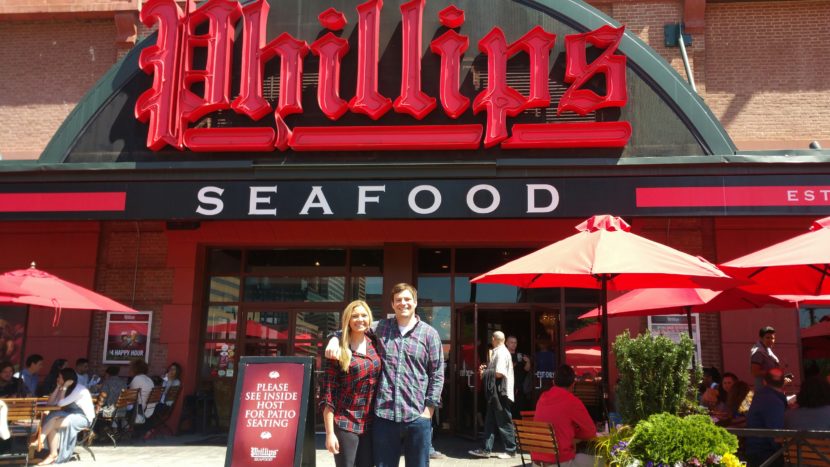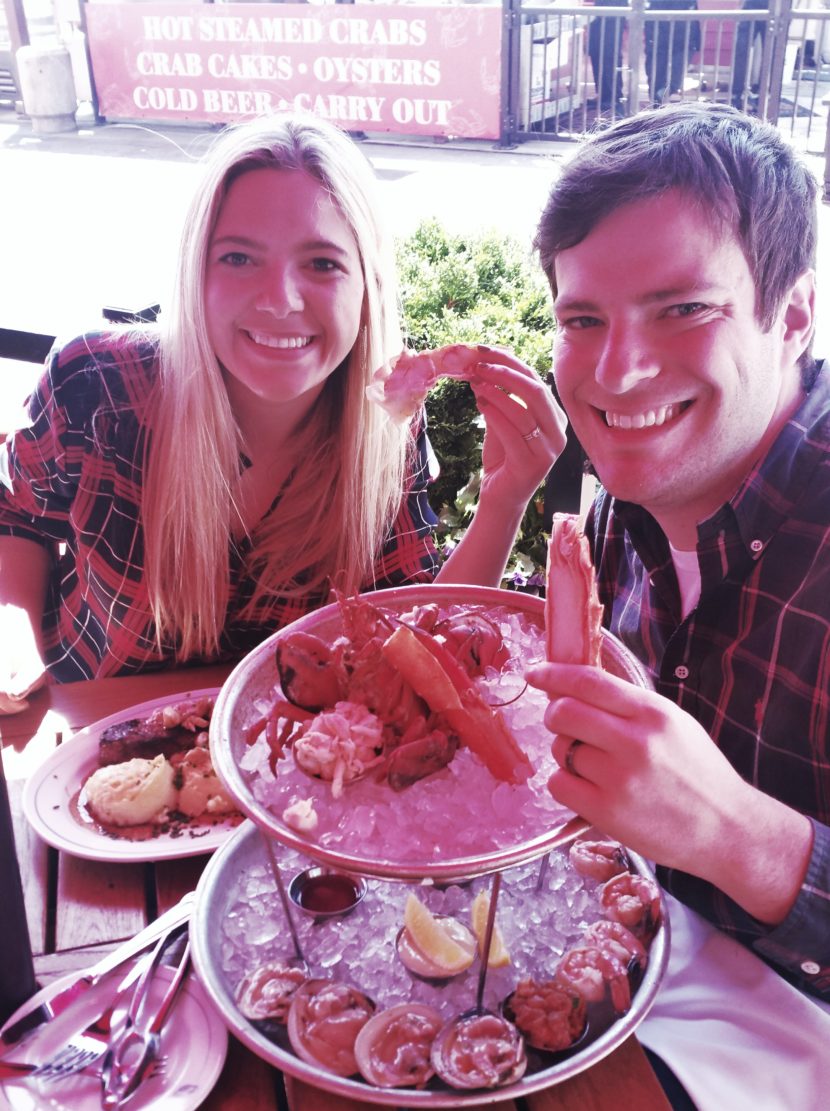 Eating at Phillips Seafood
What would a date be without a good meal?! After the escape room, Em and I said goodbye to our friends and went to downtown Baltimore for some of the best seafood I've ever had! I know that "eating" might be a little bit of a stretch for our E date, but I tend to make any excuse I can when it comes to eating amazing seafood.
Em and I are huge seafood fans, and Phillips knows how to do seafood right! We couldn't decide on any one dish because they all looked so good! So we finally decided to try a platter that we could sample a whole bunch of things. The platter included lobster, crab, shrimp, oysters, and clams (can never go wrong with any of those choices) all served on ice.
It was awesome being able to sit outside in Inner Harbor, Baltimore and enjoy such awesome seafood! Our waiter was great and made sure that we always had whatever we needed. If you love seafood and ever get a chance to eat at Philips, I would definitely recommend it!
Eastern Shore
So that was part one and two of our E date! Part three we are doing later this week…I thought that we couldn't live in Maryland and not take a camping trip down to the Eastern Shore and spend the night with the horses at Assateague. Maybe we'll get to see some of the horses up close!
Here's a list of all our alphabet dates so far!
– Alphabet Dating – A: Aquarium Sleepover with the Sharks
– Alphabet Dating – B: Basketball Game (Wizards vs. Sixers)
– Alphabet Dating – C: Circus (Ringling Bros. Barnum & Bailey
– Alphabet Dating – D: Dave & Buster's
The post Alphabet Date E – Escape Room & Eating at Phillips Seafood appeared first on Hudson and Emily.